We all know what it's like to feel stressed out – whether it's work woes, family drama or relationship struggles. But when does that feeling of being overwhelmed turn into full-on burnout?
More than a third (36%) of people say they have been experiencing workplace stress for the past five years, according to a survey by non-profit The Stress Management Society and workplace consultants Peldon Rose. That is a big problem, says the society's chief de-stressing officer Neil Shah.
He likens a stressed person to a bridge under strain: "Imagine a bridge that has too much weight on it – think Tower Bridge in London – you've put a whole load of double decker buses, HMS Belfast, a cruise ship, and a couple of Boeing 747s on there.
"It doesn't matter how well constructed the bridge is, ultimately any bridge with too much weight on it is going to collapse. And that collapse is going to be severe; the whole bridge is going to come crashing down."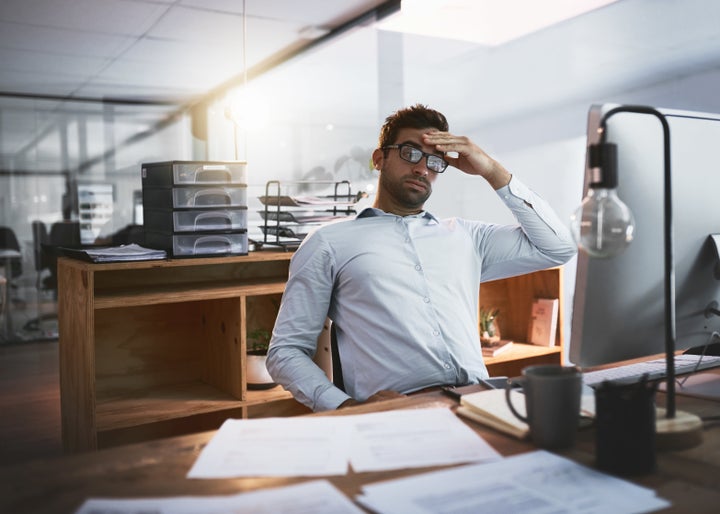 Prolonged stress takes its toll on us. One study linked it with a shrinkage of the area of the brain responsible for regulating thoughts and feelings, enhancing self-control and creating new memories. In addition, almost a third of people (32%) report having experienced suicidal thoughts or feelings because of stress, according to a survey commissioned by the Mental Health Foundation.
Why Do We Get Stressed?
Stress is the body's natural response to situations in which you feel threatened or under pressure – essentially, you go into fight or flight mode. It can become really problematic when this state is extended over weeks, months and even years, because your body forgets what "normal" feels like.
"There are certain hormones produced like adrenalin and cortisol which change the way your body is functioning to fight hard or run fast – perfectly appropriate if there is some kind of physical exertion required to take yourself out of that situation," says Shah. "But if there isn't anything physical, you stay stuck in that state and your body can't sustain it for extended periods of time."
What Are The Signs Of Extreme Stress?
Symptoms of stress will vary from person to person, but common signs are that you might tend to be more irritable, and feel worried or fearful. Perhaps you feel constantly tired, have racing thoughts and find it hard making important decisions. It's likely your sleep will take a hit too.
"You're going to start feeling a bit frayed around the edges, you're going to be frazzled, and you're not going to be thinking clearly," explains Shah. Things to look out for include feeling overwhelmed, panicky, anxious, or confused. "That's where you also start to get physical symptoms like palpitations, headaches and migraines," he says. "Your immune system gets suppressed and you're more likely to get ill."
People react to stress in different ways, but if you can spot a major change in your behaviour, you might want to consider taking action. For some people, this could be that they used to take pride in their appearance and now tend to look dishevelled – or vice versa. They might have gained a lot of weight, or lost a lot of it. Or they could be more animated than usual, or more withdrawn. "It's that change in behaviour, the way they live their life, the way they show up in the world," Shah emphasises.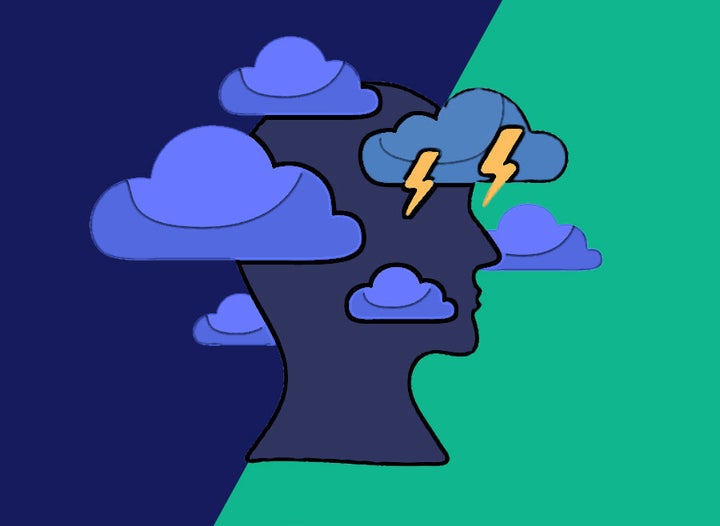 What To Do Next
In order to deal with stress, you need to be mindful of what your normal operating state is. Shah recommends practising mindfulness to help live more in the moment, rather than thinking about the endless meetings you've got coming up or the to-do list you didn't get through last week. If you're mindful, you're more likely to pick up changes that are happening to your behaviour, Shah explains.
Breathing exercises can also help, so take five minutes out of your day, sit comfortably somewhere and focus on your breath. There are a number of deep breathing apps you can download on your phone to help guide you.
If you get to the point where you can't focus, Shah recommends speaking to friends, family members and work colleagues before going to the doctor. Make a list of the people you would turn to in a stressful situation – whether that's someone you need to have a laugh with, moan about your relationship with, or air your work woes to. "One person might feature multiple times," says Shah.
It's important to talk through your worries with your support system, but with people living far apart and with increasing time pressures, it can sometimes be hard to know who to turn to. In this case, helplines and online support groups might help.
If your stress is causing you a lot of distress and you have nobody to turn to, or if you've exhausted the above options, speak to your GP. You can also refer yourself for psychological therapy through the NHS IAPT service.
Useful websites and helplines:
Mind, open Monday to Friday, 9am-6pm on 0300 123 3393
Samaritans offers a listening service which is open 24 hours a day, on 116 123 (UK and ROI - this number is FREE to call and will not appear on your phone bill.)
The Mix is a free support service for people under 25. Call 0808 808 4994 or email: help@themix.org.uk
Rethink Mental Illness offers practical help through its advice line which can be reached on 0300 5000 927 (open Monday to Friday 10am-4pm). More info can be found on www.rethink.org.