"In offices or similar environments, the temperature in workplaces must be reasonable," it says. "There's no law for maximum working temperature, or when it's too hot to work. Employers must stick to health and safety at work law, including: keeping the temperature at a comfortable level, sometimes known as thermal comfort, and providing clean and fresh air."
It's impossible to enforce a maximum temperature law as some working environments - such as glass manufacturing - will always have particularly hot areas, according to HSE. If you work in such industries, or work outside, creating suitable working conditions is at your employer's discretion.
But it could still be worth logging a complaint if your workplace resembles the inside of an oven.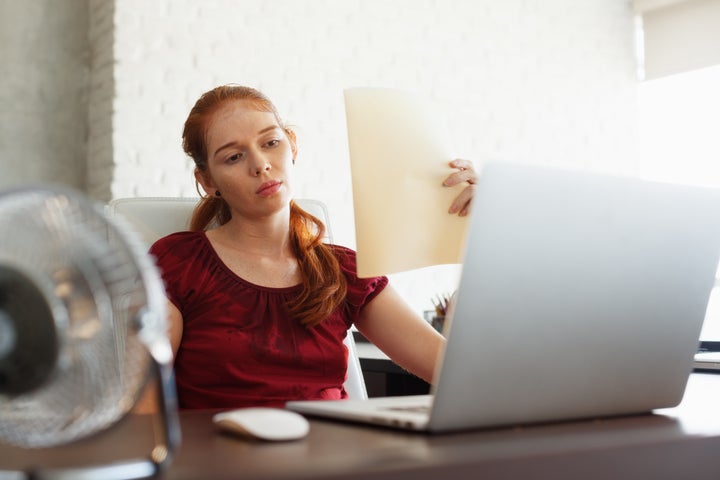 The Trades Union Congress (TUC) would like to see a change in the law to introduce a new maximum indoor temperature, set at 30C – or 27C for those doing strenuous jobs – with employers obliged to adopt cooling measures when the workplace temperature hits 24C.
TUC general secretary Frances O'Grady said: "While many of us will welcome the sunshine and warm temperatures this week, working in sweltering conditions can be unbearable and dangerous.
"Employers can give their staff a break by relaxing dress code rules temporarily and ensuring staff doing outside work are protected.
"Obviously shorts and flip flops won't be the right attire for all workers, but no one should be made to suffer unnecessarily in the heat for the sake of appearances."
To keep work cool, the TUC would like to see employers:

allow staff to adopt less formal attire – with jackets off, and casual lightweight clothes in.
ensure that outdoor workers have sun screen and water and are given advice on the need to protect themselves from the heat and sun.
distribute fans to staff and provide portable air cooling cabinets.
allow flexible working so that staff can have the option of coming in earlier and staying later to avoid the sweltering conditions of the rush hour commute.
allow staff to take frequent breaks and provide a ready supply of cool drinks.
HSE says Employees should talk to their employer if the workplace temperature isn't comfortable.
"If a significant number of employees are complaining about thermal discomfort, your employer should carry out a risk assessment, and act on the results of that assessment," it adds.