A report by consumer watchdog Which? has found that an Avon sun lotion "does not offer the protection it claims to".
Which? assessed a total of 14 sunscreen products from high street brands and found that one sunscreen, Avon's Sun+Multi Protection Moisturising Sun Lotion SPF30 (which retails for £10), didn't pass the SPF tests.
The sun lotion has since been labelled a 'Don't Buy' product by Which?.
The other 13 products tested passed the British Standard SPF and UVA tests, the watchdog said. This included products from international brands like Hawaiian Tropic and Nivea, as well high street own-brands such as Morrisons and Superdrug.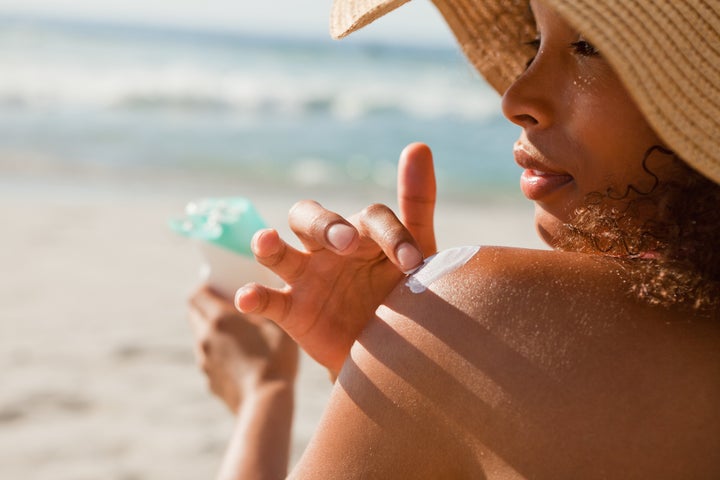 Which? said it believes consumers need the reassurance that any product they buy is safe and lives up to its claims.
The consumer organisation said it now wants to see more frequent testing of sunscreens by manufacturers, the addition of a use-by date, as well as the removal of confusing water resistance claims on sunscreens and SPF numbers on makeup products.
Richard Headland, editor of Which? Magazine, said: "It's disappointing to see that, although most sunscreens passed our test, one didn't provide the claimed level of protection.
"Manufacturers should only be selling products that live up to their claims which is why Which? will continue to monitor and challenge the industry."
In response to the report, a spokesperson for Avon told HuffPost UK: "We have full confidence in our SPF (Sun Protection Factor) testing, which is performed according to internationally recognised, regulatory approved protocols by external laboratories with specific expertise in conducting these kinds of tests.
"We stand by the results of our testing which is performed in accordance with these requirements and shows Avon Sun+ Multi Protection Moisturising Sun Lotion to have SPF30."
They added: "Avon has over 100 years' experience in developing and manufacturing award winning beauty products that meet and exceed global industry standards. Customers can buy Avon products with full confidence that they perform both safely and effectively."
A full break down of the sunscreens analysed
As part of the review, the watchdog also listed four reasons why sunscreens might not be as safe as people think.
Last year, Which? tested four 'once a day' sunscreens to see whether they provided day-long protection. It found that none of them did – the average drop in SPF after 6-8 hours was 74%, meaning a hypothetical SPF30 product would drop to just SPF8.
It also said manufacturers test products before they go to market, but they may not be tested again for years. Meanwhile proactive regular checking of products on shop shelves by manufacturers isn't compulsory.
There is also a lack of use-by dates, it said. Use-by dates are not compulsory in the UK – here a 'period after opening' logo is used instead. However Which? thinks use-by dates are easier to identify and understand.
Finally, they addressed the SPF claims that are used on makeup. "For any product to offer the SPF it claims, you need to apply 2mg per cm2 – around a teaspoon of product would need to be applied to your face," the watchdog said.
"And it needs to be regularly reapplied. In reality people are unlikely to apply the amount of make-up required – in the case of foundation, that would mean a 30ml bottle would only last six applications."
Dr Chris Flower, toxicologist, chartered biologist and director-general of the Cosmetic, Toiletry and Perfumery Association (CTPA), said he is concerned that the report may "discourage consumers from using them [sunscreens]" and "they might miss out on the important sun protection these provide".
"We are disappointed that Which? would release a public-facing report questioning the strict legislation and proven scientific testing that sit behind sunscreen safety without apparently seeking input from the UK regulatory bodies or dermatologists," he said.
"We would like to reassure consumers, categorically, that they can trust the SPF of their sunscreens. In contrast to the one-off testing carried out by Which?, cosmetics companies don't just rely on one phase of testing to determine the SPF number, but test sunscreens at various stages of their development to ensure they get consistent, proven results throughout.
"Because of the vital role sunscreens play, they are one of the most studied and tested of all cosmetics products. The British Skin Foundation recommends using sunscreens as part of a sunsafe regime, along with keeping covered up and seeking out shade during the hottest parts of the day."
Dr Anjali Mahto, consultant dermatologist and British Skin Foundation spokesperson, said: "Keeping the skin in good condition and protected from sun damage is paramount. There is no doubt that sunscreen limits exposure to the sun's harmful UV rays and I have no hesitation in directing my patients to choose a suitable sunscreen from any number of those available on the UK market today.
"I would be worried if the Which? report caused consumers to stop using sunscreen unnecessarily. It's important to remember that sunscreens are one part of a sunsafe regime, along with seeking shade when possible, particularly between 11am and 3pm, and wearing loose-fitting clothing and a wide-brimmed hat, and they should never be used to stay out longer in the sun."