A groom discovered his wife's advanced breast cancer during a romantic cuddle - just weeks after they returned from their honeymoon.
Will Barker, 32, was hugging new wife Jodie Pullinger, 30, in September last year, when he noticed a hard lump under her right armpit.
Alarmed, he alerted her to it and encouraged her to visit her doctor.
She did and just days later she was diagnosed with stage three breast cancer and was told that the 7cm tumour in her right breast had also spread to her lymph nodes.
"Will saved my life," said Pullinger, who has just finished a round of radiotherapy, having already undergone surgery and chemotherapy.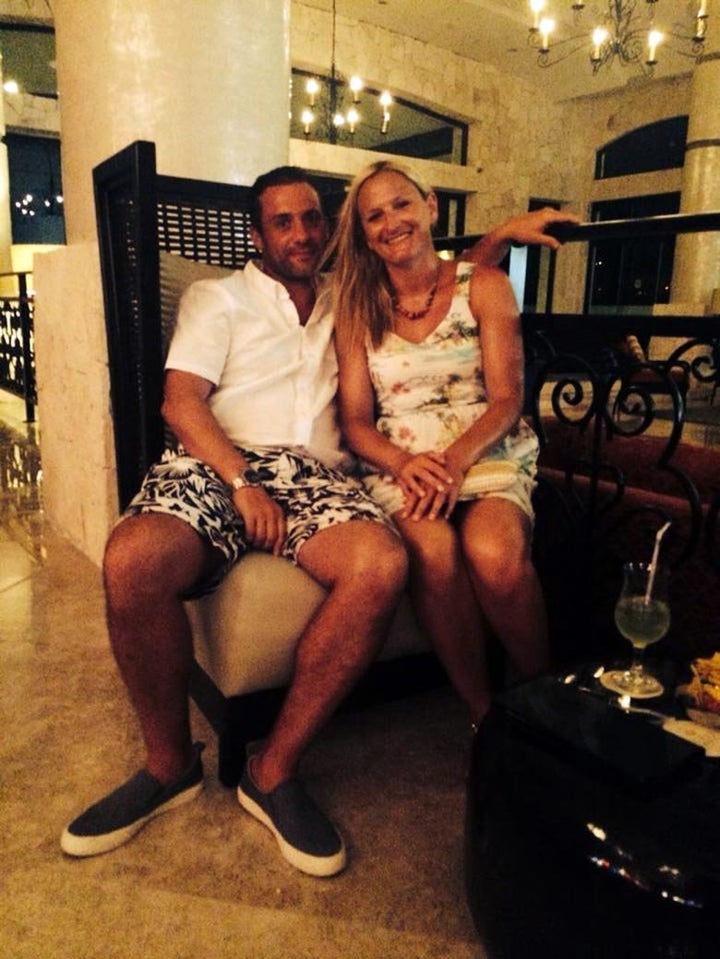 Pullinger, a trainee clinical psychologist, told of how she was not particularly worried when her new husband first noticed the lump, but mentioned it to her GP anyway.
She was referred to St George's Hospital in Tooting and there, after a needle biopsy and ultrasounds, she was diagnosed with cancer.
The lump Barker had felt was actually a swollen lymph node, infected by cancer - not the orange-sized tumour in her right breast.
Doctors are unclear how long Pullinger had suffered cancer before it was diagnosed.
"It was terrifying when I learnt I had cancer – especially when I learnt it was advanced," she recalled.
"I went from being a new bride who had just returned from the honeymoon of my dreams to undergoing surgery, chemotherapy and radiotherapy."
Pullinger, who is from South West London, has now undergone fertility treatment and had seven eggs frozen as there is a chance that the cancer treatment could have affected her fertility.
"I could go through the menopause early or during the treatment," she admitted. "Doctors just don't know.
"We do want a baby, so we will just have to see what happens.
"It is a lot to take in."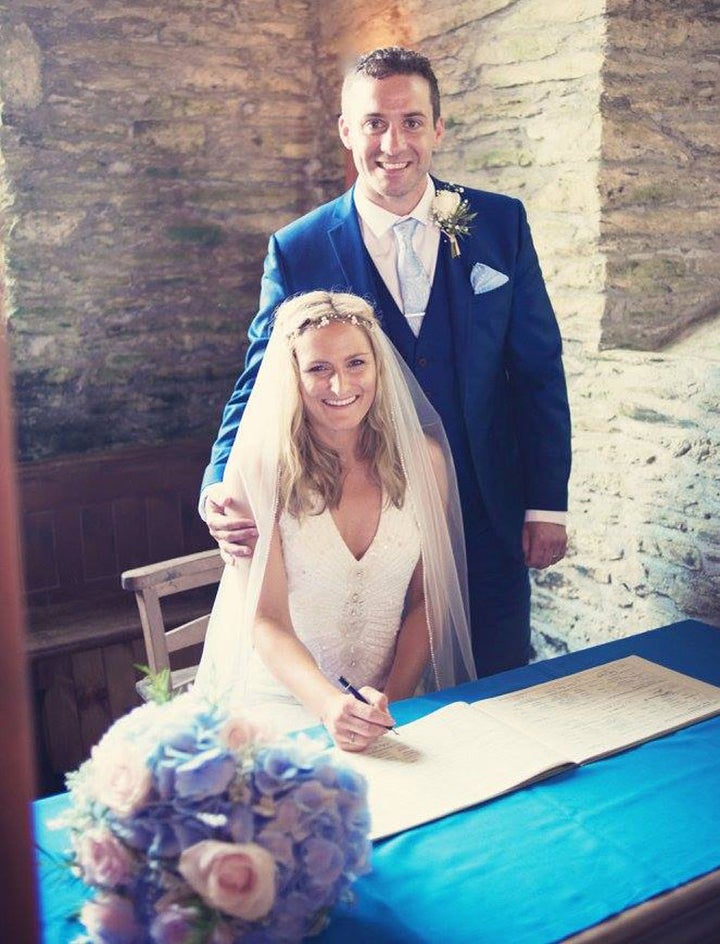 The couple, who met while they were students at the University of the West of England in Bristol, married at an isolated chapel in Rame Head, Cornwall in July last year.
A few weeks later, they travelled to Playa Del Carmel in Mexico's Yucatan Peninsula for their honeymoon.
"It was boiling," Pullinger recalled. "I was having a number of showers a day and wearing bikinis the whole time, but didn't realise or notice I had a lump.
"I've always been very breast aware, so it's strange I didn't notice it, but I think perhaps I was distracted by the wedding and the honeymoon."
When Pullinger was first referred to hospital, she said she felt confident she would be okay.
At just 30, she was the youngest person there, and thought her lump would turn out to be a cyst.
But, when a biopsy was immediately requested, she began to worry.
Medics told her to come back to hospital for another appointment straight away, encouraging her to bring someone with her.
Her husband and mum, Donna, 52, attended and were given the news together.
"When I found out it was cancer I was numb and shocked," she said. "Doctors immediately said it was treatable and started talking about the next steps."
Keen to have the cancer removed, Pullinger immediately underwent a single mastectomy on her right breast, before having it rebuilt.
She then started six rounds of three-week chemotherapy, which she found hard.
"I suffered infections such as cellulitis - an infection of the deeper layers of the skin - during this," she said.
"But I knew I had to fight the cancer even though there were points when I wanted just to stop having chemotherapy."
Pullinger also told of the significant impact the illness and treatment had on her body, where her face bloated and her hair, eyebrows and eyelashes fell out.
But then, she found help in a charity called Look Good Feel Better which visited patients in Parkside Hospital in Wimbledon, where she was being treated at the time.
"The charity visits hospitals across the country and holds workshops," she explained.
"They help people with cancer – not just breast cancer – cope with the physical changes that cancer causes.
"For me, it was brilliant.
"It made me feel really confident. They taught me how to do my makeup to hide the effects of treatment. I made friends too."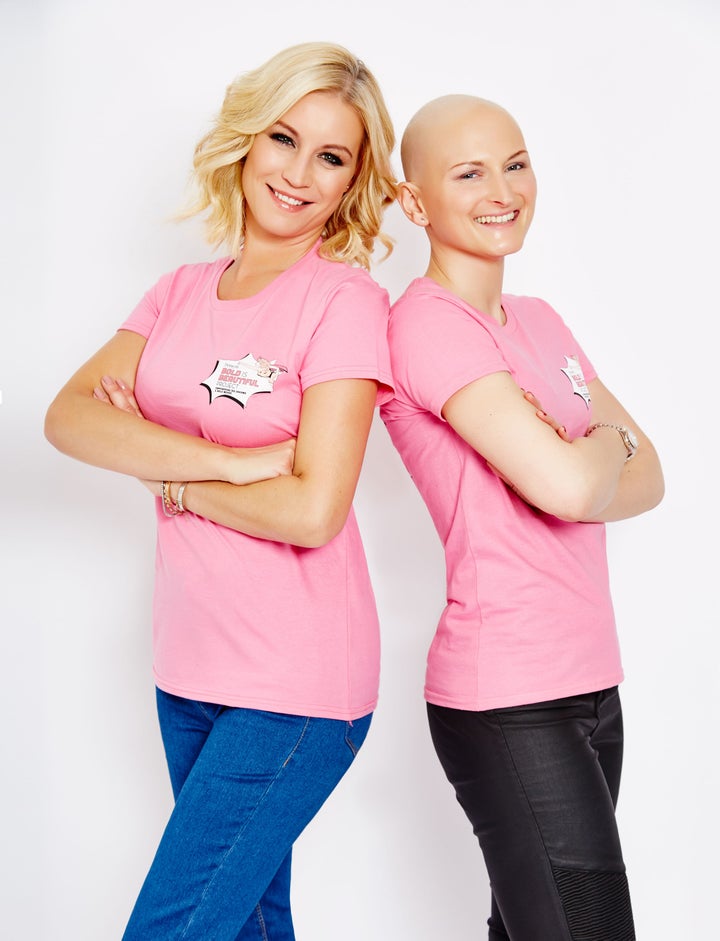 Now, Pullinger is hopeful for the future.
"Despite everything, I feel positive," she said, explaining she was supporting Benefit Cosmetics global campaign called Bold is Beautiful, which supports the work of Look Good Feel Better and domestic violence charity Refuge.
Working alongside Denise Van Outen, Pullinger is the face of the campaign, which is now in its second year.
She said she was delighted to be part of it, adding: "I've returned to work and I've realised that even though I've suffered cancer I can still be confident.
"I want other people to realise that too."
Pullinger is leading a march of 1,000 women on Sunday 8 May.
It will start at 11am in Cavendish Square, Central London, and aims to raise awareness of the two charities. If you would like to sign up to the walk, visit http://uk.boldisbeautiful.com/march.