The Forth Road Bridge has been closed in both directions due to a lorry which overturned in gale force winds.
Despite speed restrictions, the vehicle blew over in the early hours of Wednesday morning and drivers are being advised to use alternative routes.
It's expected that the bridge will remain closed during the morning rush hour.
Gusts were topping 70mph when the lorry overturned.
The Met Office has issued severe weather yellow warnings for wind and snow across much of Scotland, Northern Ireland and the North of England throughout Wednesday.
Several centimetres of snow could settle on higher ground in parts of Scotland, while lower areas will receive a dusting.
The winds knocked out power to around 2,300 homes across Northumberland, Durham, Sunderland and Gateshead.
Forecaster Craig Snell said the snowfall could lead to "dangerous conditions on the roads".
He said the winds would drop off during the afternoon but pick up again by Wednesday evening, leading to a combination of wind and snow.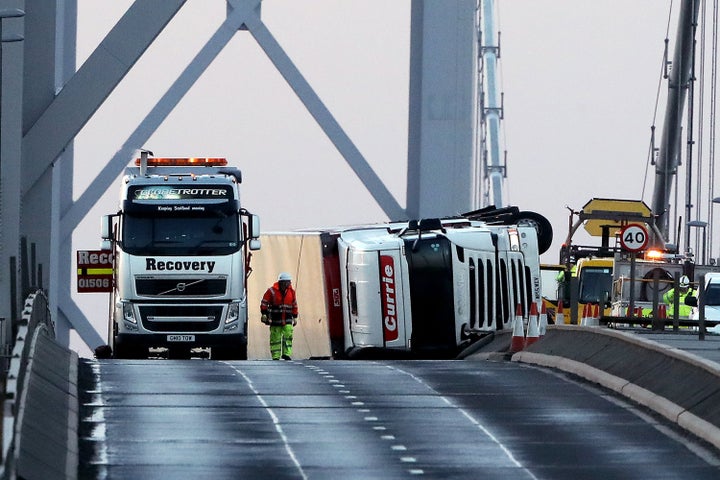 The mix could bring "blizzard-like conditions across parts of Scotland" leading to "some very tricky driving conditions".
There is also a chance of thunder and lightning, which could disrupt the power supply and bring so-called "thundersnow".
Snell added that it would be "a very unsettled and cold day across the northern half of the country".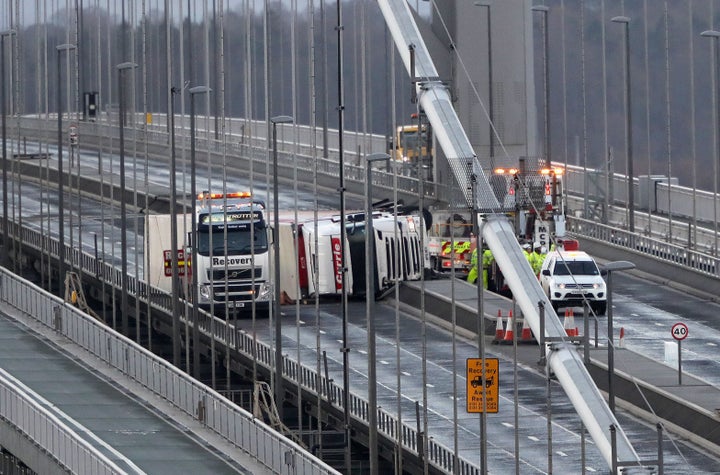 Temperatures may drop to minus 5C (23F) in parts of Scotland, but freezing conditions are possible elsewhere in England.
By Thursday, the stream of cold air will spread further south, bringing hazardous conditions to much of the UK.
The Met Office's snow warning extends to parts of north-west England on Thursday - with a risk of wintry weather in southern England, while strong winds and wintry showers will continue to affect Scotland.
Around 2cm of snow is possible in low-lying areas, while 10cm could fall on high ground.
Snell said the next few days would be "distinctly colder", with bitter weather across all parts of the country by Thursday.
He added that it would remain "windy and cold on Friday, with potentially some large waves and coastal flooding going down the eastern side of the country".