In the latest in our WISE WORDS interview series - where stars from a whole range of fields share the important life lessons they've learned along the way - we're posing some of the big questions to LAURA MVULA.
Laura Mvula, originally from Birmingham, has released her debut album, the award-winning 'Sing To The Moon' which will be followed by 'The Dreaming Room' in June.
She was inspired by the friendship and support of Prince, whom she supported on tour, and who championed her music. Understandably, Laura is still in shock this week following the star's death, but she tells HuffPostUK:
"The first time I met him was backstage at a gig where I was supporting him, and he smelled like heaven. Then he went on stage, and in that unique way he had, he introduced himself, 'I am Laura Mvula'.
"We connected musician to musician. We shared a pure, genuine desire to make music, and that meant, despite his incredible status, there was no hierarchy. It was like working alongside someone in music college.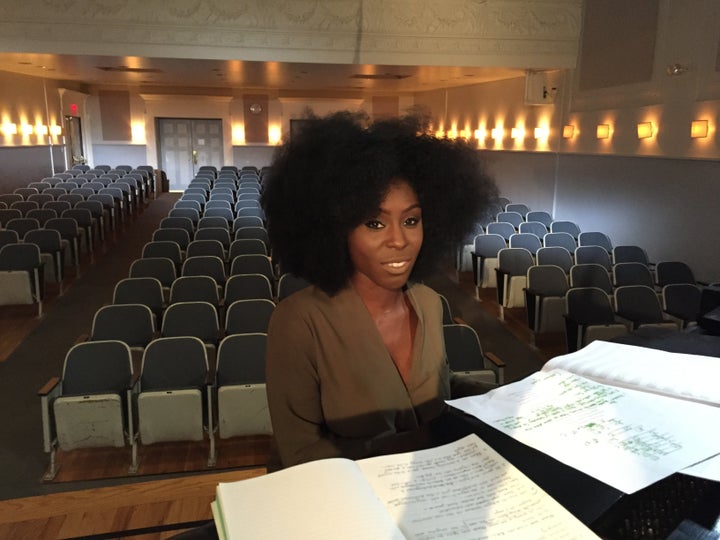 "He knew, more than anyone, that making music is not straightforward, there are so many obstacles.
"And he paved the way for us who feel sidelined, who can't express ourselves. He was a true champion of the artist, and of free expression, even though he didn't have to be. He was never silent, and that's not easy."
To mark the release of new Hollywood film, 'Nina', BBC Music follows British soul singer Laura Mvula to New York City to celebrate the songs and civil rights activism of the legendary American singer, in 'Nina Simone And Me'.
With the film debuting on BBCiPlayer on Friday, Laura spoke to HuffPostUK about some of the harsh lessons she's learned along the way and the reason she'll stay forever grounded, despite her success...
What do you do to switch off from the world?
It's the perfect time to ask me that question, with me finishing my music and now promoting the album. Every day, I try to spend half an hour, just me with my cushion, away from the phone, away from the internet, just me and my cushion. I hide behind it for a while.
How do you deal with negativity?
I've just turned 30, and everything's started making more sense. I used to take bad comments so personally, but now I don't take much on board. Everybody is going to have something to say, we live in that age of expression, throough social media, through Twitter, everything. There are really only two or three people whose negative opinion would affect me now, my manager and a couple of family members, because I respect them, and that's it.
When and where are you happiest?
Having worked so hard to create my music, I would have to say playing it on stage. I really feel there that I've come into my own, that I've found my space.
What's the best piece of advice you've ever been given?
'Be kind to yourself.' I I think there's a lot of negative energy around, we live in a very critical airspace, and we get used to attacking ourselves. And we mustn't.
What has been the hardest lesson you've learned?
That you can't make people love you.
What would you tell your 13-year-old self?
Don't get extensions in your hair.
What 3 things are at the top of your to-do list?
Take over the world; find the love of my life; have children.
What do you think happens when we die?
It changes every day. At the moment, I'm thinking about Prince, and wondering 'Where are you, where did you go?' There must be something else.
When do you feel a sense that we live in the presence of something bigger than ourselves?
When I'm writing music. I'm just the go-between.
What do you try to bring to your relationships?
Laughter. I love nothing more than throwing my head back in laughter.
What keeps you grounded?
Knowing that, as a young black woman performer, there are still doors that are shut. Still.
What was the last good deed or act of kindness you received?
When my album was released, everyone came out to celebrate with me. Sometimes that can be harder than sharing a time of sorrow. But it meant a lot.
'Nina Simone and Me' is available exclusively on BBC iPlayer from 7am on 29 April. Click here to view.