A triathlete has broken the record for visiting every country in the world in the fastest time.
Cassie De Pecol, from Connecticut, is now a Guinness World Record holder after visiting all 196 countries in 18 months and 26 days.
The 27-year-old documented her entire journey on Instagram, calling it 'Expedition 196', and the photos are giving us major wanderlust.
De Pecol set off on her trip on 24 July 2015 and completed the project on 2 February 2017, recently being named the record holder.
She resisted the temptation to take things easy and spent just a few days in each place.
On her website she describes herself as "a world traveller, explorer, environmental activist, women's rights and peace activist, educator, triathlete, and entrepreneur".
She says promoting peace and sustainability was at the heart of her trip, so she planted more than 45 trees across 15 countries in order to offset her carbon footprint.
She's also given talks in universities about sustainable tourism and worked as an ambassador for the International Institute of Peace Through Tourism throughout her trip.
Visiting every country in the world has been one of De Pecol's ambitions since she was at school.
She quit her corporate job in 2012 and soon began planning and saving.
In total she budgeted $198,000 (£160,000) to fund her adventures, much of which was gained through obtaining sponsorships and endorsements.
She promoted eco-friendly hotels on Instagram in exchange for free accommodation for most of her trip.
"Going to every country was for me a personal quest to learn as much as I could about our world, stepping outside my comfort zone and becoming comfortable in the unknown, while also aiming to leave a legacy behind," she told the MailOnline.
As a solo female traveller, she said she experienced some difficulties men may not do when exploring the world alone.
"I've been harassed and in sticky situations, whereas a man in the same situation likely wouldn't have experienced the same," she said.
"Some like to be believe that they can take advantage of me because I'm a woman, thinking I'm more gullible to cough up more money or talk to them more because they want me to, but I don't tolerate any inequality anymore."
Overall though, De Pecol said she thoroughly enjoyed her trip and hopes to inspire other men and women to get out of their comfort zone.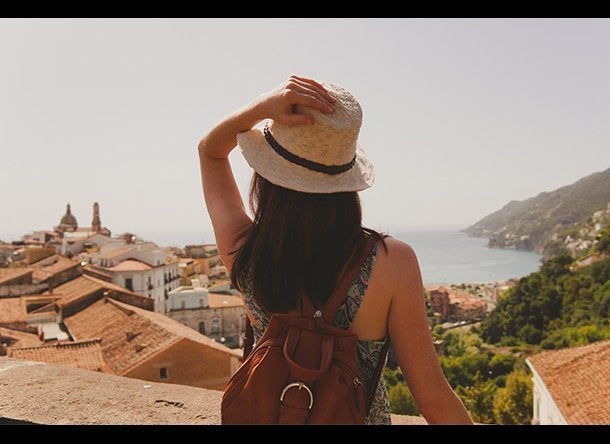 The Best Places to Go in Europe for Every Kind of Traveler
Related