A woman who faked her own kidnap and rape has been convicted of a determined campaign of stalking against her former boyfriend.
Jessica Nordquist sent scores of text messages and emails to the male victim and made false allegations about him in an attempt to bring his reputation into disrepute. She also made malicious communications against their shared employer.
In January the 26-year-old was issued with a first instance harassment warning and two days later she was arrested, interviewed and released under investigation.
At Nordquist's home, officers found a number of mobile phone sim cards for various networks and a toy deer she has stolen from the victim's desk.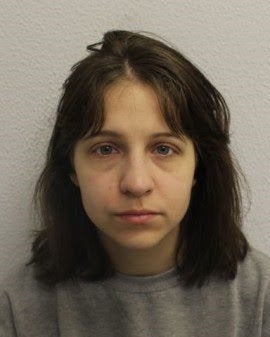 Around 20 Instagram accounts were found to have been created by Nordquist for the sole purpose of harassing her victim.
In April, her family, friends, colleagues and the victim received an email purporting to be from an alleged crime group, claiming they had raped and kidnapped Nordquist. Attached were photographs of her naked, bound and gagged. Further emails were sent claiming the group had broken Nordquist's fingers.
The matter was reported to police, and officers swiftly established a crime scene at Nordquist's flat in Whitechapel, where they discovered a disturbed scene, along with a kidnap note pinned to the front door.
Two days later, Nordquist was found alone, safe and well by police in a bed and breakfast in the Scottish Highlands. She gave them a false name and discarded two mobile phones in a toilet bin when officers took her to see a doctor. She also had disguise kits and camping equipment in a rucksack and booking confirmation print-outs of accommodation she had booked in places further north of Aviemore.
Nordquist was arrested on suspicion of stalking and she was brought to London where she was charged with a further count of stalking and one of perverting the course of justice.
She pleaded not guilty to two charges of stalking, two charges of malicious communications and a further charge of perverting the course of public justice.
Norquist will be sentenced on a date to be confirmed.
DC Joanne Farrell, formerly of the Community Safety Unit at Tower Hamlets, said: "Infatuation or revenge, Nordquist's motivation remains unknown. She pursued a relentless campaign of stalking - culminating in faking her own kidnap and assault - that caused immense distress and embarrassment to the victim, his colleagues and loved ones; and even her own family.
"Throughout the investigation and trial, Nordquist has shown she is a compulsive liar and deeply manipulative. She was offered numerous opportunities to admit her offending and receive help, but she repeatedly refused to do so; forcing the need for a trial.
"Her actions diverted police resources from real victims of crime. Her lack of technical expertise and clumsy attempts to cover her tracks by 'hiding in plain sight' ultimately led to her conviction, which would not have been possible without the cooperation of UK mobile phone networks and other businesses - for which the Metropolitan police are grateful."