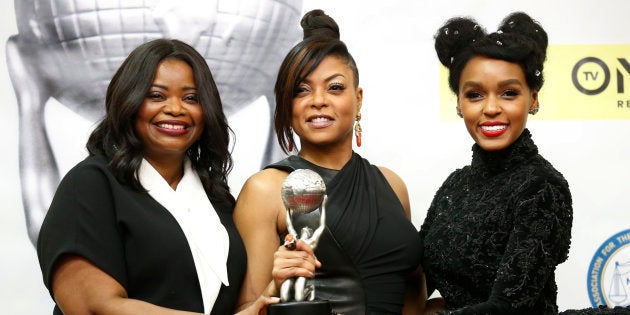 Stories are powerful; the film medium is instrumental in its possibilities of reaching a wider audience which in turn shapes the global community. I recently watched Theodore Melfi's latest offering "Hidden Figures", a film centered around the untold tale of three African American women who were part of great minds or "human computers" as (they were called) to launch John Glenn into space in 1961.
This historical story is held together by notable Hollywood actors of colour Taraji P. Henson as Katherine Johnson, Octavia Spencer (Dorothy Vaughan) and Janelle Monae as Mary Jackson. As a feel good inspiring biography; the film achieves its mandate. And when put against the backdrop of current affairs, "Hidden Figures" is told at a very crucial moment, not only is it relevant now but also portrays history in ways that shows that black women have contributed the best they could given the oppressive nature of the system they are still defying today. So here is why I choose to overlook that Melfi's characters are without any flaws!
The power of representation allowed me to walk out of the cinema feeling that I can do anything in the world as a black woman, ready to conquer, slay and become. I did feel that black women have endured a lot, shed a tear yet remained spirited and positive towards women being vehicles of change. That alone is enough to push anyone who feels stuck in their place of work or in anything they aim to achieve.
Even though we have the stereotypical portrayal of a single black woman (Johnson) who is raising three children with the assistance of her mother, the director takes caution not to make her a mother dealing with a case of 'absent multiple fathers', instead she is a widow of a loving husband, an important refreshing narrative. You simply fall in love and respect her from the beginning right until the end of the film.
It is striking to see strong black women standing their ground in all aspects of their lives. As Jackson, Monae will not let any man get in the way of achieving what she has fixed her gaze on. She speaks her mind at work and at home. Her husband grasps that she is unstoppable very fast, whereas her supervisor sees her deniable strength and wit of being capable of being an engineer just like any man in the room.
One cannot stress the relevance of the role played by the remarkable Spencer. She portrays Vaughan as someone who stood for all the women and nothing else. Her role is filled with the spirit of sisterhood or togetherness. She refuses to take a promotion that does not include taking the ladies she has taken upon herself to train after discovering the new developments in the main NASA computing area. This is a significant beat; the portrayal of this unity is much needed, MORE please!
The unapologetic nature of the women whose story "Hidden Figures" portray demands their flawlessness to precede everything else. Womandla!
Related