Rachael Bland and Deborah James are in fits of laughter on the end of the phone, as their friend Lauren Mahon discusses the intricacies her sex life - leaving no detail to the imagination. Taking a minute to compose themselves (to try and continue the interview) these women seem like they have been friends for decades, not just a few short months.
"We're the coolest club you never want to be a part of." And it's true, as envy-inducing as their female friendship is, they've been brought together in the worst of circumstances: each diagnosed with cancer before their 40th birthday - Rachael and Lauren with breast cancer [Rachael was told in May her cancer is incurable], while Deborah has stage 4 bowel cancer. At different stages in their journey, the women decided to start a podcast, 'You, Me and the Big C', on BBC Radio to share their stories.
But what pushed these women (who live at different ends of the country) to want to talk so candidly about their personal health problems in front of an audience of millions? We asked them the things they are desperate to share with other young women.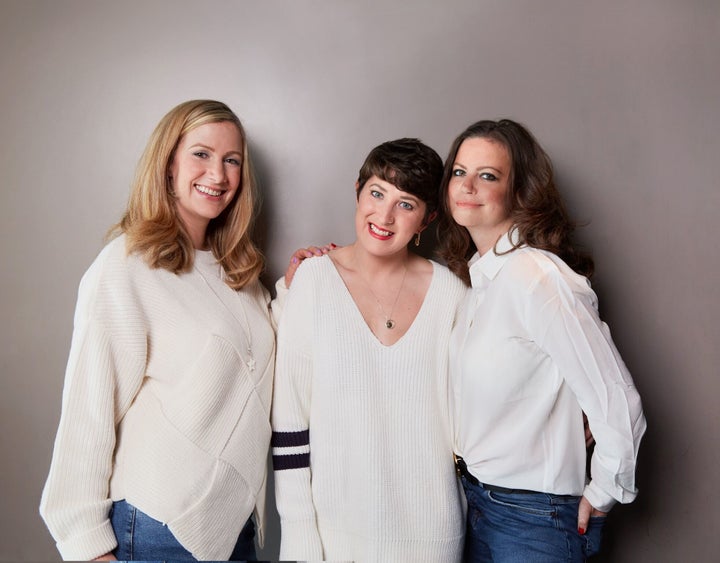 Not all cancer patients look sick. One of the first things that drew the trio together was their shared experience, but one that didn't fit the common narrative of being a cancer patient. "All these images you see on the posters for cancer charities: the grey, sick-looking person who can't get out of bed. That isn't necessarily how cancer is going to be for you," says 40-year-old Rachael who lives in Cheshire with her husband and toddler. "For myself and other younger people with cancer, life does go on."
In fact, neither Rachael or Deborah, 35, have lost their hair through treatment. Lauren, who is now in remission, suffered more visible side effects: "There was a moment when I was at the end of chemo when my face was covered in rashes, I had barely any hair left - I kept the sides and front and went bald in the middle like a Friar Tuck, I had hardly any eyebrows and I was bloated from steroids." Now, having had the 'all clear', she looks more like her old self.
Being ill doesn't stop you wanting to date, have sex and get drunk. "I'm one of the most swiped people on Tinder in the country, which is hilarious because my Tinder game is shocking," laughs Lauren, who has been single for eight years but hasn't stopped dating just because she's been in cancer treatment. "I would be very open with men about what was going on in my life." But it isn't always as easy as it was before: "A massive part of my identity was owning my sexuality. And when you can't do that cause you're sick, it's not nice."
The same goes for going out with your friends and being at the pub. All three try to not to let their diagnoses interfere too much with their social lives - in fact, Rachael says: "There are some nights when you totally forget you've got cancer, it's like it never happened."
"You end up consoling your friends saying - don't worry it's going to be fine."
Some friends can't cope with a cancer diagnosis. "I was even ghosted by one person," says Rachael. "I thought she was a friend, but after my diagnosis I just never heard from her." Deborah also had to deal with friends who didn't know what to say: "You end up consoling your friends saying - don't worry it's going to be fine. And you're thinking, hang on, I'm the one with cancer!" It does impact your relationships, she adds. "Some for the better and some less so."
No matter how old you are, you will always be your parent's child. Another result of having a serious illness at a younger age, is the likelihood of older family members, such as parents or grandparents, being around to see you go through it. When Deborah suffers from treatment side effects, she goes home to her parents' house. "I have a husband and two children [aged 8 and 10], but I end up reverting to being a 14-year-old when I'm feeling really ill. My mum gives me food and my dad holds back my hair while I vomit."
Rachael also counts on a parent when she is feeling poorly. "When I'm ill my mum will stay a week or more at a time, do my ironing and she'll look after my little boy in the morning so I can have a lie in and do those things around the house."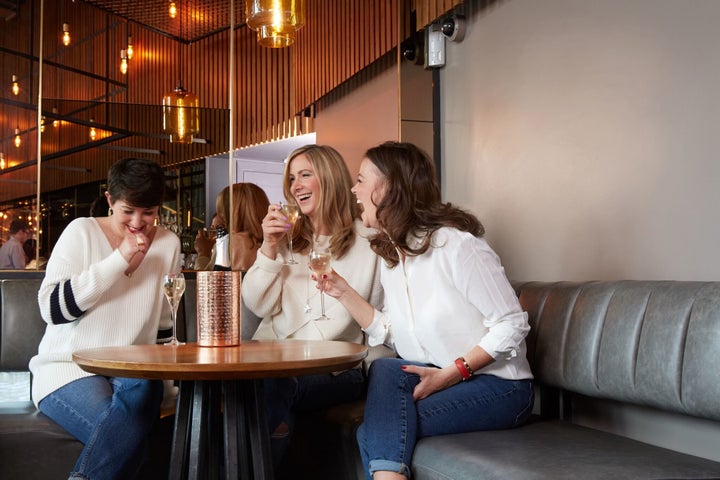 The small things you are worrying about right now, just stop. Lauren describes the moment she realised how much time she'd wasted worrying over the small things and taking her good health for granted. "A picture flashed up on Facebook from a hen do in Dubai. I'm there with my drink in my hand. My hair was long..." When she saw the photo, she burst into tears: "I never appreciated my body, my looks, all the positives. I only saw the bad." She has since promised never to think that way about herself again. Rachael spent a lot of her youth feeling anxious about the future, worrying about money and plans - but all that worrying didn't change anything for the better. Now, she thinks f*** it: "I've been on so many holidays since I've had cancer: all the sensible advice you get from financial experts is skewed in the face of cancer."
You can't cancer-proof your life. Rachel says when she was first diagnosed with cancer felt a lot of guilt and self-doubt: "I asked myself - have I done something to cause this cancer? Did I not exercise enough or eat the wrong things?"
Deborah experienced a similar frustration when reflecting on her diagnosis. "On paper I am low risk and still got it," she says, explaining for example that she has been vegetarian for 25 years which is linked to significantly lower risk of bowel cancer. Her diagnosis has caused her to reflect: "Don't put your life on hold to try and prevent something happening."
Cancer shakes you out of being comfortably numb. While they are not grateful for cancer, they do say the illness has given them a renewed perspective on life. Lauren says: "It means so much more to be alive now. Rather than doing something 'one day' you'll do it now because you don't know what tomorrow holds." And Rachael agrees: "Since becoming a mum I had just been plodding along with life, picking up shifts at work here and there. Well, not any more." Deborah adds: "I would give up everything not to have cancer, but it does make you reprioritise."
Related