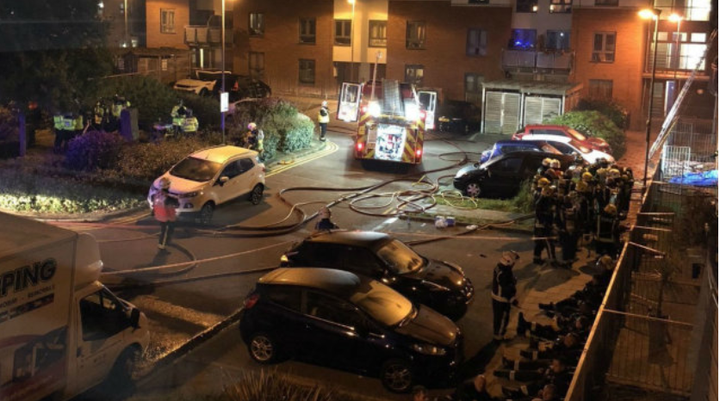 A woman has been found dead by fire crews tackling a house fire in south-east London that is being treated as an arson.
Eight fire engines and around 60 firefighters responded to the blaze at a house in Centurion Square, Woolwich around 1.20am after receiving nearly two dozen 999 calls.
The London Fire Brigade (LFB) said two people left the property before firefighters arrived at the scene and were taken to hospital by London Ambulance Service.
Fire crews wearing breathing apparatus later found a woman dead at the scene.
Her name has not yet been released, but she is believed to be in her late 40s.
A Scotland Yard spokesman said on Thursday: "At this stage, the fire is being treated as suspicious. Enquiries in the full circumstances continue. Local CCTV footage will be reviewed and detailed forensic tests carried out."
The ground floor, first and second floors of the property were damaged by fire which was brought under control by 3.12am.
The cause of the fire is unknown and is being investigated, the LFB said.
Police officers today stood guard by a cordon around a cluster of houses, behind which the scorched property could be seen.
Its windows were open and a diagonal dark scorch mark could be seen stretching from the first to the second floor.
Several forensics officers wearing blue and white body suits, gloves, boots and helmets were seen outside the house, as a number of search dogs looked for accelerants in the surrounding area.
Two ambulances, a forensics van and fire brigade vehicles were stationed in and out of the cordon.
Residents were asked to sign in and out as they entered or left the secure area.
Fire crews from East Greenwich, Eltham, Plumstead, Greenwich and other surrounding fire stations attended the scene.
In a separate incident in Woolwich, a woman in her 20s suffered a gunshot wound to her abdomen in Mulgrave Road - about an eight minute walk from the scene of the fire - around 7.24pm on Wednesday, Greenwich MPS said.
The woman was taken to hospital with injuries that police said are not life threatening.
Greenwich MPS said no arrests had been made and urged any witnesses to contact police.
The Metropolitan Police said on Thursday that there was nothing to link the two incidents which are being treated separately.