Fancy sipping cocktails at the world's best bar? Good news, it's in the UK. Bad news, it's going to be closing soon – so you better be quick.
Dandelyan, which is situated in the Sea Containers at Mondrian hotel on the Southbank, bagged the number one spot in the World's 50 Best Bar Awards.
Described as "innovative" and "high-end, but accessible", the bar is the brainchild of Ryan Chetiyawardana (aka Mr Lyan) and Iain Griffiths.
You've heard of "nose-to-tail" eating? Well, Dandelyan takes this approach to plants to create new flavour combinations to make memorable cocktails.
And the places looks as good as its cocktails taste, with luxurious interiors in a palette of powder pink, rich greens and gold.
Sadly, the bar is set to close next year, with Mr Lyan making the announcement on Instagram just days prior to winning the award. The entrepreneur – who has a string of cocktail bars under his belt including the four-year-old Dandelyan – said sometimes the only way to keep things up-to-date is "to burn it down, start afresh, and rise again as something brighter, shinier and more fitting of where we're (all) now at".
But if you're not able to visit the award-winning bar before it closes, we've got our hands on an exclusive 'Black Leather Fizz' recipe from Mr Lyan himself.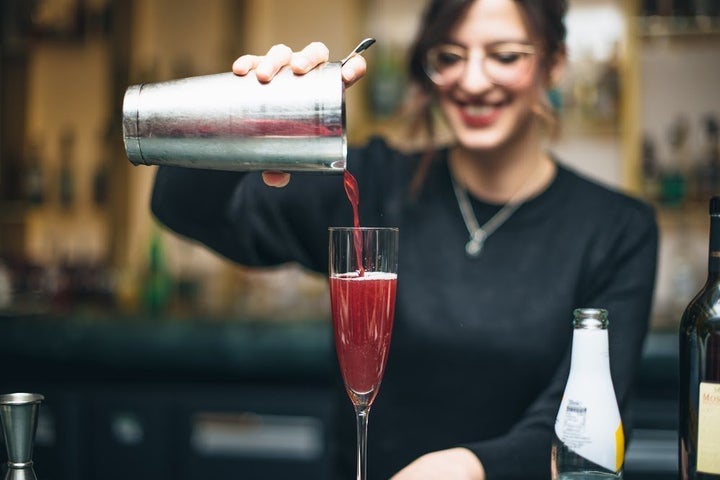 3 blackberries
60ml Martini Riserva Rubino Vermouth (or other richer style 'rosso' vermouth)
Teaspoon leatherwood honey (or other darker raw honey)
Sprig of douglas fir (or pine, or failing that a sprig of rosemary)
5 dashes Peychaud bitters
1 dash absinthe
Chilled Champagne (or other traditional method dry sparkling) and soda water
Crush the blackberries in the bottom of a shaker, then add the honey & vermouth and stir to dissolve.
Add the bitters, absinthe and douglas fir, then shake well with cubed ice.
Take a chilled flute and add 50ml cold Champagne, and 50ml soda, then strain the mixture into the glass. Garnish with a lemon twist.