Hywind Scotland is now sending enough electricity into the Scottish grid to power a staggering 20,000 homes during peak weather conditions.
The Norwegian energy company behind the technology, Statoil, have been perfecting their design since 2009.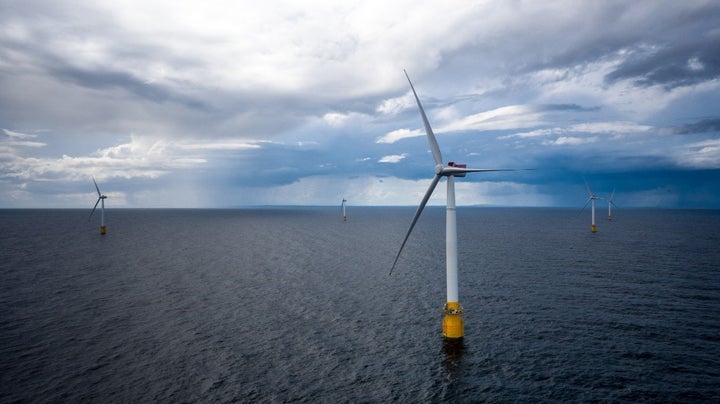 Each turbine is a whopping 175m tall (that's taller than Big Ben) and weighs over 11,000 tonnes.
To prevent these vast towers from tipping over each one uses what's called a spar buoy. It's essentially a vast floating weight that extends deep below the surface, much like an iceberg.
Each buoy is filled with around 3,000 litres of sea water and 5,500 tonnes of solid ballast. Finally each turbine then gets three vast suction anchors that are placed deep into the seabed.

The end result is that you have a huge wind turbine that can operate in deep sea conditions of depths up to 105m.
In addition to the floating wind farm Statoil are also working on a massive battery project in Scotland called Batwind, a 1MWh battery system specifically designed to store the energy generated by Hywind during off-peak hours.
Hywind will ultimately serve as a template for what could be the next evolution in wind power: Deep sea wind farms.
So far, we've been limited by the depth of the ocean, forcing us to build wind farms offshore but still close enough that the infrastructure can support them.
By creating wind farms that can float, you not only remove the limitations set by depth but it means you can finally access one of the largest renewable energy sources on the planet: The North Atlantic.
In a recent study, it was theorised that if we could build wind farms out in the deep oceans of the North Atlantic there would be enough harvestable energy to power our entire planet. Even during off-peak seasons there would still be enough energy to power the whole of Europe.
That's before you even start factoring the other renewable energy sources at our disposal such as solar, geothermal and hydroelectric.