Health experts have warned that people can get both flu and Covid-19 at the same time, and the consequences can be deadly.
Speaking at a media briefing on this year's flu vaccine, Public Health England's medical director Professor Yvonne Doyle warned that those at high risk of flu are most at risk of Covid-19, too.
A new study funded by PHE found people infected with flu and Covid-19 at the same time are almost twice as likely to die as those with Covid-19 alone.
With flu and Covid-19 likely to circulate at the same time this winter, experts worry the viruses could have a significant impact on health service demand, as well as rates of illness and death.
They are urging people eligible for a free flu vaccine to get one.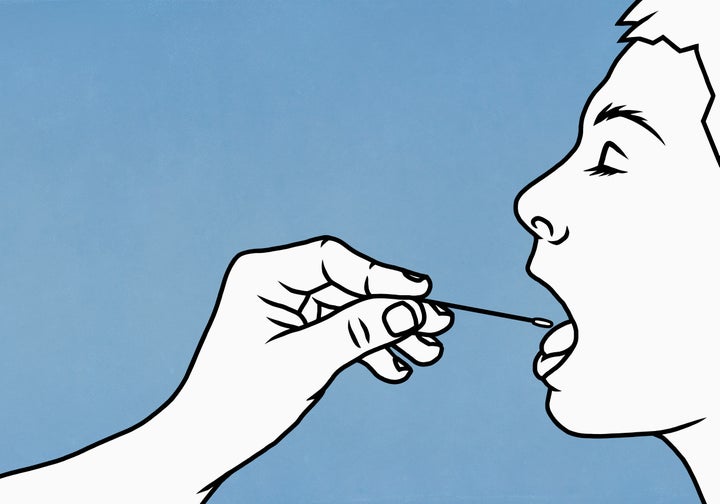 The research, looking at cases between January and April this year, also found those with co-infection of the two viruses were more at risk of severe illness. Most cases of co-infection were in older people and just under half of them died.
That said, the likelihood of a person getting both flu and Covid-19 seems low. Of 19,256 individuals tested for both influenza and coronavirus, 58 people were found to have co-infection.
Overall, 43% of cases with both Covid-19 and flu died, compared to 27% of those who tested positive for coronavirus alone.
One caveat of the study is that it used data from people who tested positive for flu and Covid-19 from January to April this year. Professor Jonathan Van-Tam, the deputy chief medical officer for the Department of Health and Social Care, said at that point, the vast majority of Covid-19 tests were not being done in the community, only in hospitalised patients.
"There are multiple, plausible reasons why it's a bad idea to have Covid-19 and flu at the same time," he said. People who have both need to stay in hospital for longer, have a greater risk of dying, and studies in mice have also shown "poor outcomes".
Prof Doyle and Prof Van-Tam urged those eligible for the free flu jab to get one. Letters will be sent out to people this week encouraging them to book an appointment, with extra measures in place to keep people safe.
Dr Nikita Kanani, a London GP and NHS Medical director for primary care, said flu vaccines may also be offered in outdoor settings, such as car parks, alongside drive-through vaccine services.
The UK has one of the highest rates of uptake for the flu vaccine and, last year, two thirds of those eligible for it received one.
Its effectiveness was 42.7% last season, said Prof Doyle, noting that while it might not prevent all infections, it does "take the edge off" if you've had the vaccine and then come down with flu.
In England, influenza kills an average of 11,000 people each year. Last year's flu season was considered "medium impact", with low levels circulating in the community early on in the season, yet an estimated 8,000 people still died from it.
Prof Doyle said there is some evidence to suggest flu and Covid-19 might compete with each other, meaning those who test positive for flu are less likely to test positive for Covid-19. The PHE study found risk of testing positive for coronavirus was 68% lower among influenza positive cases.
Some people might take this as a sign that you could hold out hope of getting flu and, fingers crossed, you won't become ill with Covid-19 if you come into contact with someone who's infected. But this heeds a strong warning from Prof Doyle, who said: "If you get both, you are in serious trouble."
This year's flu vaccine will be offered to 30m people in total. The children's flu programme has been extended to cover kids in the first year of secondary school, and the vaccine will also be offered to household contacts of those on the shielded patient list.
Later in the season, people aged 50-64 years old will be offered one.
As the symptoms can be very similar, people who experience signs of flu or Covid-19 should self-isolate. You should only request a Covid-19 test if you have a new, continuous cough; a high temperature; or loss of or change to sense of smell or taste.