The royal family should be vaccinated against Covid-19 before pub workers, the British public have said in a new survey.
A YouGov poll of more than 2,000 people, published on Thursday, reveals – perhaps unsurprisingly – that 90% of Britons believe frontline healthcare workers should be the government's priority for receiving the vaccine.
Eight-out-of-ten people believe care home workers should receive the vaccine as a priority, while 78% of people said care home residents themselves should be pushed to the front of the queue.
Three quarters of people surveyed also said those over 80 should be prioritised.
But the poll didn't stop with care workers and the elderly. Half of those polled said social workers should be prioritised, slightly ahead of police officers at 48%.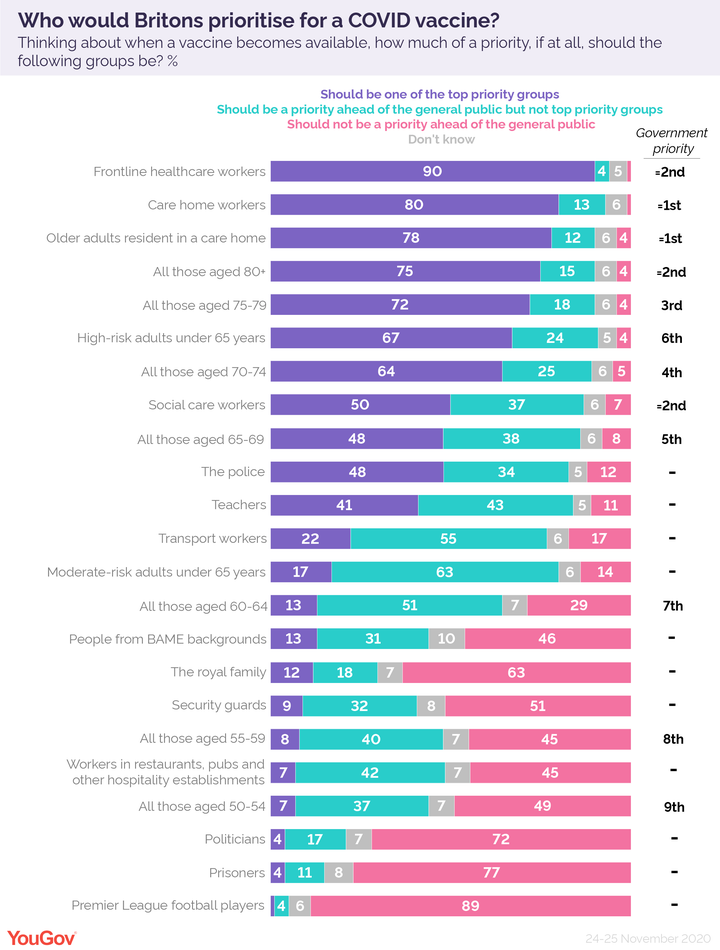 Meanwhile, more than 10% of the British public said the royal family should be prioritised by the government. That's higher than any worker in the hospitality industry, politicians, and Premier League footballers.
Pubs have dominated the public discourse in recent days, with many landlords facing closure due to heavy restrictions on opening hours and capacity under the tough new tiers. In tier 3, which covers millions of people across swathes of the country, nobody is allowed to sit inside a pub or restaurant – with only pre-booked takeaways permitted.
Even in tier 2 pubs are prohibited from serving drinks unless they are sold alongside a "substantial meal". On Tuesday the government said pubs that don't serve would be given a £1,000 grant to help them survive the strictest rules, an amount described as a "joke" and an "insult" by some landlords.
Just 4% of people said politicians should be prioritised ahead of the general public – the same percentage of people who said prisoners should be amongst the first to get the vaccine.
One in eight said people from Black, Asian and minority ethnic (BAME) communities should be included among the top priority groups. This follows calls from high profile politicians such as Sadiq Khan to do so alongside evidence that people from these communities are disproportionately affected by the pandemic.
The UK has already ordered 40m doses of the free jab – enough to vaccinate 20m people, or a third of the population.
The JCVI says its ranking of priorities is a "combination of clinical risk stratification and an age-based approach, which should optimise both targeting and deliverability".
Older adults resident in a care home and care home workers
All those 80 years of age and over. Front line health and social care workers
All those 75 years of age and over
All those 70 years of age and over
All those 65 years of age and over
All Individuals aged 16 to 64 with underlying health conditions.
All those 60 years of age and over
All those 55 years of age and over
All those 50 years of age and over
The rest of the population (priority to be determined)
But despite facing huge losses throughout the pandemic and being placed at the top of the priority list, it emerged on Wednesday that hundreds of thousands of care home residents will miss out on the first wave of Covid vaccinations.