Your workout could be good for the planet as well as your health. ECo fitness company SportArt are launching a UK-wide range of sustainable gym equipment that can generate energy from your hard work.
The ECO-POWR range includes the 'Verde' treadmill, which is tipped to be the world's first energy-producing treadmill. It can convert up to 74% of kinetic energy that is produced while you move into electricity.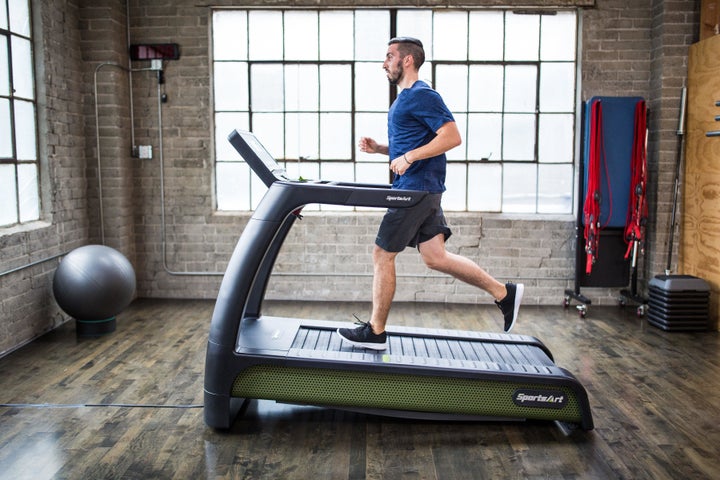 Each machine uses a piece of technology called a 'micro inverter' to harness the energy generated when people use it, returning that power back into the local power grid. The range also includes a cross trainer, an elliptical trainer and various exercise bikes.
A workout on any of these machines can generate up to 200 watts of electricity per hour, while a circuit of ten machines could generate an annual saving of £1,300 per year in a single gym facility. To put this into perspective, a desktop computer uses 400 watts an hour, a laptop uses 200 watts an hour, an incandescent light bulb uses 60 watts an hour, and a hair dryer uses 1200 watts an hour.
"We're excited to be bringing this genuinely innovative range of fitness equipment to the UK market," Roger Eldergill, UK manager at SportsArt said. "[The range] can be transformative through helping [people] to achieve their sustainability goals, reducing energy costs and improving [gym] member engagement."
While you may have been able to find SportsArt's equipment in select gyms in London and Brighton in the past, these sustainable gymming options will now be available to the rest of the UK.
While the focus is on stocking gyms, the entire collection will be available to buy for your own home - HuffPost UK is currently waiting on a price from SportsArt.
You can find more information on buying a machine from the ECO-POWR range here, or you can call 01509 274440.