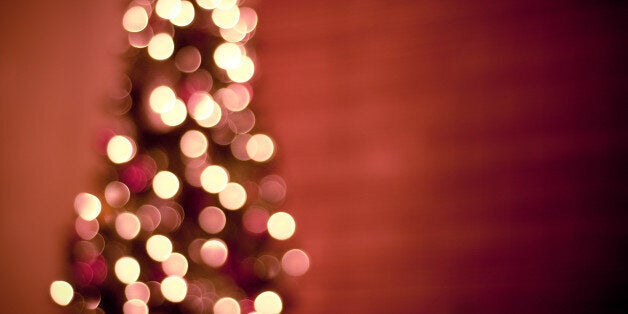 At the end of Dr Seuss' How the Grinch Stole Christmas, the narrator says: "Then the Grinch thought of something he hadn't before! What if Christmas, he thought, doesn't come from a store? What if Christmas...perhaps...means a little bit more!"
Behind the glitter, the sparkly television ads promising you so much and what your friends post on Facebook about how hashtag AMAZING their Christmas is, Christmas can also be a time of deep regret, isolation, fear and anxiety. Not to mention the darker evenings, colder weather, the influx of social gatherings and the pressures of trying to do and be absolutely everything- it isn't a surprise then that Christmas isn't always a merry occasion for all.
If you already struggle with anxiety, depression and loneliness; the festive season can heighten these feelings and bring to surface some difficult emotions as our routines are rocked, bank balances emptied and diaries bursting. For many, Christmas is always extremely emotional and incredibly challenging. But like the Grinch says maybe Christmas is something more than what the shops and adverts tell us it is...
Christmas can be more than being busy
Ever felt like you're drowning in social expectations, like you've over extended yourself or fallen short? Generally, all of these feelings are completely self-inflicted. For some reason we like to measure our worth by how much we get done, as if we are our accomplishments and who we are isn't good enough. Christmas is and will always be undeniably busy - my social diary was already filling up by mid-October. But you do have permission to say no to the things that don't really matter so you have the time, energy, and passion to say yes to the things you really care about. Remember, you are always in control of your life and if going out on a week night for another Christmas meal is just feeling like too much, all it takes is a short explanation to your friends and family, which you don't have to justify or over apologise for, to release you from social demands.
Whatever relaxes you this Christmas, whether that's a bubble bath, binge watching Netflix or doing some mindful colouring in, make sure you take some ME time out. It's not self-indulgent, greedy or selfish. People will love you for who you are and how you treat them, not because of the tick marks on your to-do list. They will love you because you make time for them this Christmas, in whatever capacity that is, even if it's only a heartfelt message in a Christmas card.
And sometimes, you'll have to resign yourself to the fact that you won't get everything done: you can't see all of your friends, travel across the country visiting distant relatives and being and doing good to all in one single week off. A good idea to relieve the pressures of Christmas is to sometimes say no to Christmas plans, and instead organise some exciting plans for the New Year ahead.
Christmas can be more than happiness
With 1 in 4 of us experiencing a mental health problem each year, over 41,000 children bereaved of a parent each year and homelessness up by 30% this year, it's no wonder that the Christmas season is extremely unsettling, distressing and upsetting for many across the UK. Great sadness surrounds us. Yet, messages bombard us telling us we should be happy, we should be surrounded with our nearest and dearest; we should be dressed to wow. But the reality is far from it. It's so important to be mindful about how we act or speak around others. Some may have recently lost a loved one and will be spending this Christmas day alone, some may be stricken by poverty and have no Christmas presents under their tree, some may be battling with eating disorders and riddled with anxiety and so on. This Christmas, spare a thought for someone else, someone who may be alone, frightened or depressed. Why not take some time to donate to a charity which means something to you, volunteer your time or visit a neighbour during this Christmas time.
Christmas can be more than gifts
We hear the phase it's better to give than receive all the time, especially this time of year. But do we believe it? We live in a world that seeks personal satisfaction and gain, treating ourselves and getting the most out of things for ourselves. But accumulating possessions and stacking up sale bargains offers only temporary happiness. On the other hand, generosity and giving offers a lasting happiness, purpose, and sense of fulfillment.
Christmas is far more than the expensive presents wrapped under the tree, it's a celebration of love and joy and peace. These are the greatest gifts we can ever give and paradoxically often the most difficult. We dig in our heels. We decide we will offer forgiveness, but only if others make the first phone call. We will show love, but only after they say it first. We offer compliments back, once we've received one first. And often we only respond in kindness, but only after others start showing some kindness to us first. But at Christmas, we can give some of the greatest gifts away which are all completely 100% free!
Love Christmas is a season of love--a celebration of giving out and sacrificing what we have to show appreciation to those in our lives who mean the most. And while expressing love to another may be the most beautiful thing we can ever do, it can also be one of the most challenging--especially when those who should love us the most withhold it. Love anyway. But, true love is not self-seeking, keeps no record of wrongs and demands nothing in return.
Peace No family is perfect. And all family relationships can often cause conflict, turmoil, and stress at any time, but the tensions are often heightened during the Christmas period. Be a peaceful presence this Christmas by taking the first step. One phone call or conversation may not patch everything up and make amends for years of hurt, but it's a small step in the right direction.
Hope Hope is one of the greatest treasures we can ever find for ourselves and the greatest gifts we can ever give to somebody else. This Christmas, see the good in others, believe in their greatest potential and encourage them often. Or believe in the possibility of change and hope, by giving money to charity or to a good cause?
Forgiveness The Christmas story is ultimately a story of forgiveness: a baby was born to offer forgiveness to those who need it most. In the same way, Christmas creates an opportunity to offer reconciliation to those who need it most in our lives. We can decide to forgive at any point, and make the first brave step. Even before an apology has ever been voiced, we can lay the foundations for reconciliation and a future of relationships.
So you see Christmas is more than tinsel, office parties and supposedly happiness all around. Don't fall into the trap of seeing Christmas through one particular lens this year. See Christmas from another perspective, Christmas is always more...