David Cameron will join the leaders of other EU countries on Thursday and Friday for a special summit to discuss the EU's migration policy, following a dramatic increase in the number of irregular migrants trying to enter the EU this year. In recent months there have also been more cases of migrants drowning while trying to cross the Mediterranean.
The European Commission has proposed a quota system for EU countries to help share the burden of taking in asylum seekers, however the UK and other member states have already voiced their opposition.
Read on to find out more facts and figures about migration.
Difference between asylum seekers and irregular immigrants
Asylum seekers are people claiming international protection due to the risk of persecution in their home country, while irregular immigrants are people who do not meet or no longer meet the conditions for entry, stay or residence in a particular country.
Irregular migration represents only a small part of total migration as many people have the legal right to live and work in another country.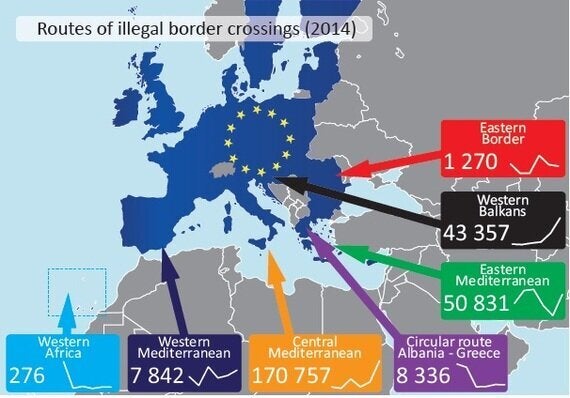 In 2014 the number of people entering the EU illegally tripled compared to the year before due to a large increase in the number of migrants coming from Syria, Afghanistan and Eritrea.
Last year 397,960 people found to be illegally living in the EU were told to leave and 156,470 left. In the UK 65,365 illegal migrants were told leave and 46,610 of them left, which is more than any other EU country (Greece was second with 27,055 illegal migrants leaving).
In 2014 there were 313,000 asylum requests in the EU. The highest number of applications came from Syrians, followed by Afghans, Kosovons, Eritreans and Serbians.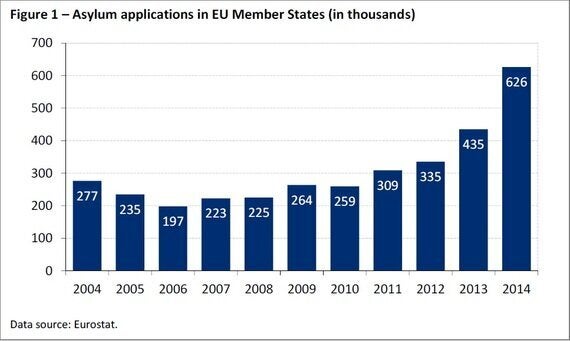 Germany received the most asylum applications with 203,000 requests, representing one third of all applications received in the EU. Sweden was second with 81,000 applications and the UK was sixth with 32,000 applications behind Hungary with 43,000 applications.
In 2012, 1.7 million people from outside the bloc moved to the EU, while an additional 1.7 million moved from one EU country to another. Most of them (592,000) moved to Germany, followed by the UK (498,000), Italy (350,800) and France (327,400).
Meanwhile Spain saw the highest number of people leaving (446,000), followed by the UK with 321,000.
The role of the European Parliament
MEPs called for a comprehensive EU approach to migration and more effort to prevent further loss of life at sea in a resolution passed on 17 December 2014.
The EU should do everything possible to prevent further loss of life at sea, according to a resolution approved by Parliament on 29 April. MEPs also called for a binding quota to share asylum seekers among all EU countries, bigger contributions to resettlement programmes, better cooperation with third countries and tougher measures against people smugglers.
On 20 May MEPs debated new European Commission proposals on migration, including a stronger common asylum policy and binding quotas for EU members to take in asylum seekers.
Images copyright European Parliament