They say one shouldn't judge a book by its cover; but hey, if you were lucky enough to have been alive to witness the Arab Spring unfold last year; then how could you possibly resist reading a book which: a) has a title like: Tahrir: The Last 18 Days of Mubarak, and b) is written as an insider account by a media professional who last served as the President of the News Sector for Egypt's State TV until the last moments of the former regime's 30-year-reign.
The author is the now London-based Abdel Latif El-Menawy; a veteran Egyptian journalist who between April 2005 and April 2011 decided to take on the responsibility of overseeing all news content at Egypt's Radio and Television Union (ERTU).
Of course, little did El-Menawy know that by accepting this role, he would eventually oversee Egypt's State Television coverage of the 2011 Egyptian Revolution and all the challenges that came with it.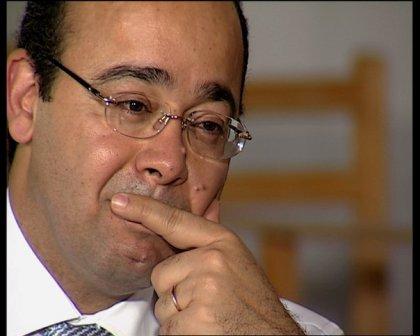 (Abdel Latif El-Menawi - image obtained with permission from his Facebook Group)
Perks and Perils
While the job certainly came with a great deal of authority, it was also quite restricting. Throughout his tenure, El-Menawy reported directly to the country's Minister of Information whose office was also located at "Maspero," Cairo's landmark television office and studio building which oversees the Nile.
Upon El-Menawy's appointment and up until Mubarak's resignation, Egypt's Information Minister was Anas El-Fekky (who is currently serving time in prison as a result of a post-revolution court hearing).
As the head of the news division at ERTU, El-Menway also had access to Egypt's leading figures and key decision makers. He had personally interviewed President Mubarak and managed Egyptian Television's coverage of major events which took place during his tenure.
He credits himself with changing many of things which were said to have been set in stone in state media; such as making it possible for news bulletins NOT to necessarily start with presidential news.
In particular, he believes that he came in at the right time to make a difference upon joining ERTU in 2005, a year which witnessed a constitutional amendment approved to open the way for a multi-candidate presidential elections. (Unsurprisingly that year, Mubarak won a fifth consecutive six-year term in office with an official result of 88.6%. His opponent, Ayman Nour, of the "Ghad" (Tomorrow) Party, is estimated to have received 7.3% of the vote and Numan Gumaa received 2.8%).
For his part, El-Menawy explains to me in an interview conducted here in London that it would be both unfair and unjust to say that 2005 wasn't the beginning of change in Egypt, "Even though we had a conviction that if the whole of Egypt had went down against him (Mubarak), he would have still won not by forging (the results) but because he was popular)," he adds.
Mubarak was the "first Egyptian Pharaoh who decided to be a Pharaoh by election," says El-Menawy who argues that this would have been the "first seed" for more multi-candidate elections in the future.
Now,many could argue that El-Menawy's couldn't have been completely independent considering that he was a member of Mubarak's ruling National Democratic Party (NDP) and that ERTU has long been regarded as a mere extension of the country's Ministry of Information.
On the other hand, there are those who recall that El-Menawy is veteran journalist who didn't come to this managerial post from "within the establishment". In fact, he made his name working with the Saudi Research and Marketing Group (SRMG), the Saudi-owned regional media power-house. He has served in many positions and worked for many SRMG titles in the 1980s and 1990s.
He claims that some of his coverage in the past has caused the Egyptian government to confiscate several issues of Al-Majalla, the SRMG magazine he used to be tthe Cairo Bureau-Chief for.
However, when it came to the 2011 Egypt's State TV's coverage of the #Jan25 Revolution, El-Menawy was criticised on various occasions. He is said to have marginalised the Tahrir Square protesters, focused on calmer areas and allowed the spread of rumours and allegations.
Through his book, El-Menawy accepts and provides justification for some of these criticisms; however, he also completely denies some of the stories which are said to have happened.
For instance, he says that for the first few days of the revolution, he was under direct orders from El-Fekky not to feature any of the protesters or interview them on air. On the other hand, he completely denies that the state television or even the Presidential Palace sought to insult the protesters or portray them as thugs.
El-Menawy recent appearance on BBC's Hardtalk to discuss his book and State TV performance during the 2011 Egyptian Revolution
Three Competing Camps
The book focuses and reveals several elements which were going on behind-the-scenes; First and foremost, an escalating tension which was secretly going on during the revolution between the Presidential Palace (a camp keen on passing on the presidency to Mubarak's son, Gamal), the country's Supreme Council of the Armed Forces (SCAF) led by Field Marshal Mohammad Hussein Tantawi and Egypt's Intelligence Service.
As a result, El-Menawy had to deal with a number of contradicting media requests and restrictions imposed by these different competing camps.
During the interview, he explains that what happened eventually was that "Two of these camps, the Army and the Intelligence, became allies. However, this alliance wasn't to overthrow the regime or the President, but to prevent (Mubarak's son) Gamal from assuming presidency".
Furthermore. he also reveals there were other logistical reasons that prevented Egypt's state television from doing its job. Apparently, protesters also smashed state television's cameras several times, which is why El-Menawy had to rely on footage taken by security cameras as one of his main resources in covering events in Tahrir Square
Now, as far as the flow of the book goes,it does come across like the author is justifying (or sometimes even defending) a number of the former regime's practices and actions; albeit, he does it by stating facts and providing enough context for his readers to decide which version of the story they prefer to believe.
For instance, when it came to the infamous YouTube videos of the Egyptian police van brutally running over and hitting protesters, El-Menawy suggests that this was not intentional saying that "far more likely, these police drivers were actually inept at driving their vans" and that many protesters spray painted the windscreens of police vehicles which resulted the drivers "terrified and poorly trained, slammed on the accelerator to get away from the protesters".
However, he was equally critical to a number of decisions and choices that Team Mubarak took during their final 18 days in power, repeatedly insinuating that the former president was kept in the dark and that he was surrounded by a clique of stubborn, selfish and out-of-touch group of advisers which included his own son, Gamal.
The book goes on to suggest that as the situation grew more complicated in Egypt, El-Menawy found himself having to rebel against all three camps and insisting that nobody interferes in his editorial decisions; such as when he allowed the broadcast of the army's "Statement Number 1" without going back to the "Palace".
Eventually, El-Menawy resigned from his post at Egypti's Radio and Television Union on 2 April 2011. He admits that he couldn't achieve everything he had hoped for and fears that Egypt is currently facing serious issues which may possibly lead to a collapse that he can't prevent.
Criticism of Al-Jazeera
A recurring theme in El-Menawy's book is his criticism of the Qatari satellite news channel Al-Jazeera's coverage of the Egyptian Revolution. (just to be clear, the criticism is specifically directed more towards Al-Jazeera's main Arabic channel and its sister channel Al-Jazeera Mubarasher (Live) which provides continuous coverage of major events and much less towards Al-Jazeera English).
According to what he wrote, El-Menawy believes that this might have to do with grudges still held in Qatar against Egypt after it was alleged that there were Egyptian mercenaries involved in the failed counter-coup of 1996 (This was when the exiled Sheikh Khalifa tried to re-take his throne from his son Sheikh Hamad, - the current ruler - who took control of the country in a bloodless coup in 1995).
When I asked him to elaborate on this, El-Menawy said that despite Al-Jazeera professional reputation, they weren't ethical or professional when it came to their coverage of the Egyptian Revolution.
"Between the 23-28 January they were playing the role of the communicator, telling protesters where to go, where not to go, how to treat yourself from gas bombs, how to face up security men, is this the supposed role for a media outlet?"
Then he goes on to say that Al-Jazeera was repeating footage of the protests using light and shadow timing: "So it would be 12 noon today and you would be running the 12 noon protests of 25 January in Cairo but without saying that this is archive material and not live, giving the impression that the protests are continues."
As far as his own TV coverage goes, El-Menawy repeatedly suggests that he did the best he could given the circumstances he and his team were in. He reveals to me that he is considering releasing a Egyptian television's day-by-day coverage of the revolution online. "All the tapes are available and I am considering releasing them to set the record straight", he adds.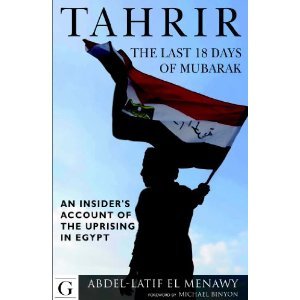 Cover: Tahrir: The Last 18 Days of Mubarak
El-Menawy's book "Tarhir: The Last 18 Days of Mubarak" is available in both Arabic and English and could be bought through Amazon.