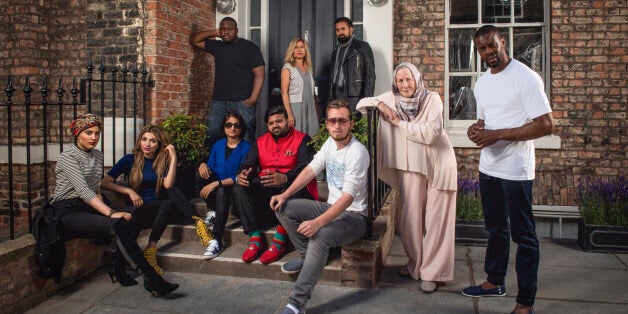 For some time it seems as though Muslims have been constantly dominating the news headlines - and not in a positive way. Whether it's a terror attack or Asian men from Rotherham on trial, it's always deemed to be a Muslim problem. But have you ever thought what it's like to be a British Muslim at a time like this?
I began to work on a BBC specialist factual series, Muslims Like Us with Love Productions over 18 months ago. I wanted to find a way to make people aware of the voices that I would hear every time something like a terrorist attack happened and a Muslim was involved. The voices in Muslim households, in the work place, mosques and markets around the country are part of a lively yet usually unheard debate.
The premise of the series is that for ten days, ten Muslim participants will share a house and discuss and debate what it means to be Muslim and British today as well as to explore a full range of attitudes and beliefs in the British Muslim community.
The casting is the result of months of research within communities by journalist Mobeen Azhar and his team of Muslim producers. The group includes men and women, young and old, converts, gay and straight, conservative and radical, Sunni and Shi'a and has been chosen to represent British Muslims as accurately as possible.
The inclusion of former professional boxer and convert to Islam, Abdul Haq (once known as Anthony Small) as a one of the contributors has attracted a lot of press coverage and debate - the majority of it criticising the BBC for providing a platform to an 'ISIS sympathiser' which is how certain sections of the press have described him.
We expected this. The decision to include him was one that was very considered and thought carefully through. His voice is represented because we felt that to exclude it would be to pretend that it doesn't exist; it would also not give us the opportunity to challenge and debate it, which it is, amongst the group themselves as well as by the film makers throughout the series. Let me be clear, this isn't an exercise in giving free vent to the loudest mouths but an opportunity to hear ten authentic voices from a range of backgrounds and opinions so the viewer can gain fresh insights and not just have their prejudices confirmed. Journalists who haven't seen the first episode have asked why we are offering him a platform but some of those who have understand the value of the other participants challenging him on his beliefs. He is outnumbered and often out-argued, mostly incidentally by the Muslim women in the programme.
I believe that although some people might come to the programme expecting to be offended, they will end up concluding that people like Haq do not speak for Muslims as a whole and that moderate Muslims can, and do, challenge such voices. They will also see that British Muslims can just be as intelligent, compassionate, mean, rude, polite, and dysfunctional as any other community in Britain. In that sense, the programme is humanising.
Popular in the Community