Finally the nursery is complete! In a total contrast to the girls bold prints and bright colours (that you can see here), Anastasia's nursery is calm and tranquil with new white furniture and pastel coloured textiles. Her room is quite small so using these shades opened up the space and makes it feel much bigger than it is. Let me talk you through the details...
I have written more about this fabulous Stokke furniture here but to summarise; it is simply amazing. Not only does everything in it have a dual purpose (the crib will one day be Anastasia's first writing desk!) it is unbelievably stylish. It is also brilliant quality, Paul put it all together which normally results in a few days hard graft, a lot of swearing and a few wobbly bits on the finished article - but this took no time at all and is remarkably sturdy. It is also designed to be space saving so perfect for such a small room.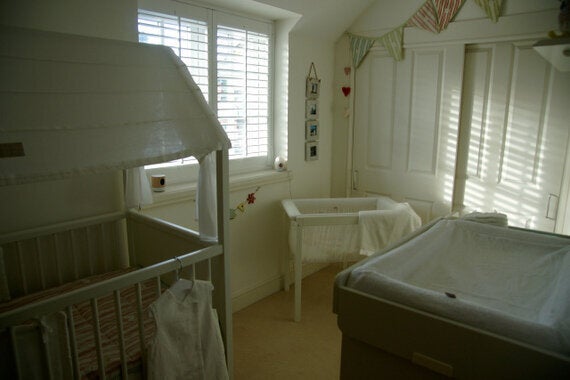 This gorgeous lamp shade is part of the Millie & Boris collection at Mamas and Papas, it fits in perfectly with the calming shades of the rest of the room and gives a warm light through the fabric.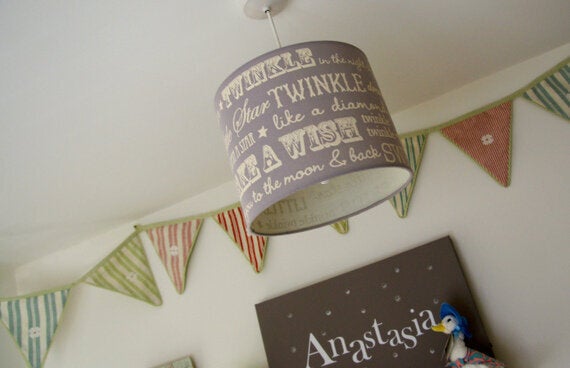 Lamp shade, Mamas & Papas
This summer sleeping bag is by Stokke. It is linen with a soft jersey lining to keep Anastasia warm and cosy at night. You can see the bottom is currently folded up but should last until she is at least 6 months when unfolded.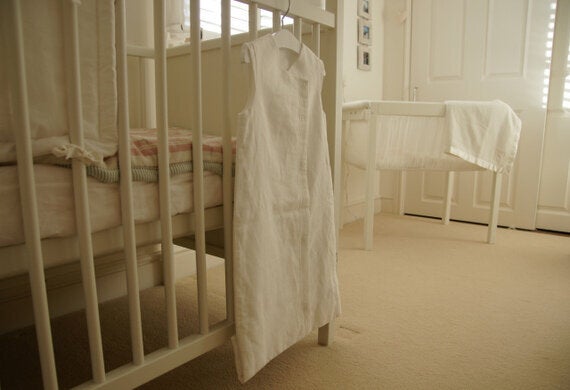 Linen sleeping bag, Stokke
The cot bed is the real star of the show with its beautiful drapes and tent roof. It's the textiles that impressed me the most with this set; the way they are made and fit to the furniture, it makes it so easy to remove or replace them later on down the line when this is a play tent and no longer used for sleeping!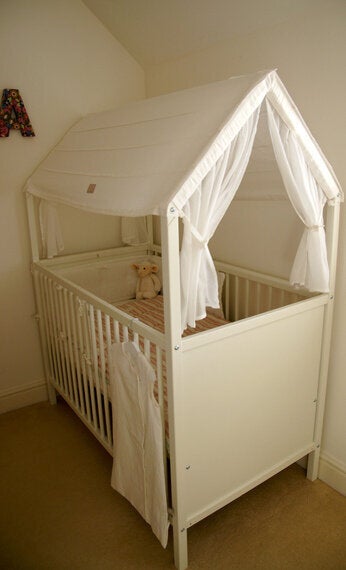 This beautiful quilt is by Susie Watson and doubles as a play mat. It is part of the Bird and Flower collection. I imagine there will be more of this print making its way into the nursery eventually...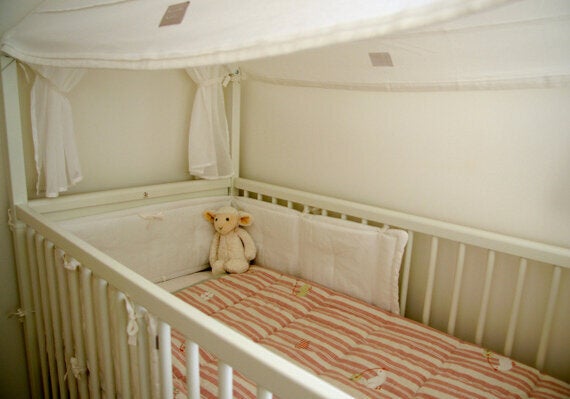 This fabric covered letter was a gift for Anastasia from Mamas & Papas and the colours work perfectly in the room!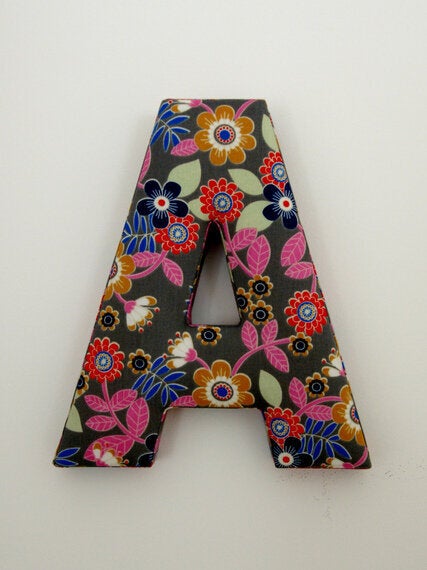 Wall hanging fabric letter, Mamas & Papas
Our new baby monitor is by Withings, it isn't wired up yet as Anastasia is still in our room, but it's such a stylish little gizmo I thought I'd put it up anyway! With it's wide angle view, 12 x zoom, HD crystal clear video stream, time-lapsed recap function and sound alerts straight to your phone for noise and air quality (it's also compatible with the new Apple watch in case you're interested!); this is a seriously smart little monitor that will be useful long after the baby days.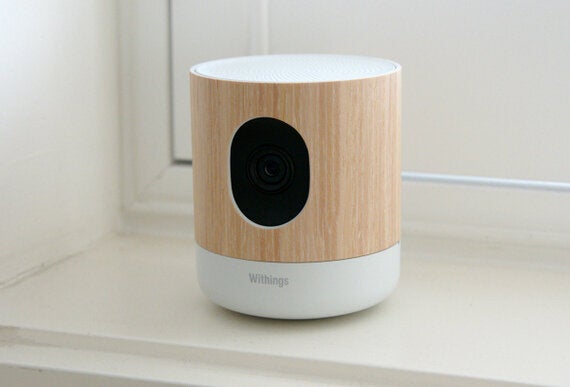 The other talking point of the room is this fabulous canvas. It is the name celebration print by Illuminated Canvas, fitted with fairy lights that give a gorgeous glow to the room at night. It works on standard batteries and has a discreet switch on the side - a great alternative to a standard night light!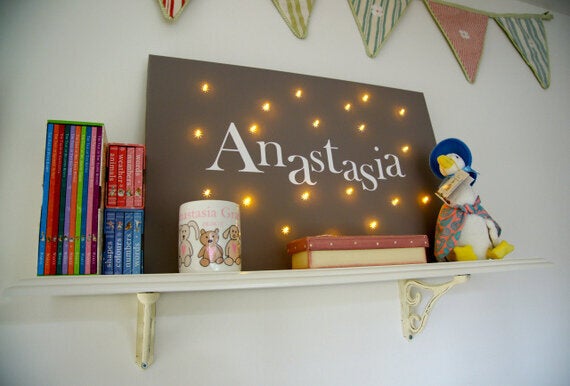 Wall art, Illuminated Canvas
This stylish toy storage is also a little 'push along' for when Anastasia is ready to try walking! This is from Vertbaudet and currently in the sale!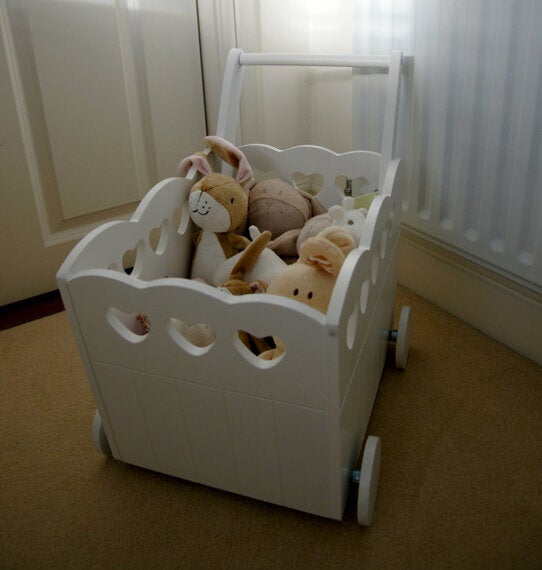 Toy storage, VertbaudetHer cradle is currently in our bedroom, she sleeps all night in it the little treasure! The luxury blanket is silk and bamboo and is from Babes with Babies.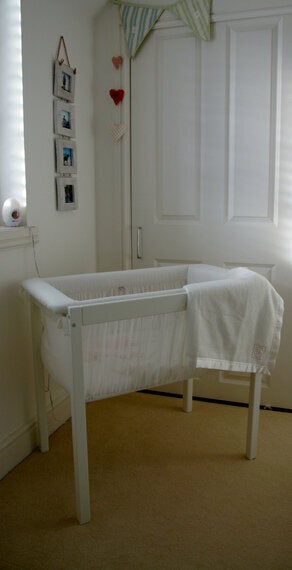 Blanket, Babes With Babies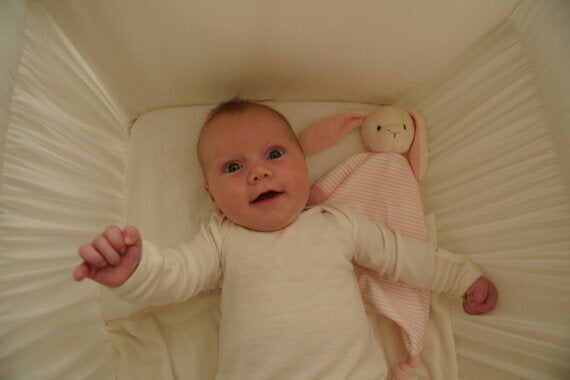 Anastasia Grace, 11 weeks old in her Superlove Merino gown
The two products I really swear by for a new born are by Burts Bees and Little Butterfly London. Both of which I use on my own skin! The Little Butterfly London nappy cream works wonders on your hands after soothing babies bottom! And the Baby Bee oil is used when I give Anastasia a full body massage after her bath.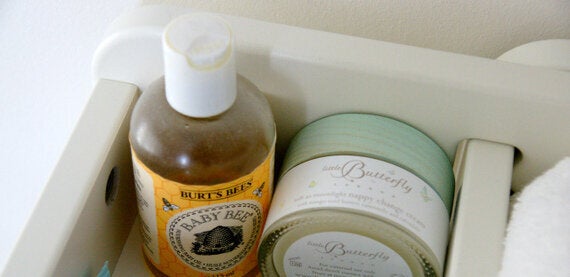 Burts Bees Baby Bee and Little Butterfly London Nappy Cream
And finally this beautiful Daisy Chain bunting that transforms our stark white walls in to a cosy and playful room is again, by Susie Watson.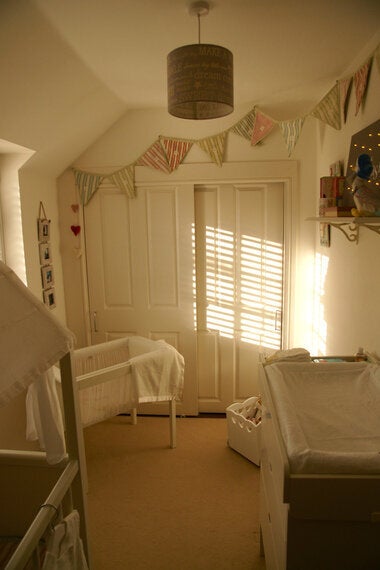 I wonder when she'll actually sleep in it?!