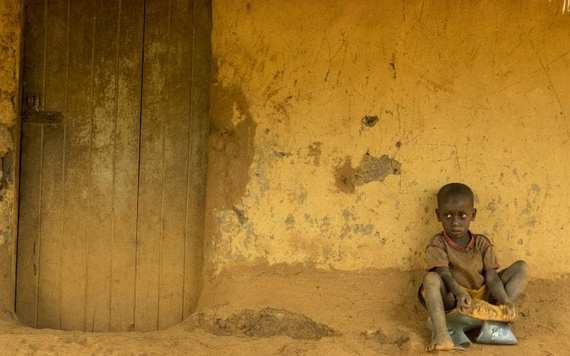 Finding gold on your land may be seen as a blessing from God but the reality couldn't be any different for small-scale miners in East Africa. With the arrival of the first African Fairtrade-certified gold comes our big chance to make a difference as designers, consumers and human beings.
"I have never seen such degradation, such harsh working conditions, such abuse as in the gold mines of Migori in western Kenya," recounts Michael Gidney. As CEO of the Fairtrade Foundation, he has seen his fair share of degradation. "For me, it was one of those shocking injustices that gold which goes into our jewellery can come at such a price."
There is no exaggerating the situation facing small-scale gold miners across the Great Lakes region. Women treat gold ores with toxic mercury in the same bowls as they wash their babies and cook, men and children risk being buried alive everyday in the pits and meanwhile the middle man waits with tampered scales to cheat them of a fair price that could feed their families. 16 million small-scale gold miners around the world face appalling conditions but East Africa is particularly susceptible to poverty, exploitation and illegal activity due to its association with conflict gold and the resulting reduction in business.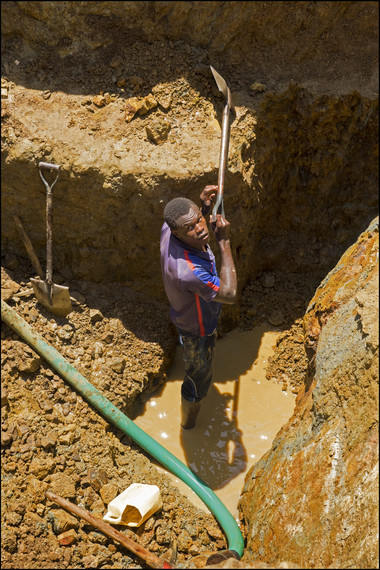 We can convince ourselves this is a world away but you and I know it isn't. These men, women and children toil for us. For the rings we wear, the electronics in the iPhone that might as well be our left hand and the laptop powering our next Netflix binge. We spend billions globally on gold jewellery every year and yet these miners can earn as little as 50p a day. It is precisely why the arrival of the first Fairtrade gold from Africa is so pivotal.
"This is all about the people of the land benefitting from their resources in that land," said Gidney at the launch. "It is economic, social and environmental justice for the poor."
The signet ring in front of us, commemorating the milestone, has an added sparkle attributable to knowing it hasn't been produced at the expense of anyone's wellbeing. It is some of the first and only fully traceable gold from Africa and symbolises five years of innovation, hard work and collaboration to transform the African gold industry.
Designed and created by Fairtrade champion Cred Jewellery, the gold was sourced by members of Syanyonja Artisan Miners' Alliance (SAMA), the first Fairtrade-certified mine in Africa as of 2016. It is one of nine artisanal sites across Uganda, Kenya and Tanzania (representing 900 miners) that Fairtrade has been supporting since 2012 to achieve Fairtrade's ethical standards and thus certification.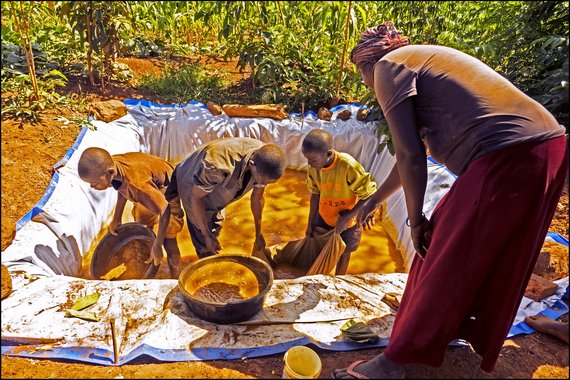 Thanks to the Comic Relief-funded programme and Fairtrade's partners on the ground, EWAD (Environmental Women in Action for Development), all the miners are now trading more profitably. They have undergone training in business and entrepreneurship, the safe use of mercury, labour rights and better working conditions as well as health and safety. Fairtrade is also working with local organisations to promote responsible and safe mining practices amongst Africa's further five million artisanal and small-scale miners.
"Since we started working with Fairtrade, there has been no more deaths in our mines as we now use benching and other safety techniques," says Josephine Aguttu, a member of another participating mine, Tiira Small Scale Mining Association (TIIRA). "With Fairtrade we can get a fair price. We are determined; we are at the starting point to change our community."
Of course, Fairtrade only works for miners if designers decide to use the gold and customers demand and buy it. Unfortunately, just 16% of people in the UK are currently aware it exists, compared to 93% who recognise the Fairtrade mark. It's a tragedy when choosing Fairtrade over regular gold not only save lives but helps them thrive.
Simple solutions, such as safety equipment and extraction machines, cost relatively little yet revolutionise the mining process. Last year, Fairtrade campaigners raised the £4500 for a communal Gold Kacha in Busia. Where once the miners toiled away with basic tools for days at a time to recover just 30-50% of the gold, with this mercury-free machine, they now recover 95% in a couple of hours.
"Consumers in the UK give us courage," says Padde Stephen, a member of Busia United Small-Scale Mining Association (BUSSMA). "Thank you for the Gold Kacha. Through Fairtrade we now transcend the East Africa region." If you ever assume your retail choices will have no impact, think again.
Yet, for people who have always lived hand to mouth, it is the long-term opportunities that the Fairtrade Premium offers which excites them most. With every kilogram of gold a certified mine sells, it receives $2000 to be invested back into community and business development projects.
From helping the orphans and setting up bursaries for school fees to supporting the local health centre, the miners are full of ideas as to how they want to use the funding. "We have dreams to expand our business," explains Golding Mathias, treasurer of TIIRA. "We'll be able to fulfil the Fairtrade hope within ourselves to improve our conditions, benefit from better health and feed our families." Josephine is hoping an amount will be set aside for older people so they don't have to risk entering the mine.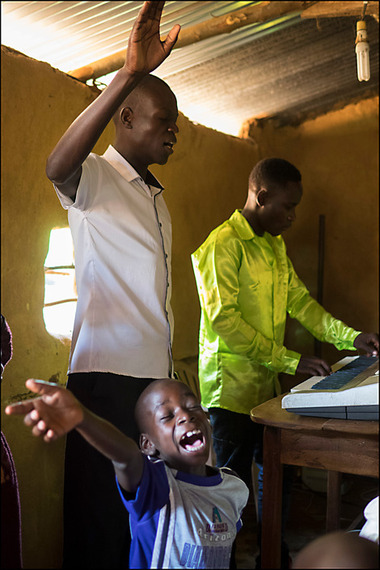 The aim is to generate $50,000 worth of impact through sales by 2020, which is far from impossible with the landmark plans Fairtrade has in the pipeline. A new investment facility will enable mine sites, often for the first time, to access finance. Meanwhile, a new two-year partnership programme launching in 2018 with Fairphone and Phillips will open up Fairtrade gold to the technology sector.
The first jewellery collections with African Fairtrade gold will be on sale in time for Christmas and Cred Jewellery will continue to buy gold from SAMA every six weeks over the coming year. On top of this, a new export platform enabling jewellers around the world to buy the gold is on the way.
There are already over 200 designer-makers selling Fairtrade gold (currently from mines in Peru) all over the UK and overseas. Both bohemian fine jewellery designer Natalie Perry's debut at London Fashion Week last month and the Goldsmiths' Centre's current exhibition correct any assumptions Fairtrade should stick to bananas and coffee. Against a backdrop of eye-opening images of African miners by renowned photojournalist Ian Berry, Fair Luxury Presents features a range of new and established makers who are redefining luxury through Fairtrade gold.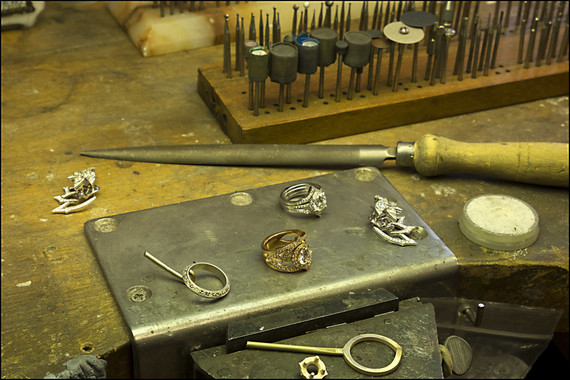 "It's possible to have it all; style, luxury, unique design and a positive impact on the people who made your piece," says Sarah Greenaway of Fair Luxury, Fairtrade's co-organiser in the exhibition. The change-maker group of ethical jewellery businesses is raising awareness for better practices within the industry. "We have a mountain to climb before we can offer consumers transparency and responsible sourcing. The arrival of Fairtrade gold proves that, despite the huge barriers, it is possible to mine responsibly and maintain control of the metal all the way to the consumer."
While Fairtrade still costs slightly more than standard gold, prices can start at as little as £100-£200. Gold will always be an investment but, as Greenaway says, "the value of a piece lies in its unique beauty, which is vastly enhanced when it comes from a source that respects people and planet."
It is something Padde Stephen knows all too well. "My message to jewellery lovers in the UK is that our gold is special; for just a little sacrifice, you can help support the African miners." In other words, pick Fairtrade and your gold will sparkle more brightly too.
Fair Luxury Presents is on display at the Goldsmiths' Centre until 27th October. Entry is free.
For more information on working with Fairtrade gold as a designer, click here.
All images courtesy of Ian Berry / Magnum Photos.