On Saturday I cooked with some children in a small village hall for their Heather Festival up in the Glen of The Fairies (Glenshee). This two-week festival takes place when the hills are ablaze with the royal purple and a climb up Mount Blair will give stunning, mauve views across Glenisla and Glenshee.
Families enjoyed food foraging walks and almost every chef cooked with delicious chanterelles or raspberries. Tayside is of course renown for cultivated raspberries but the wild, bird seeded berries are deliciously sweet and much easier to pick than the prickly brambles, which will be ready to forage in a few weeks time. Just a few wild raspberries make a fine addition to most cereals at breakfast but with patience, a forager can pick enough for a wild summer pudding. Redcurrants can also be found growing wild in Scotland. I recently came across a patch in some woods, possibly some secret garden escapees but any garden had long gone and the currants were free for the picking. Redcurrants are high in pectin and vitamin C so will help to set and bind food; I add them to my strawberry jam for an easier set.
For a truly, wild red berry pudding you should find some wild strawberries but of course you can supplement any wild berries with cultivated ones. The wild strawberry is a clandestine wee berry, lurking under the low, creeping strawberry leaves but when you taste one, the sweetness will explode in your mouth - its concentrated strawberry flavour is far superior to cultivated varieties. Wild strawberries can be found in woods and by country lanes. Smaller strawberries will of course take longer to harvest for the supper table but they don't need hulling and the effort is well rewarded in terms of taste. Their tiny fruits can be picked all through the summer because only a few berries ripen at a time.
This year, I was late in picking elderflower blossom, even by Scottish standards where it can still be found in bloom in late July; and so, I mixed Meadowsweet in to my elderflower cordial - one to try again next year was the family verdict. Inspired by cordial success I began some Meadowsweet recipe development. The roots are sweet too, their taste is somewhat similar to vanilla but that recipe is in need of modification. A sprig of Meadowsweet does however; give a hint of something special to this simple, wild red berry pudding.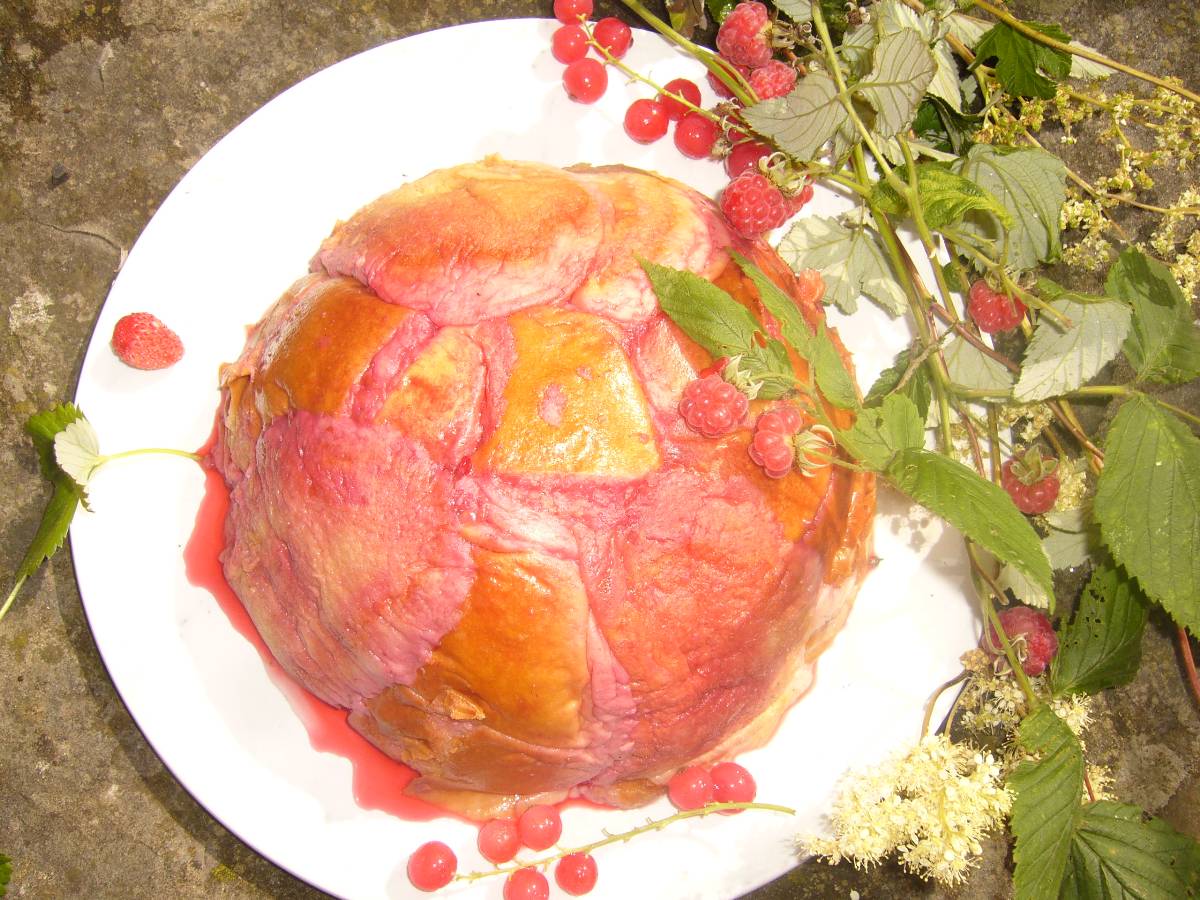 Wild Red Berry and Meadowsweet Pudding
Serves 6-8
Loaf of day old brioche or 8 individual brioches
500g wild raspberries
200g redcurrants
2tbsps water
Large sprig Meadowsweet blossom (including leaves)
75-100g sugar (to taste)
200g wild strawberries
1. Cut the brioche(s) into 1cm slices and line the sides and base of a pudding (pint /600ml) bowl with the slices of brioche.
2. Simmer the raspberries and redcurrants with the water, Meadowsweet and sugar (to taste) in a pan, until the juices begin to run (3-4mins). Then add the strawberries and cook for a further minute until the strawberries are just soft. Remove the Meadowsweet.
3. Fill the brioche-lined bowl with the fruit and juice. Cover the top of the bowl with slices of brioche.
4. Put a saucer on top of the bowl and weigh it down with a weight. Leave the pudding in a cool place for 24 hours to allow the fruit juices to soak in to the brioche.
5. Turn the pudding upside down on to a serving dish and serve in slices with cream or Greek yoghurt
© Fiona Bird