London Fashion Week concluded last week and it was an amusing marathon going through one show after another. Julian Mcdonald blew me away with his theatrical presentation, Faustine Steinmetz with the girls in the box, DAKS with his vision of luxury, Taka Naka with the winter African queens, Holly Fulton with her polar experience and so many more. After these 5 days, I left feeling frustrated viewing all the beautiful collections of Autumn Winter 2016. Not because of the beautiful models with legs for days or gorgeous men on the catwalks but because I don't want to wait for autumn or winter to wear these trends. So the impatient fashion woman inside me found the trends you could wear today and I bet you already have these items in your wardrobe.
Black is eternal and you could never get it wrong. It suits better women with dark features than the light ones. Black is elegant, chic and sexy. So wear black in lace to showcase your sexiness, in voile to unleash your elegance, see through prints to let loose of your daring attitude or in long fringe like a modern flapper.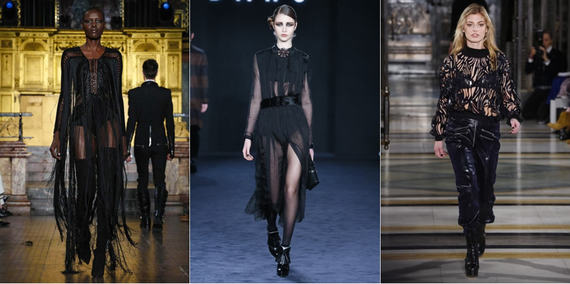 Left to right: Julian Mcdonald, Daks, Felder Felder - Source: GPS Radar
If you like me are confident and adventurous, red is your colour. Red was a dominant colour on the catwalks and it was used in different ways. Wear red in leather like a rock star, asymmetrically to stand out or as a whole to look immaculate.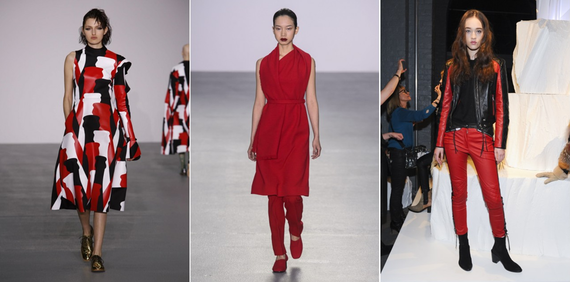 Left to right: Fyodor Golan, J JS Lee, Belstaff - Source: GPS Radar
Like black, white is a flawless colour choice. If you want to get noticed and look affluent, white is your colour. The white overcoat and dress dominated the catwalks. White goes well with any fabrics or colours.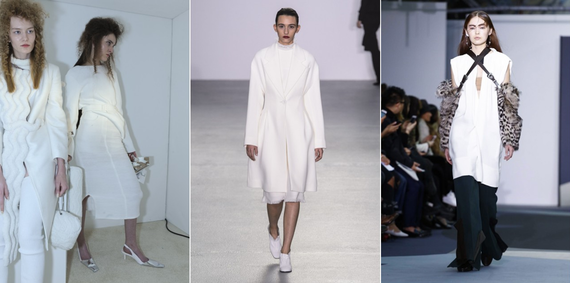 Left to right: Faustine Steinmetz, J JS Lee, Toga - Source: GPS Radar
The accessories are often overlooked when creating stylish looks. The belt is one of the most versatile accessories every woman should have in their wardrobe, in different styles and colours. The over belt style made its appearance among influential fashion bloggers such as Olivia Palermo and was quickly applied by designers. Transform your outfit into something so chic.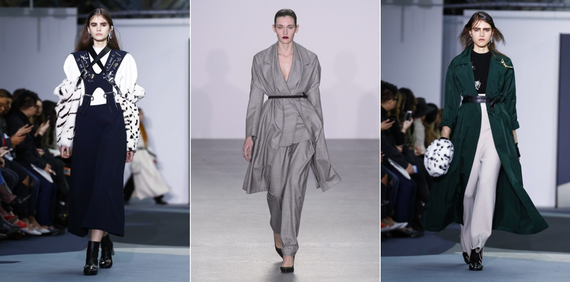 Left to right: Toga, J JS Le, Toga - Source: GPS Radar
Nothing screams diva like metallic colours and sequin. If you want to turn heads on the dance floor and shine bright like a diamond, go for gold, bronze or silver. You only need some smoky eyes and a nude pair of shoes to complete your diva look.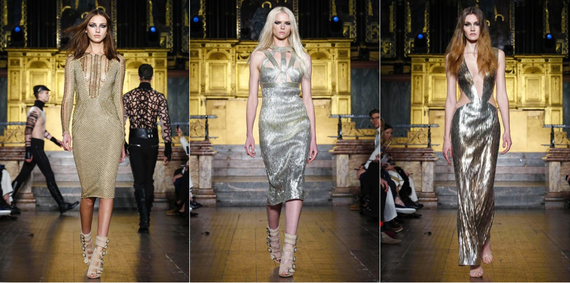 Left to right: Julian Mcdonald - Source: GPS Radar
Another big trend that comes out every season is prints. Designers are always very experimental with the way they use them season after season. Explore vintage stores for classic pieces. Soft colours often define the autumn & winter colours. Revamp your look with a soft midnight blue, burgundy, emerald green and/or mustard. These colours combine together work perfectly well.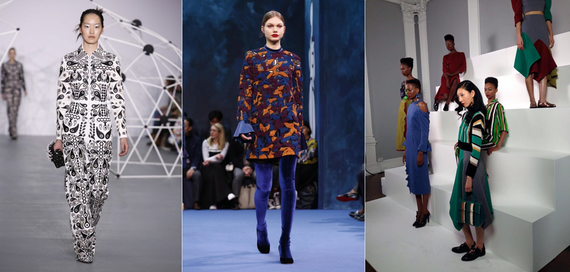 Left to right: Holy Fulton, Roksanda, Taka-Naka - Source: GPS Radar
Fashion is what you make of it. Use it to inspire you and help you find your own unique style. Don't follow trends blindly. Remember stick to who you are as not all trends are meant to suit your style personality.
Flavilla Fongang has mastered the art of cheekiness. She is also an expert when it comes to branding and fashion. Click here to know how to become a brand reference or start a fashion stylist career. To connect with Flavilla via email: flavilla@3coloursrule.com