Having grown up watching Britney Spears embark on a road trip across the states in a 1969 Buick Skylark (all you 90's babies will relate I'm sure) I vowed one day to bundle my besties into a car and road trip across Europe. Last summer, myself and three of my best friends set out with approximately 30 mix CDs, copious amounts of caffeine and a Nissan Micra S - the S definitely didn't stand for speed - and set off on a tour of the Cote d'Azur.
With four girls more equipped to changing tanning positions than tyres and the whole of the French Riviera to explore, we really didn't have a clue. After numerous Google searches and conflicting forums we were forced to call in the experts - our Dad's. They loaded us up with French road maps dating back to '98 and several types of spanners, which as you can imagine, stayed at the bottom of the boot under more important things like sarongs and sandals.
So I've put together a guide that will ensure you have everything you need to deal with every kind of emergency and how to survive the sweltering car temperatures, the karaoke singing and just how to tackle those tolls...
1) Car Insurance and Breakdown Cover
I know it sounds obvious but this is definitely one of the first things that you should sort before you embark on your trip as not only is it vital you and your friends are fully covered to drive abroad, but it can also change the cost of the trip entirely. As young drivers it is not likely that your insurers will cover you already so you will need to add you and any other drivers onto to the policy. I strongly recommend you check even if you think you are covered - it doesn't hurt to ask!
It's the same for breakdown cover. Head over to any comparison site and you'll be able to find breakdown cover that is affordable and includes everything you need. You don't want to be left at the side of the road and having to sing Karaoke for your car repair costs a la Britney.
2) Travel Insurance and EHIC
The two most important things you need to take with you on any trip. Sometimes on holiday accidents do happen, so make sure you have up to date travel insurance and a valid, in date EHIC card. Your life is priceless and if anything is going to ruin your adventures it's having to pay extortionate medical bills. EHIC cards are free and entitle you to state-provided healthcare either at a lower price or even for free in some cases. Honestly, if you take anything away from this checklist it's to get yourself one of these magic cards!
The first time driving abroad is both exhilarating and terrifying especially when it feels like your driving back to front, but you quickly get used to it. We went from screaming hysterically every time we approached a roundabout to excessively leaning on our horns when someone forgot to indicate. Make sure you do some research into the customs and laws you'll need to abide by.
I'll make this part as simple as possible. This is what you need to have in the boot of your car - on top of the sarongs and not underneath them. First aid kit, car fire extinguisher, basic car tool kit, torch, blanket, warning triangle, reflective jacket and a GB sticker on the back of your car if you don't already have a GB number plate.
As you'll be driving on the wrong side on the road, you will need to make sure that you adjust your headlights so they don't dazzle oncoming drivers. You can get headlight adapters from any auto-centre and if you ask very nicely they'll even give you a demonstration.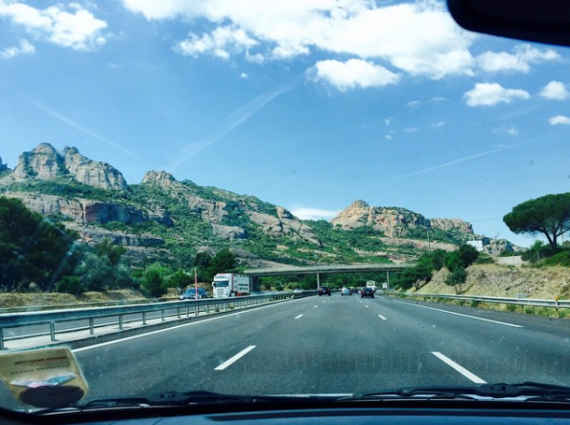 Before we had even left the country we accidently deflated our tyres instead of reinflating them. Many auto-centres do free maintenance checks so book in for one of them when you go to get your headlights adjusted!
Whether your belting out 'Ridin' down the highway' or screaming every lyrics to every Spice Girls album ever - make sure you have enough music to last you the whole entire trip. The Nissan Micra S had a CD player so we went old school on this one but if your car has an AUX cable or a USB point for your phone make sure there is playlists galore on there. Especially when the Sat Nav tells you to the stay on that road for another nine hours...
8) Coffee....and Regular Breaks
As a university student I can happily call caffeine my best friend and whilst it did come in handy, nothing compares to a proper rest stop. We tried, and failed epically, to drive without stopping to get to our destination and subsequently took a four-hour nap on a patch of grass next to a service station.
Concentrating on directions, lane changes and getting your head around driving on the wrong side of the road is exhausting so make sure you take regular breaks. Europe is equipped with some of the best service stations in the world so make full use of the fresh croissants and chocolat chaud's on offer.
I am not going to try and hide my disdain for the numerous tolls that occupy Europe's motorways as throughout the whole trip we would groan inwardly and quickly scream "SHOTGUN NOT ME" to try and avoid paying for the upcoming Toll of Terror but, it is essential that I can give some form of advice of how to tackle them. Always, always have a collection of loose change somewhere accessible. There is nothing worse than dealing with grumpy passengers as you've just woken them up and are ordering them to empty their pockets. Tolls do take some debit and credit cards but you'll incur charges and trust me, it's not worth it!
Make sure you check that you are able to use your brand of Sat Nav as some EU countries restrict the use of models that alert you to speed cameras. Our Sat Nav was definitely a better addition that the out of date AA maps...
Road tripping around any destination gives you the ultimate freedom as you pull up, take off and cruise to any place you please. Next stop, check out these websites: www.gov.uk/knowbeforeyougo and www.gov.uk/foreign-travel-advice. They have further checklists and more information regarding individual countries laws and customs. Don't forget to follow @FCOTravel on Facebook and Twitter for travel advice updates too!