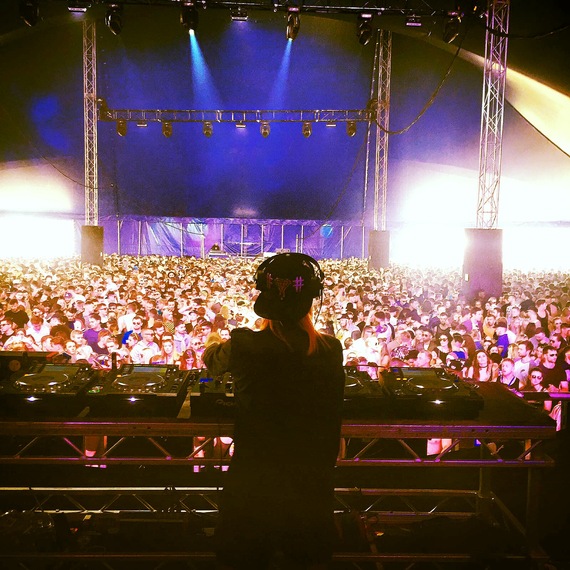 On stage with Maya Jane Coles at We Are FSTVL
Summer is usually when you can take your foot off the pedal. Not when you work in events. In March I took on a Head of Special Events role for Raffles in Chelsea organising large scale external events including street parties, fashion and sporting events, pop-ups at festivals and everything in-between. We started the season hosting the luxurious XCLSV area at We Are FSTVL. The festival boasts one of the best dance line-ups you'll see outside of Ibiza all within the comfort of the M25. I'm no stranger to a festival, but this was the first time I would be working behind the scenes. Hats off to the organisers, even our stage was no small undertaking.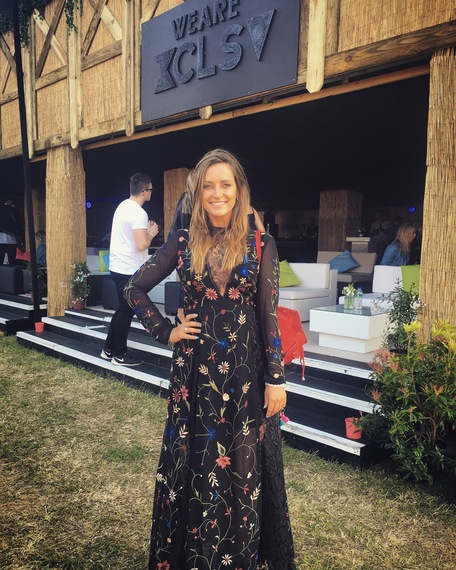 Raffles XCLSV stage at We Are FSTVL - wearing Miss Selfridge
After all the hard work it only seemed wise to book a getaway before my next event. Making the right decision - and by that I mean the healthiest - has never been a forte of mine. Even when I was filming Made In Chelsea and working full time at Sony ATV, I would be out three or four nights a week at a gig or an event. When it came to planning a break, Ibiza was usually the first port of call. My weekly alcohol units would easily be consumed at a long lunch at Blue Marlin. And so I would return needing a holiday more than when I left. This year my yogi friend Annie Clarke convinced me to postpone the party holiday and check myself into Helios Retreats in Mykonos where she was teaching.
Annie doing her Warrior Two pose a little too close to the pool's edge for my liking!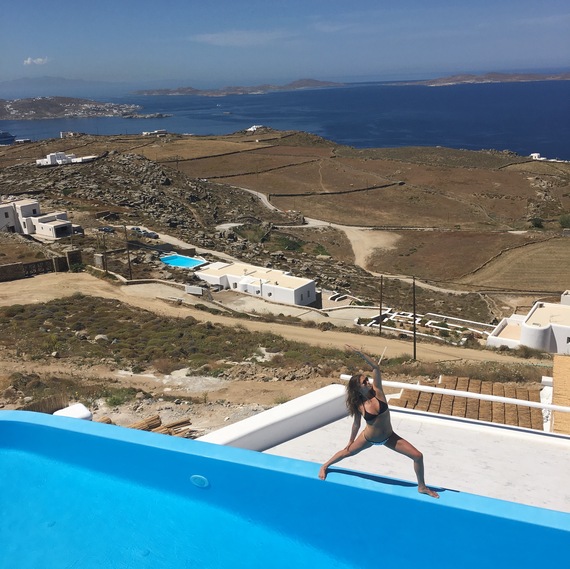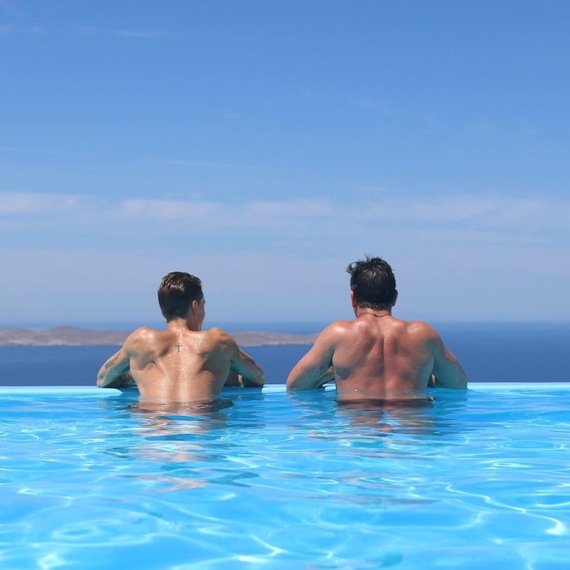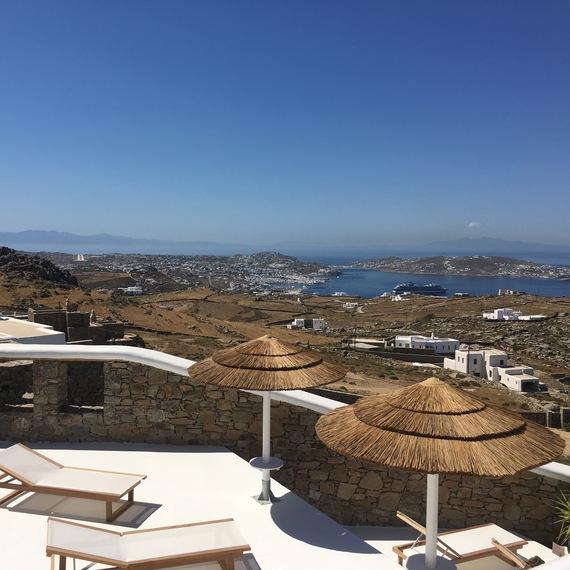 View from the Helios Retreat's third floor sun deck
I met Annie earlier this year at The Well Connected Retreat located up in the Lake District. Aside from teaching yoga, she helps people find their individual journeys to health and happiness. After all, we're all different. Rather than following one specific method, she believes we should take inspiration from others and create our own paths to health and happiness. She's writing a book which comes out early next year and regularly teaches at a number of studios in London. Her Mind Body Bowl blog and vlogs are also great if you want to practice yoga, meditation and cook healthy recipes at home.
After a four hour flight from London our aeroplane descended into Mykonos, otherwise known as the star of Aegean sea. The island has over twenty-five beaches, all with crystal-clear turquoise water. It's by far Greece's most glamorous island with a dance scene to rival the Balearics (and comes at a similar cost). However, my stilettos were swapped for sneakers this time, and with most meals and activities were included, we didn't need to exchange many Euros.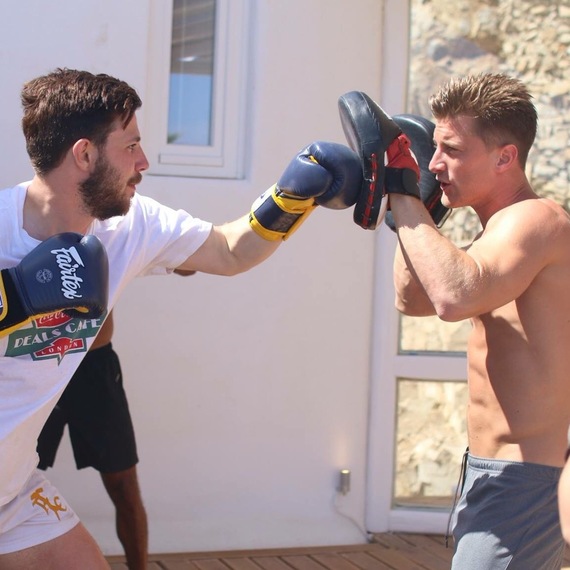 Danny Osborne showing Joe how it's done
Our seven-bedroom villa was tucked up high in the hills in a peaceful area of the island. It's set over three floors with an infinity pool overlooking the sea. Each room is en-suite, all have sea views and a goody bag packed with health and fitness treats was laid out on our beds on arrival.
We did approximately six hours of exercise a day, with a typical day kicking off with a 7am High Intensity Interval Training up on the helipad next to the villa - as you do - followed by breakfast, a break and a yoga session with Annie once the food had digested. We then had a few hours of afternoon activities, boxing and finished up with a relaxing evening yoga session.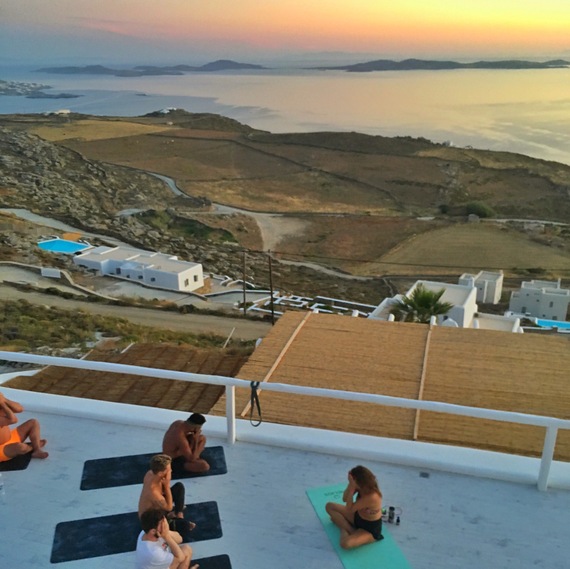 Annie's evening yoga - what a view!
Each class was either followed by a meal or snack from a bespoke food plan by W1 Nutrionist who ensured each meal had everything we needed pre and post exercise. Meals were made of delicious locally-sourced fruits, vegetables and plenty of freshly-caught seafood. Although the portions weren't huge, the flavours were fresh and satisfying and I wasn't left hungry. It's exactly what I want on holiday (maybe with the addition of some fries and aioli).
Seabass fillets with a crushed pistachio, parsley and garlic crust. I recreated at home - delicious!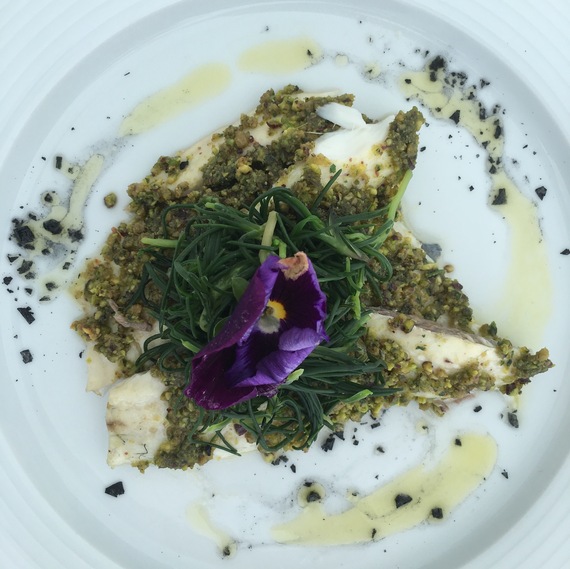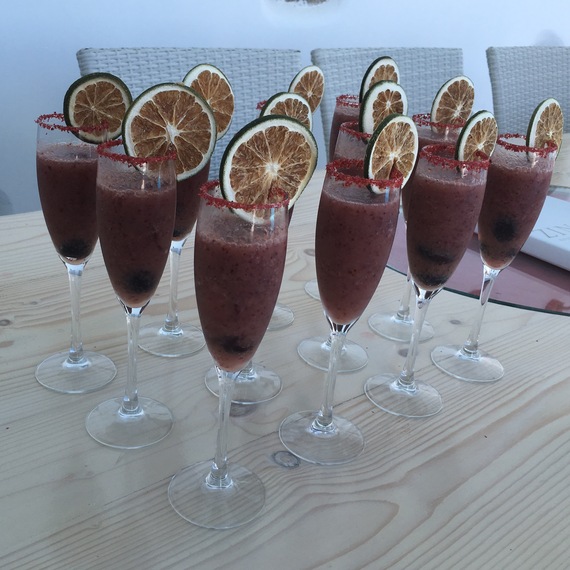 No champagne in these flutes - a healthy smoothie snack
Celeb PT and former GB high board diver, Danny Osborne, was our HIIT and boxing teacher for the five days. His classes were tough, but his positive approach and motivating music made it just about palatable. The HIIT workouts featured all the painful classics; burpees, press-ups and hill sprints to name a few. The selection of afternoon activities including wind-surfing (an idea which was quickly deflated by poor wind on the day), horse-riding and paddle-boarding, but equally if you wanted to chill, sunbathe and read that was allowed (and sometimes much needed). One afternoon, post-hike, our group visited to Scorpio's beach club, sunbathed, strolled along the beach. We also went and explored Mykonos's beautiful old town on some evenings. There was a no alcohol policy in the villa and drinking wasn't necessarily condoned, but if you really fancied a cheeky tipple in town it was at your own liberty.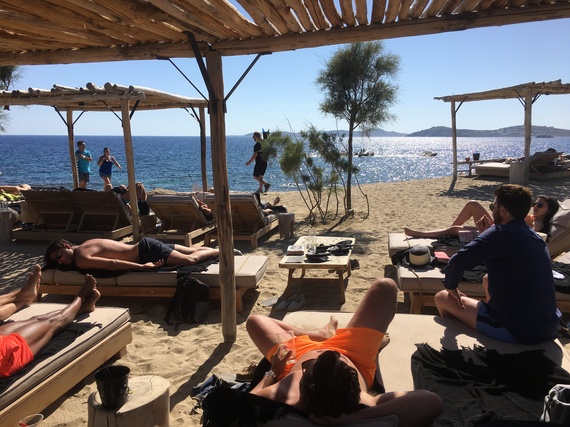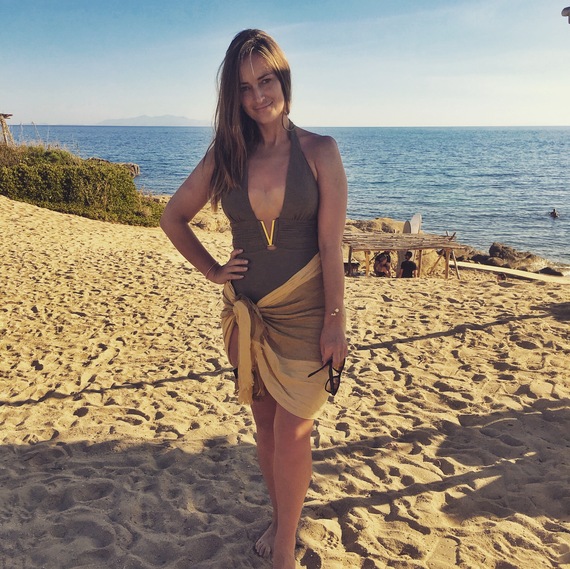 At Scorpio's wearing Heidi Klein with a sports bra tan-line
There were twelve of us on the trip in total including friend and former cast-mate Oli Proudlock and his other half, model Emma Louise Connolly. In addition to which there was my new ab-spiration - Amy Hopkins - Digital Editor at Women's Health. Dr Tamer Rezk, CEO of PHYCORE, also joined us and shared the science behind the fitness and, more importantly, showed us the Dutty Whine. Other new friends included presenter Will Sebastian who documented the journey with flawless photos and videos, and writer Joe Bullmore who tried (and failed) to beat me at Bananagrams. Our group formed a bond almost immediately, and despite having very varied ranges of ability (mine at the bottom end of the spectrum), we pushed and supported each other through the week, down to the last burpee.
The boys pose for a shot mid-hike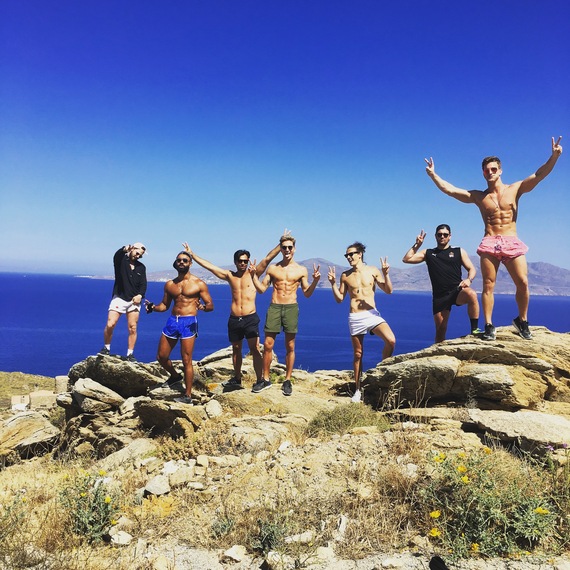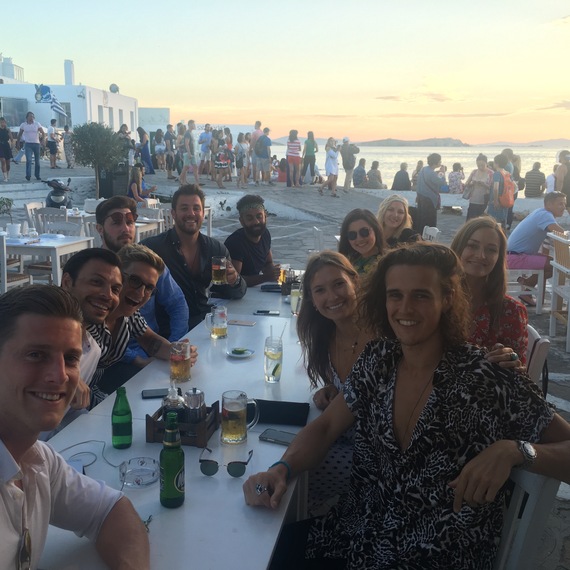 On our last night, we ditched the sports bras, dusted off the glad rags and treated ourselves to a farewell meal in the old town. It was the perfect ending to the trip - even the part where we ended up in the nightclub, Toy Room. It was so nice to spend the trip surrounded by such lovely people and leave with new friends.
Despite having the odd glass here or there I came back slimmer, healthier and recharged. It was the motivation I needed to get on the right path and I've set myself some new fitness challenges - watch this space! There's one tiny obstacle in the meantime - a family trip to Riva Del Garda, Italy. Expect pasta, pizza, little exercise and lots of truffles.
Team shot by the helipad