Lunch is fun. Or it should be anyway. I always make a point of choosing lunch companions who are either fun, entertaining or smart. Those who are all three get invited back.
Where better than over lunch to discuss career moves, heartbreaks and hopes for the future. So I invited three top international corporate power brokers to lunch to mull over the year gone by and look ahead to what's in store for 2015. Then we filmed it.
Publicis CEO Maurice Lévy and Intesa Sanpaolo CEO Carlo Messina travelled from France and Italy respectively to join us at elegant City restaurant L'Anima. Prudential CEO Tidjane Thiam made his way across London to take the final seat at the table.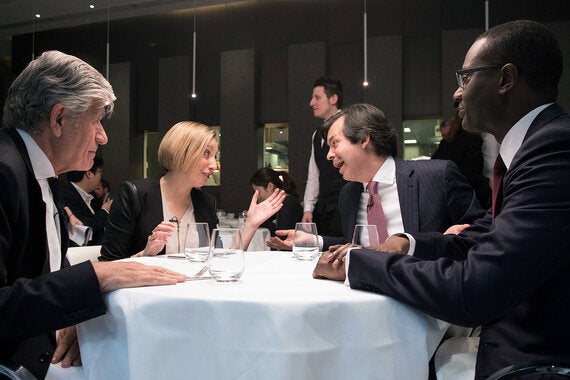 At first, I was a bit concerned - the three leaders didn't know each other well, but the food quickly united them. It was Italian and delicious (and thanks to my producer, not awkward to eat on camera. No lobsters or oysters in sight). As soon as the cameras starting rolling, my guests were also united by their passion: work.
We talked about 2014, an "annus horribilis" for Maurice Lévy - after he was forced to call off his firm's planned merger with Omnicom. He says it affected him personally and emotionally but doesn't want to dwell on that failure for too long - he wants to keep on "fighting". He wants to fight for clients, for shareholders and for revenue after he says he was too distracted by the mega merger to realise he wasn't paying enough attention to the bottom line. The man likes a fight - other, surprisingly, than with Martin Sorrell, whom he calls a certain "British knight", because he says those fights get too personal, too "nasty".
Tidjane Thiam, on the other hand, has had a good year. Prudential's share price rose to a record high in 2014, and he's looking forward to 2015. But it's not all positive. He worries about normalisation of interest rates, the big unknown for insurance companies and market participants.
Thiam told us stories about how he rallied his employees as a young CEO in the Ivory Coast, but had to tell them he couldn't pay them for another 6 months. He thinks that though they need money to live, most employees don't work for the money but for personal satisfaction.
Representing the voice of the European banking sector, Carlo Messina also told of his belief in the importance of inspiring and being a role model to his 90k+ employees. He gave a unique perspective on Italy and in 2015 wants to deliver the plan he set out.
We talked about disruptors, and whether the plunging oil prices will benefit the world economy in 2015. Lévy is worried about Google and Amazon, about digital disruption transforming consumer behaviour and about talent retention in the face of attractive start-ups.
Time flew and it felt like the lunch was over in no time. As one of my guests commented, we forgot the cameras were there. But, believe me, we were rolling, and you can catch the show on Sunday at 6pm and 9pm on Bloomberg Television.
Watch the promo of Leaders' Lunchhere.