Today's 'Pause for Thought' on the Chris Evans Breakfast Show addressed a profound question about the purpose of Education.
She told the story of being in a school recently, listening to pupils being told (by way of inspiration to work harder) how much more money they can earn if they get good GCSEs, A levels and a good degree. And how much more, in monetary terms, a good degree from a good University is worth compared to others. This was compounded by a video being shown of a young girl opening her A level results on national television and suffering the public humiliation of not having achieved the grades she needed to obtain her preferred place at University.
Sarah asked whether we really want to attempt to motivate children with money and fear, which are known not to provide true and lasting motivation. She made a very strong case, instead, for the importance of people and having a purpose in life. She mentioned the vast body of research that shows that if someone cares for people and has a purpose, the intrinsic motivation will get them working as hard as humanly possible to achieve their goals.
And then Sarah said two sentences that I want to quote word for word, because they were beautiful and profound: ​
Education should light a fire within us to improve us and help our world.
I want to help the culture around education to be one that supports the spiritual, emotional and mental wellbeing in our children.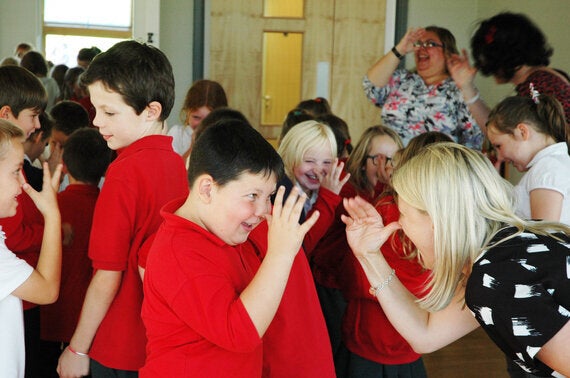 Children practising Laughter Yoga on the RWS programme at Clifton with Rawcliffe Primary School. Image Credit J Maiden
​This reminded me of someone else who recently spoke about Education and its purpose. A man I greatly admire because he put 'Happiness' onto his school's curriculum way back in 2006, before Happiness was a 'buzz-word' in the way that it is now. I'm talking about Sir Anthony Seldon, former 13th Master of Wellington College, current Vice-Chancellor of the University of Buckingham and Board Member of Action for Happiness.
Sir Anthony Seldon also said some great things that are well worth mentioning. He highlighted that children are full of love and wonder/curiosity. He said that (and this is truly beautiful):
Education is a once in a lifetime opportunity to open children's hearts and minds to the unbelievable wonder of the universe
and that schools should be "joyful places" and teaching should be "the most popular profession in the world". ​
He eloquently and very humorously described education as it is and as it should be. He said that there is no time for silence, for reflection, to develop mental faculties while we can. He described our 'factory system' of education that is 'entirely irrelevant in the 21st century'. He reiterated what we know but somehow ​policy-makers haven't quite caught up with: That the jobs that are being created now are the ones that computers can't replicate; the ones that need humanity.
Finally, he added that education is fundamental and we have to look at the inner qualities of the children. That it's about the whole human being and it's not just 5-18, it's something we're all engaged in all of our lives.
This is why Elizabeth Wright, Jayne Snell and I have created the RWS | Resilience Wellbeing Success programme. ​Because we have a duty to the next generation and those that will come after them to educate the whole human being; to bring back proper pastoral care. Our children are in the care of educational institutions for most of their waking hours. If they don't get humanity and some kind of understanding of how to look after their bodies and their minds, how to be resilient when life gets tough (as it inevitably does from time to time) and how to successfully achieve their goals in life (whatever those goals may be - we're not just talking about careers), then where will they learn this?
I recently stumbled upon a school that embraces this ethos wholeheartedly and got very excited. So excited I sent the Headteacher a tweet that may just have scared him with my exhuberance! Hey, can't fault a girl for being enthusiastic, right? This school is called School 21. Look it up, it's amazing! ​
So I ask you this. What do you think the purpose of education is? If you agree things need to change, what will you do about it? Whether you're a headteacher or a class teacher, at any stage of education, whether you're a parent, or a pupil, you have the power to make a difference in the small daily deliberate actions you take. By showing that you live a life of purpose, by showing kindness towards others and yourself, by practising gratitude, by setting goals for yourself and helping others on their journey towards theirs, by practising meditation and mindfulness, by laughing every day. You can make a difference, so start today!
This article was originally posted on the RWS website on 5th October 2015.