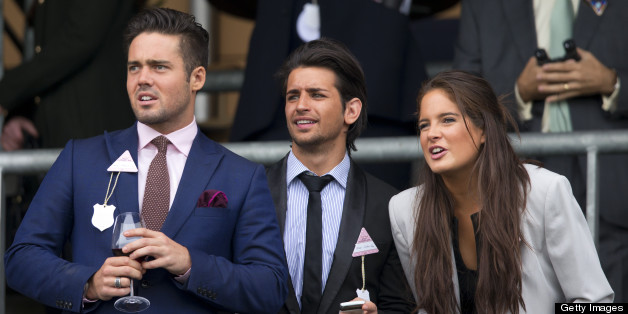 Getty Images
Made in Chelsea instills a post code hatred in all of us. Is the propagation of the wealthy in popular culture responsible for classist attitudes in the UK?
Whether you like the programme or not it's hard to deny that Made in Chelsea has been a phenomenal success. It's the most tweeted about programme on Channel 4 and when the latest series premiered 956,000 people tuned in to watch. There's a kind of incredulity about the show that makes it addictive, maybe it's because their lives are a 'seemingly endless jaunt around London's most exclusive bars, restaurants and health clubs', the Daily Mail argues. They don't seem to work or do anything much other than drink cocktails, be unfaithful to one another, slap people, and obsess over their outfit choices in woefully 'plum in mouth' accents. I must, however, admit that my viewing is tinged with envy and a slight feeling of resentment. As a society have we turned against the upper classes due to the proliferation of their media appearance?
There's a certain type of reverse snobbery in Britain that suggests if you're not working class you're disingenuous and idle but I can't help but feel that it all stems from a sense of jealousy that helps programmes like Made in Chelsea thrive. In times of financial hostility it's easy to use anyone with an NW1 postcode as a scapegoat, especially when a group of wealthy young socialites appear on TV 'brunching' all day. I'm often stuck between coveting and abhorring their ability to have a Bloody Mary at two o'clock in the afternoon for £18 in a swanky Soho bar. Any aspirational person has a deep rooted desire to be affluent but most of us are socially conscious enough not to admit it. In an age of psychologists and self-help books it's not very diplomatic to admit to craving prosperity over happiness, fulfillment or altruism. Is Made in Chelsea a way of ambitious people pursuing their fantasies of owning real fur and eating caviar canapés without having to directly address them? For an hour a week we can all indulge in a life of having an over flowing purse whilst simultaneously being unemployed. What bliss.
The first ever show opened with a monologue from character Caggie, who told viewers: "You might say that we have it all but having whatever you want can make choosing that much trickier." She was right from the outset as the series has included winter trips to St Tropez and unplanned visits to Verbier amidst a recession which has meant 36% of UK families cannot afford to have a holiday. A standard chalet in Verbier can set you back £8 million and the average pint of beer will cost you around £6 in the resort. Whilst the camera chased vacant facial expressions during a hideously awkward pause the cast returned to skiing leaving their drinks on the table only half finished. Despite the show frequently featuring extortionate, and unnecessary, spending this shocked me the most as it proved they fail to recognize the value of their fortunes. To them £6 on a pint of beer is fine whereas to most it's a matter of worth and financial justification. I certainly don't know a single person who would pay that much for a beverage and not stay to drink it purely out of principle. Rather than infuriating viewers with their reckless attitude to money it seems to do little else but fascinate us and keep us returning week by week to watch rich kids spend money. Although shopping is supposedly therapeutic most of us cannot afford it so instead we watch these ostentatious airheads break daddy's bank and it is surprisingly calming. There is an ease to their way of life, simplicity to their woes and tranquil to their stupidity. As I stress over tuition fees and seeing how long my Primark tote can survive whilst stuffed with eight overdue library books (never mind how I'm going to finish reading them) they sit in salons and chat about floral arrangements and dinner parties. I think we all long for our lives main concerns to consist of only boys and bitchery.
At times the bitter reality of London living does collide with the cast, namely when Jamie's accountant had to bring to his attention that he was currently residing in a £2,500-a-night hotel (which is, shockingly, considered very expensive to most people!) Luckily the audience were quickly reminded they needn't lose sleep over Jamie's financial situation as he's the heir to the number 1 biscuit brand in the UK, McVities, which is worth £82.8m. It's painfully ironic that Jamie and Millie, heir to the Quality Street empire, are so rich from belonging to families that stuff us middle class fatties full of biscuits and sweets. Despite their fortunes owing so much to obesity the cast are an array of size 6, blow-dried, manicured beauties. Their good looks are a frequent source of jealousy for the female audience. Whilst resenting Louise Thompson and Mille Macintosh's presence in the FHM top 100 sexiest women it's easy to dismiss their attractiveness by thinking 'they only have better skin and hair because of their good genes, plenty of leisure and lack of brow-furrowing debt. If I was that wealthy I would have the time to be that pretty.'
Amongst the elite sporting events and ludicrously luxurious lifestyle on the show the vocal manifestation of toffery makes it easy to lose apathy for the cast as they prove their inability to say more than a few sentences without using the word "like." Members of the cast have claimed that they are a 'persecuted minority'; Binky Felstead added that the impression her colleagues were "privately educated, hedonistic youngsters" was utterly incorrect. There are, however, only two characters: Gabriella and Ianthe to have ever appeared on the show without a private school education.
It's self-righteous of me to list all the noxious aspects of this vacuous TV show when I can't deny that I get withdrawal symptoms as soon as I have to return to my mundane everyday life without polo matches and cabaret bars. So I follow them on all on Twitter to kid myself that I'm really part of their never-ending party life. Sad isn't it. Don't judge me yet though as I'm not the only one, one in four viewers are actively engaged on Twitter as they watch. During last week's episode there were 215,220 tweets from 110,162 users who felt like they were inclusively involved in the life of the cast by being online.
I will most probably never have a chauffeur or be taken on a second date to Paris but damn I can dream and whilst I do I will continue to fill my Monday evenings with Made in Chelsea.