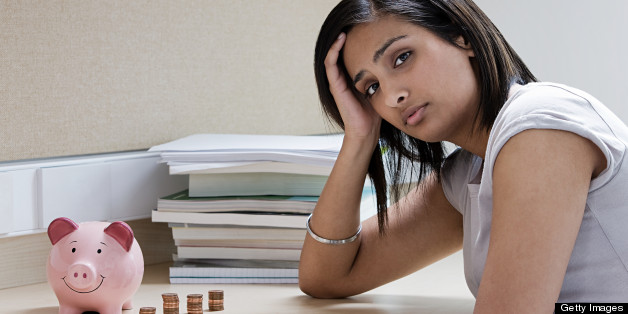 Getty Images
When the Weimar Republic couldn't pay back their reparations after World War One the government were pressured to print more money causing hyperinflation and the redundancy of the Papiermark currency. It seems that as students embark on the journey towards a degree we too are being pressured to output more at the expense of worth and value. Although the comparison between young students and Nazi Germany citizens may be a little extreme the running theme of over-production resulting in complete devaluation is ever apparent.
The cap on tuition fees has almost tripled for students starting degree courses in 2013 - from £3,375 to a maximum of £9,000. Universities expected that students would only feel willing to pay the maximum for the very best courses which led to some universities such as Warwick, Nottingham, Surrey and Sheffield to confirm that entry grades would rise for a series of courses starting this year. Warwick said that entry grades were rising in four subject areas to "manage demand", with sociology increasing from BBB in 2011 to AAB in 2013.
When the universities minister David Willetts trebled the cap on university fees, he justified this by arguing that a university degree will "on average boost your earnings by £100,000 over a lifetime". If true, that would surely justify the debt which is expected to face those who go to university? It doesn't, however, take an A* in maths to realise that the £50,000 figure will financially disadvantage more people than it will help as the definition of a degree has radically changed. The proliferation of courses such as BA in Golf Management at the University of the Highlands or Hairdressing and Salon Management at Derby means a degree won't guarantee you a successful career.
The pressure to accumulate a large number of A Levels has resulted in a shortage of students choosing traditional subjects like maths and science. Numbers of students studying these disciplines has reached crisis proportions in the UK; in the early 1980s more than 100,000 pupils took A-Level maths, now it is almost half as many. So if students aren't studying classical subjects but the amount of qualifications per student is increasing what are we studying and what is its value in terms of employment prospects?
A government paper was released stating that for doctors and dentists, for whom a degree is a prerequisite, earnings will exceed someone without a degree by £400,000 over a lifetime. However for students admitted to less rigorous degrees, the premium quickly diminishes. History and philosophy graduates can expect to earn substantially less at only £35 a year more than non-graduates. For graduates in "mass communication" the premium is just £120 a year. But both are better value than a degree in "Creative Arts", where graduates can actually expect to earn £15,000 less, over a lifetime, than those who start work aged 18. Concerning employment, Art graduates aren't doing any better. Of recent graduates, almost a third are in jobs that don't require anything more than GCSEs and one in 10 recent art graduates is now on the dole.
Despite teachers promoting further education at all costs I'm unconvinced by the concept of studying a vocational course at university in comparison to apprenticeships and work experience placements. A poll of employers found that 80% would prefer a school-leaver with three years' work experience than a graduate. All the managers and directors quizzed for the poll, commissioned by Santander, were involved in staff recruitment. The firms came from the financial services, IT, manufacturing and education sectors. Small firms, in particular, were unimpressed by the value of a degree. Are the skills we learn from a degree really all that transferable to most career opportunities anyway?
Youth unemployment is a tragic reality whatever the circumstance, but there is something especially unsavoury about young people who have been sold on the graduate life ideal, only to end up without a job and in debt. The mismarketing of higher education is one of the least commented-upon scandals of our time.
It's not uncommon to meet twenty-something's who feel betrayed by their career advisers and teachers as they are crippled with debt and deprived of prospects. The unemployed graduates of our age, all 130,000 of them, will also feel justifiable resentment as they contemplate how they were mis-sold the notion of doing multiple qualifications whilst they lost their value in the hyperinflation of education.
Freya Bromley recently spent two weeks in Rt Hon Michael Gove's private office assisting the Private Correspondence team