One afternoon 2 years ago, I wrote 2 pages of script. Next week I'll be walking up a red carpet, in a pretty sensational (borrowed) dress to the World Premiere of a film those 2 pages have become part of.
50 Kisses is a movie like no other. A true World first. Forget crowd-funding - this is crowd-CREATING!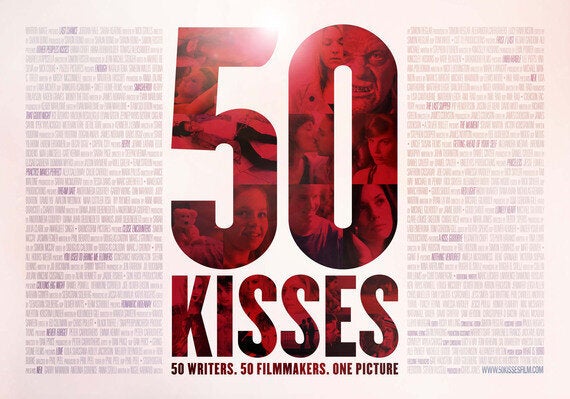 The bold idea by Chris Jones to collate 50 two-minute film scripts into a feature-length film has now involved almost 4000 people, with 2000 earning credits on the finished film itself. The brief for writers couldn't have been simpler: it must be set on Valentine's, and feature a kiss somewhere.
I'm not a competition-entering kind of person - perhaps it's the pessimist in me, or the pacifist that doesn't enjoy conflict. However, the call for 50 Kisses scripts hit me in the gut with an irresistibly coercive ultimatum: "If you can't spend a couple of hours writing just two pages of script, you can't be that serious about screenwriting." So I entered. Along with nearly 2000 others.
Scanning the increasingly shorter shortlists over the following weeks, names of numerous talented writers I have met at London Screenwriters' Festival and through Euroscript caught my eye, and I began to think less on the likelihood of my script "Other People's Kisses" making the final cut. The competition was extremely strong, and judges from television and film including iconic Tony Jordan, BAFTA and Emmy winning Barbara Machin, and editor of blockbusters from Kick Ass to X Men Eddie Hamilton, must have made some wrenching decisions. Fortunately, my script scraped through!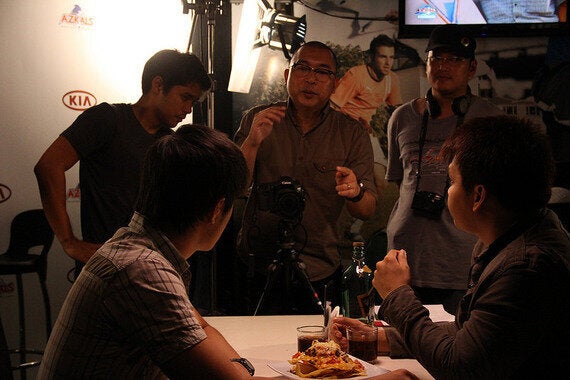 Things then exploded with filmmakers from around the world making versions of their favourite "Kiss", liaising with the writers and projecting their vision on each piece. My fairly bleak and simple social realist piece was slow to attract any interest at all at first, and I began to worry that it might not even be included in the final cut. A suggestion to adapt the script into a kung-fu version with a couple of extra characters thrown in wasn't encouraging. However, director Simon Foster contacted me with some important ideas that would increase the piece's emotional intensity. He cast Emma Croft in the lead role, who has over 20 years' television and film experience working alongside actors such as Colin Firth, and for writer Lynda La Plante. One freezing cold night, joined by a team of upcoming actors and crew, the piece was filmed. And then all we had to do was wait.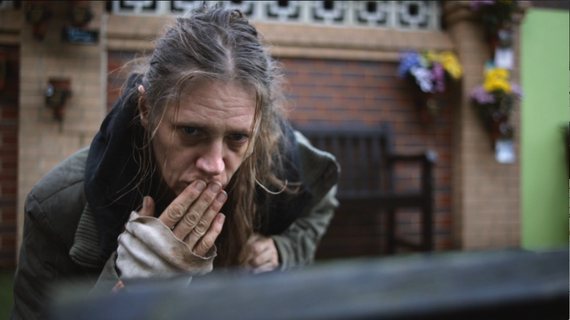 To say that editing together all of the films was a massive task for the Producers would not do justice to the amount of sleepless nights, technical invention, and incredible imagination involved. In addition to this, the time taken at every step of the film's production, has been given freely by those united by the same goal: to get filmmakers making films! There have been no short cuts, and the whole community of writers and makers have been consulted at every stage of the journey. Film is well known to be a collaborative industry, yet with enough people to fill Shepherd's Bush Empire feeding into the process, this project must have broken some records along the way (not to mention have produced some handy tips for our country's politicians on diplomacy tactics!)
All 127 films that were made of the 50 scripts feature in 50 Kisses - how this has been managed I am unbelievably excited to find out. Featuring zombies, androids and teddy bears, 50 Kisses includes 25 stories told in full, including mine. And at the Genesis Cinema next Thursday night 100s of filmmakers, actors, writers, our friends and family, and those who simply love cinema will gather to see the culmination of this extraordinary project.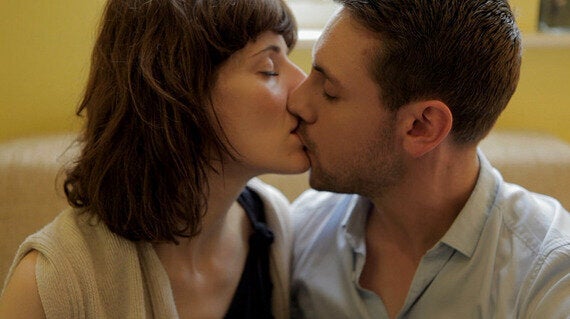 The whole process proved to creatives they need to use their skills, work together and make their careers happen. Since sending off those 2 pages, I've continued to rattle off scripts, and am currently entering international film festivals with Honest Lies a short film I produced last year directed by and starring Emma Croft. Emboldened by my 50 Kisses experience, I feel excited by writing challenges, knowing that I will meet them, instead of daydreaming a Hollywood executive will pop by offering to buy one of my scripts. We don't always know what we can achieve until somebody puts a challenge in front of us, and thanks to Chris Jones around 2000 people now know they can make a film!
Having written the Guerrilla Filmmakers' Handbook leaving no director any excuse but to get out there and make films themselves, and having produced the London Screenwriters' Festival, showing writers your script will only succeed if you write it, Mr Jones latest challenge is to the public: to embrace the ground-breaking achievement of 50 Kisses. This remarkable cinematic endeavour celebrates experimentation, imagination, bravery, and of course, love. And anyway, who doesn't love a challenge?
Related