On 17 June, MPs will elect the chairs of many House of Commons select committees, the increasingly high-profile bodies which scrutinise government departments. The charts below show who has chaired them over the last three parliaments and what happens next. This post is co-written with Dr Hannah White, programme director at the Institute for Government, who has recently published a report on the impact of select committees.
Since 2010, the majority of select committee chairs have been elected by MPs.
Select committee chairs are appointed in one of two ways. Since 2010 the majority of committee chairs are elected by House-wide secret ballot (27 out of 35 in 2015, including the Backbench Business Committee). The party affiliations of these chairs broadly reflect parties' seat share in the House of Commons and were agreed by the House on 3 June. Our recent report on select committees found that the introduction of elections for chairs has enhanced their sense of legitimacy.
The remaining eight committees continue with the pre-2010 practice of electing their chairs from among their membership - under the strong guidance of the whips. The party affiliations of these committees have not yet been announced.
The chairs of select committees are divided up according to seats in the House of Commons. Of those about to be elected, the Tories will have 14 chairs, Labour 11 and the SNP 2.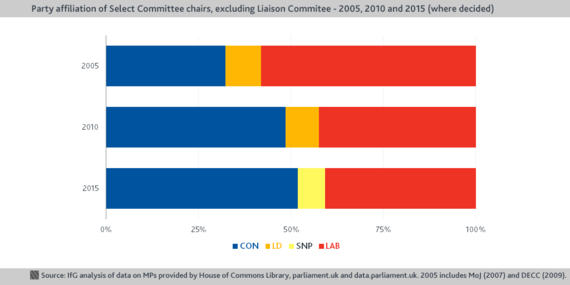 Note that for 2015, this graph shows the distribution of chairs only for those committees where party affiliation is already known.
As the Conservative party's share of the seats in the Commons has increased over the last three general elections, so has the number of committees they are eligible to chair. There has been a corresponding decrease in the proportion of committees chaired by Labour. Following their collapse at the 2015 election the Liberal Democrats have lost their committee chairs. Meanwhile the SNP have gained two.
Of the committees where party affiliation is already known, five will see a change in the party of their chair: International Development, Justice, Scottish Affairs, Energy and Climate Change and Science and Technology.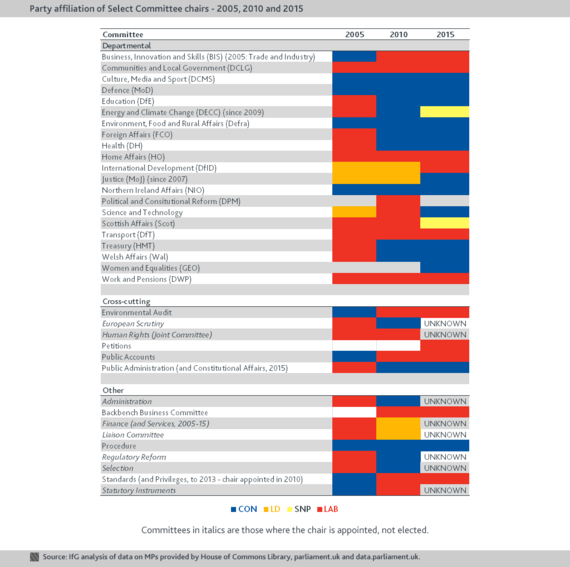 The party whips decide between themselves which party should chair which committee. The party affiliations of chairs in the 2015 parliament represent more continuity than change, with only five of the 27 elected chairs changing party. This contrasts with 2010 - when the Coalition replaced Labour in government - at which point eleven of the 25 elected chairs switched party. Labour and the Conservatives have each taken one of the new committees created in this parliament: Petitions and Women and Equalities respectively. Maria Miller MP will chair Women and Equalities, having been nominated unopposed. The Political and Constitutional Affairs Committee, created in 2010 to scrutinise Nick Clegg's portfolio of constitutional affairs, has been abolished and its remit combined with that of the existing Public Administration Committee (PASC) - creating a committee on Public Administration and Constitutional Affairs.
The wish of some incumbent chairs to continue in their role may have been a factor in their whips' calculations when they struck the deal over which party would chair what. 14 incumbent chairs were in theory able to stand for election again in 2015 because their committee stayed with their party. Of these three chose not to stand again: Margaret Hodge on the Public Accounts Committee; Graham Stuart on Education (who chose to stand for the Culture, Media and Sport Committee instead), and Natascha Engel on the Backbench Business Committee (who chose instead to stand - successfully - for Deputy Speaker).
Commons rules state that an MP can chair a committee for eight years or two parliaments - whichever is the longer.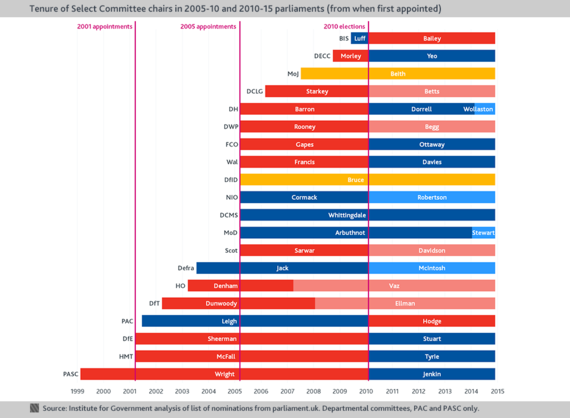 At the end of last parliament, two chairs reached the two parliament limit (John Whittingdale on Culture, Media and Sport and Sir Malcolm Bruce on International Development). A further two would have done so if they had not stood down early from the role (Stephen Dorrell on Health and James Arbuthnot on Defence), triggering by-elections. Two of the other most long serving chairs - Keith Vaz MP on Home Affairs and Louise Ellman MP on Transport - came into post after the beginning of the 2005 parliament and are therefore eligible to stand again.
Eleven incumbent chairs decided to stand - three will face opposition.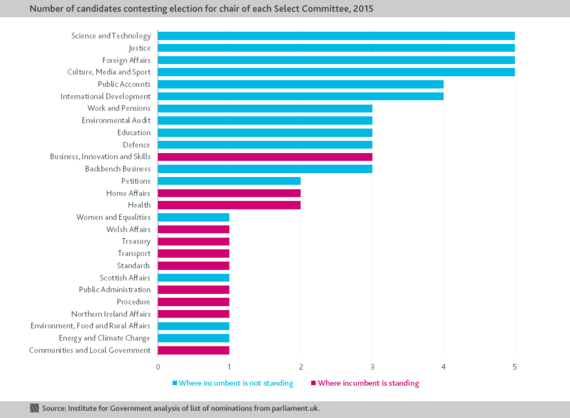 Of the eleven incumbent chairs who did decide to stand, eight will definitely be re-elected - being unopposed when nominations closed at 5pm yesterday. Three face challengers (Sarah Wollaston on Health, Adrian Bailey on BIS and Keith Vaz on Home Affairs). A further four new chairs will be elected unopposed, including both SNP chairs - Angus MacNeil (Energy and Climate Change) and Pete Wishart (Scottish Affairs).
In 2010, the Public Accounts Committee had the most candidates for election - six. In 2015, four chairs will be contested by five candidates.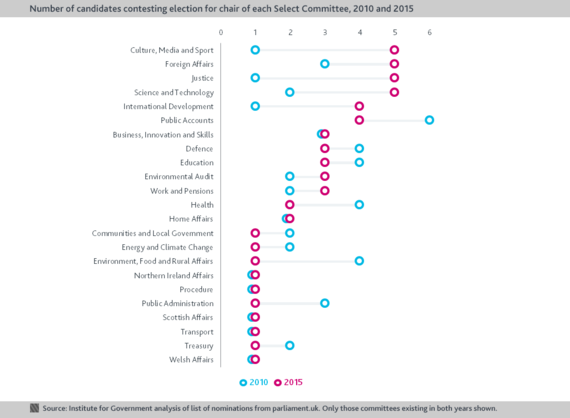 In 2015 the PAC is again one of the most popular committees - with four candidates standing, but four other committees are more popular still with five candidates each (Science and Technology, Justice, Foreign Affairs and Culture, Media and Sport).
No clear trend emerges about which committees are most contested, but two factors are clearly at play. First and most obviously, there's no competition when a party decides not to field more than one candidate for the chairs they've been allocated - as the Liberal Democrats did in 2005 and the SNP have done in 2010 - undermining the principle of house-wide elections. Second, incumbency is a strong factor discouraging competition. Three of the five most hotly contested committees in 2015 (Culture, International Development and Justice) were uncontested in 2010 when the chair who had been appointed under the earlier system decided to carry on.
We'll be publishing two more Whitehall Monitor blogposts on select committees shortly - one after the new chairs have all been elected, and another on committee membership between 2010 and 2015 as members of select committees are elected by their parties in the coming weeks.
This blog is based on work by Olivia Harvey. With thanks also to Alice Thornton.