As a kid, my dream was to play football for England. Wasn't everyone's? That ambition took me to Bristol City FC girls teams at the time I remember at 11 years old having a scholarship interview for secondary school. We were told to bring a favourite possession to talk about. After looking at all the academic books the other contenders had brought, I began to doubt whether my muddy football boots were the right choice to swing it with the headmaster.
He asked when I'd last used my boots. "Saturday," I said, "we beat Arsenal Ladies and I got a hat-trick." "Excellent", he replied. 'I'm a big Tottenham Hotspur fan, welcome to the school". I began to realise how much a love of sport or a mutual goal can bring people together.
Football was a big part of my upbringing, as my mum works for Bristol City. So I would spend days after school at the BCFC training ground, and some weekends I'd be allowed to go through the tunnel at Ashton Gate, doing my work experience helping the Academy coaches, seeing the life of professional sportsmen close up. That was my first insight into what it took to be elite and it was hard to see how I would ever want to be anything else.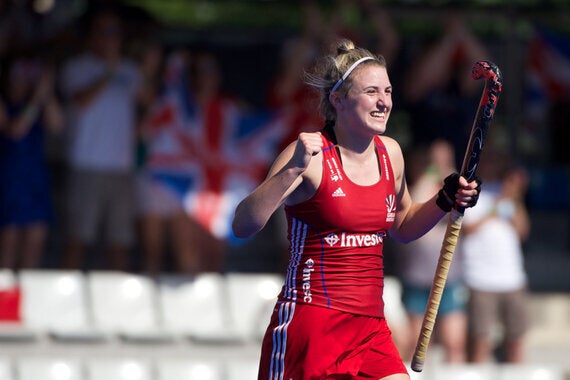 Then at Clifton College they stuck a stick in my hand and said as I was a new girl I would start with the first-year hockey fifth team over in the corner of the ground. By the end of the first lesson I had made my way to the second team and by the next lesson I was asked to train with the first team. Of course knowing my way round a football pitch helped the hockey, aside from when I would hold my runs to stay on side. I loved it and needless to say have been obsessed with it ever since.
I also ran 800m each summer, training hard all year. I reached the English Championships final each year and won silver when I was 17. But I'd promised my hockey coach that would be the last and it was. By the time English Championships came around in my final school year I was in the senior England hockey team and had won my first England cap. But without a doubt the fitness and endurance of athletics helped my hockey no end. By 16 I had given up football, so within a year I went from splitting my time between 3 sports to specialising full time with hockey. A big relief to my parents and their petrol bills.
2015 was an incredible year, qualifying for the 2016 Olympics with GB and winning the Europeans with England, providing us with the momentum we need going into this year.
Now I'm 21, I have over 80 caps, 3 years of international experience and a few months out from an Olympic games there is one thing I am so sure about: I want to win an Olympic gold medal and I honestly believe we can. From this moment it is countdown to Rio and every session, every meal, every night's sleep will make a difference.
Many people ask me if I struggle to make sacrifices and how I cope with missing out on things most people my age are experiencing. A speech that really resonated with me recently was A.P.McCoy at BBC sports personality when he stated 'any young people out there, make the sacrifices now, I promise it's worth it'.
We receive a lot of help as well, from family members to friends, training staff to Investec (our team sponsors), everybody wants us to succeed and through various guises fully support our ambitions.
Outside of sport I love playing backgammon. Now that really is competitive. The whole family plays but my Dad and I play non-stop on holiday. There's a strong league and competition set up in Bristol, and when I first started I won rookie of the year. However I can't get there much now as I'm based at Bisham and Birmingham. I'm trying to teach the other hockey girls, as we do get a lot of 'hotel time' when we're away playing or training. At the moment we play games like Articulate - and, yes, even that can get very competitive. I soon learned the quickest way to start team arguments.
Fortunately we got to try everything as kids - ballet, drama, violin etc. But the sports were the ones that really stuck. My whole family loves sport, and we're also very competitive at everything - from summer holiday races on the beach to family card games in the evening - we all hate losing. That comes through on the hockey pitch I guess. My advice to anyone would be to try all sports and activities. Do what you enjoy, play to win, and always try to get better.