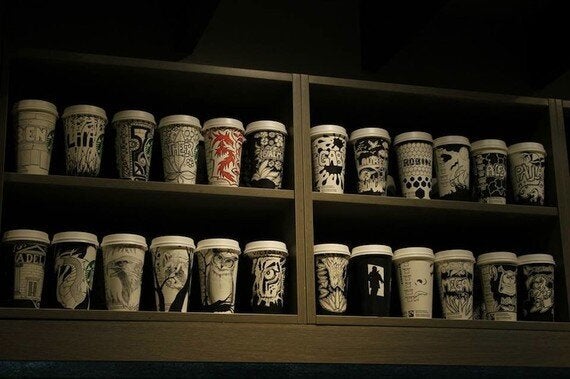 A couple of years ago when the staff at Starbucks started asking me for my name when I ordered coffee (as part of their initiative to make customer service more personal) I was, to put it mildly, pretty peeved. The idea of being forced to tell a complete stranger my name provoked a sort of knee-jerk British outrage. 'NO! I huffed, 'I don't want to tell you my name thanks very much! I'd actually quite like the right to withhold that sort of personal information. Just hand me my flat white and I'll be on my merry, and anonymous, way. I can just about tolerate being told to ''have a nice day'' - now I'm supposed to make friends on my way to work?' It all just seemed a little too forced, and much too personal for a city like London where making eye-contact with someone on the tube is almost deemed a public offence.'
But that was all before I took a new route to work, started visiting a different branch for my morning brew and met Gabriel Lafitte, a barista with a difference. Lafitte, 41, has revolutionised the company's policy of writing a customer's name on their cup by eschewing the customary two-second name scrawling for an altogether more personalised approach. Using only a pen, a cup and bags of raw talent, he creates intricate, custom-made cup designs based on the customer's name and personality.
The French artist has been drawing since he was twelve and, despite never having had a single formal lesson, possesses an extraordinary craftsmanship which has seen him dubbed the 'Van Gogh of Coffee Cup art' and the 'Starbucks Picasso.' His astonishingly detailed sketches include intricate floral designs, Venetian masks and ancient Mayan art, and can take anything from between two to forty hours at a time to complete.
This is no mean feat for someone who juggles a full-time job with other creative pursuits. So why does he do it? 'I love seeing peoples' reactions to my drawings. I enjoy the joy and surprise on their faces.' It's impossible not to notice Lafitte's passion for his work. 'I can't not draw! He said 'It's something I've just always done so when special individuals who exhibit some sort of kindness come in the store, I make something for them which, I think, reflects them in some way.'
Lafitte told me that he'd been designing cups for his friends and colleagues on his breaks at work for about two years before the store asked to display his works. The cups drew customers' attention but it wasn't until café regular, Linda Cheung, CEO at CubeSocial, a well established Social CRM and services business, tweeted a picture of her own custom-made cup, that Gabriel's 'Art Cups' really exploded online.
'In the beginning, I would take customers' requests but lately I've been so swamped that I've had to set up a Facebook page and website from which I can take orders', effuses Lafitte. I've even had a request to design a dog!' The exposure on social media has has been incredible. And it all started with a tweet.'
Lafitte explained the effect that his work going viral has had. 'The phone never stops ringing! I'm flooded with daily interview requests from journalists and PRs around the globe and I'm being asked to do international radio interviews. I could never have envisaged such attention. It's crazy.'
The artist's ultimate goal is to produce his designs on ceramic cups. 'This would be my dream and who knows - with the way things are going at the moment it seems anything is possible!"
To my mind, the beauty of Lafitte's work lies not only in the sketches themselves, but the sentiment behind them. In a city where no one knows your name, and small acts of kindness are few and far between, this artist deserves our every attention.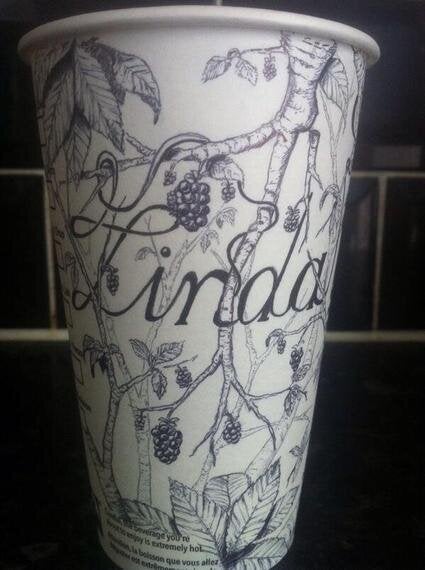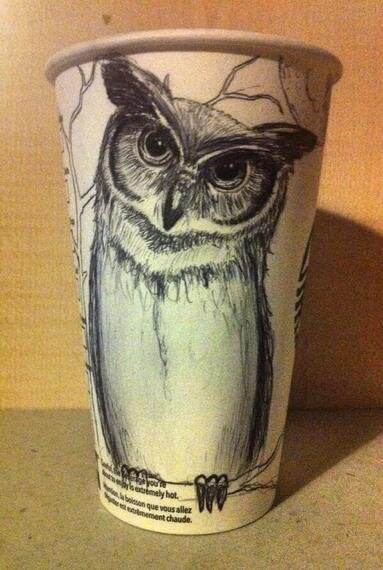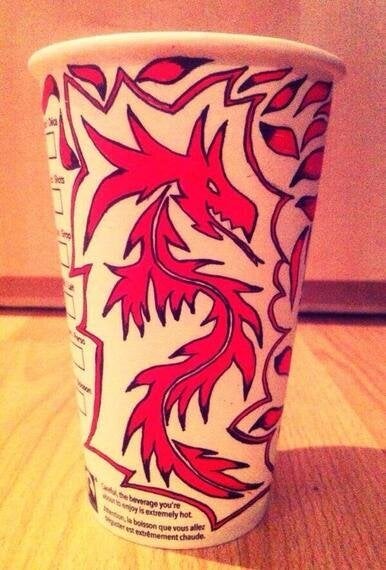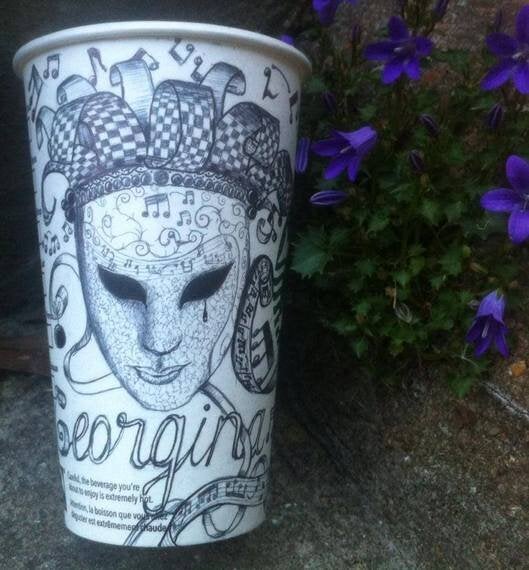 Lafitte's work is on display at the Starbucks on Great Russell Street, opposite the British Museum. To see more or order your own custom-made design visit G's Art.