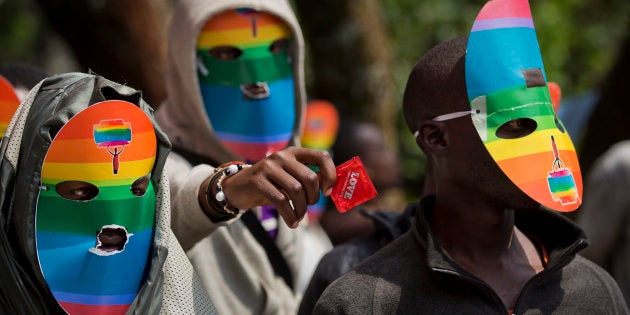 On a constitutional level, South Africa has been a model for other nations to emulate when it comes to the promotion of LGBT rights. South Africa was, after all, the first country in the world to safeguard sexual orientation as a human right in the constitution. The country was also the first on the African continent and the fifth in the world to legalise same-sex marriages. However, on a societal level, South Africa remains conservative on many issues, especially homosexuality.
Recent research by the Other Foundation (committed to advancing equality and freedom in southern Africa) measured how South Africans generally view homosexuality. Their report, "Progressive Prudes", found that while 72% of South Africans think same-sex sexual activity is morally wrong, 51% believe that gay people should have the same human rights as all other citizens. This should be seen in a positive light; though the majority of South Africans view homosexuality as immoral, more than half believe the constitution should afford protection to gay citizens.
However, gay South Africans, especially those in rural and poorer communities, are still regularly subjected to hate crimes and other forms of discrimination. Luleki Sizwe, a charity that helps victims of rape in the Western Cape, notes that corrective rape (a practice where men rape lesbians in the belief that it will "cure" them) is common in and around Cape Town. A recent list issued by the Department of Home Affairs revealed that only 28.6% of their offices have marriage officers who are willing to marry same-sex couples. It is also alarming that South Africa has done little to defend or promote LGBT rights in other African countries.
South Africa has failed to criticise or condemn other African countries, such as Nigeria, which have implemented legislation that further marginalises and persecutes gay people. A report by Human Rights Watch, titled "Tell me where I can be safe: The impact of Nigeria's Same Sex Marriage (prohibition) Act" assessed the impact of the SSMPA, signed into law in 2014 by former Nigerian president, Goodluck Jonathan. The Act does more than prohibit marriage between persons of the same sex, but also forbids any cohabitation between same-sex sexual partners and bans any "public show of same sex amorous relationship". Beyond that, the Act imposes a 10-year prison sentence on anyone who "registers, operates or participates in gay clubs, societies and organisations" or "supports" the activities of such organisations.
Furthermore, a 2016 survey by Afrobarometer revealed that only 16% of Nigerians were not opposed to having gay neighbours – in contrast to 67% of South Africans. The survey cemented Sub-Saharan Africa's reputation as one of the most homophobic regions in the world, with an average of only 21% of Africans being not opposed to having gay neighbours.
There are numerous ways to encourage tolerance and acceptance of members of the LGBT community – but the strategy this article endorses is an economic one. The United States has done extensive research on the power of the Pink Dollar, the purchasing power of the LGBT community. According to Witeck Communications (a leading strategic communications firm), the Pink Dollar was valued at $917 billion in 2015, up from $790 billion in 2012.
While the value of the Pink Dollar is impressive, evidence suggests it has yet to reach its full potential.
To put this into perspective, the Pink Dollar rivals the buying power of other minority groups in the US. Research by the University of Georgia's Selig Centre for Economic Growth estimated the purchasing power of African-Americans to be valued at $1.2 trillion in 2015, while Hispanic buying power totalled $1.3 trillion and Asian buying power reached $825 billion. Same-sex marriages are also expected to provide a much-needed cash injection into America's wedding industry.
IBSISWorld, a market-research firm, indicated that weddings support a $51 billion (R698.8 billion) industry in the US, employing 800,000 people. However, the Pew Research Centre has found that traditional marriages are in decline. Pew Research data showed that in 2012, one in five American adults had never been married compared to one in ten Americans in 1960. New York City has already benefited from legalising same-sex marriage, according to data-driven news site, Vocativ.
In the first year after New York passed its Marriage Equality Act in 2011, the city received a $259 million (R3.5 billion) economic boost as 8 200 marriage licences were issued for same-sex weddings, and more than 200 000 guests travelled in from out-of-town locations to attend ceremonies. In terms of tourism spending, the International Gay and Lesbian Travel Association estimated the economic impact of gay and lesbian tourism in the US to be more than $100 billion annually. From these figures, it is clear that the American LGBT market contributes substantially to the US economy.
Even so, while the value of the Pink Dollar is impressive, evidence suggests it has yet to reach its full potential. According to the National Transgender Discrimination Survey released in 2011, the unemployment rate for transgender adults was twice the rate of the population as a whole. People belonging to the LGBT community are also more likely to be paid less. Professor Alex Byson from the UCL Institute of Education found that the average hourly earnings for bisexual men in Britain in 2016 was 20% less than for heterosexual men. Systematic and societal discrimination can limit gay, lesbian and gender non-conforming persons' buying power, which, in turn, limits their opportunity to contribute financially, through consumption and taxes, to their country's economy.
The Other Foundation's "Progressive Prudes" report estimated that 1.4% of South Africans identify either as homosexual, bisexual or gender non-conforming. Using that estimate, the Pink Rand could be valued at R56 billion in 2016. As mentioned earlier, South Africa is a conservative society and this could affect the accuracy of gauging how big the gay population is. The stigma attached to homosexuality, as well as other dissuasive factors such as culture and religion, could discourage respondents from admitting their sexual orientation.
Gallup (an American research-based global performance-management consulting company) determined that 3.8% of Americans identified as lesbian, gay, bisexual or transgender. Using this figure, the IRR estimates that the Pink Rand could be 3.8% of GDP or R152 billion. The local and foreign LGBT market has proved to be especially lucrative for the city of Cape Town. Petrick Fourie from Leapfrog Properties explains that in some areas of Cape Town, such as De Waterkant, 50% to 60% of residential properties are owned by foreign gay men.
It is important to acknowledge the value of the LGBT market in South Africa and everywhere else in the world, and to recognise that empowering this demographic could lead to a substantial increase in the sums being funnelled into local businesses and the economy in general.
Yet, Michael dos Santos from The Strategy Department says that South African brands are making crucial mistakes when engaging with the LGBT market. In 2012, the LBM Gay Consumer Profile (the most recent and largest comprehensive gay consumer survey in South Africa) found that 57% of gay and lesbian consumers felt that they were being ignored by South African brand names. This is despite the fact that 59% of LGBT consumers considered themselves brand loyal and 76% said they would support brands which advertised within the Pink Media and for the Pink Market.
It is important to acknowledge the value of the LGBT market in South Africa and everywhere else in the world, and to recognise that empowering this demographic could lead to a substantial increase in the sums being funnelled into local businesses and the economy in general. Neglecting or criminalising the LGBT community will only hurt a country and prevent it from reaching its full potential.
South Africa has been progressive in terms of LGBT rights. Banning anti-gay fundamentalist pastor Steven Anderson from entering the country is proof that South Africa is, in some respects at least, still willing to protect this vulnerable community. However, government needs to be more pro-active in protecting and upholding gay rights. The fact that less than a third of Home Affairs branches have marriage officers willing to marry same-sex couples is unacceptable. Social attitudes also need to be reformed. If people in South Africa cannot be persuaded to be more tolerant towards the LGBT community on human rights grounds, then they should at least admit that it makes economic sense to empower this demographic.