Sky-rocketing tuition fees and their relative value in a difficult job market remains the subject of heated debate for students both within the UK and outside of it. Locally and abroad, graduates are faced with the decision to continue their post-graduate education to build up a more attractive CV, or hold back from incurring further debt while accepting largely dismal job prospects. For international students in particular, rising costs of living and stricter visa regulations add an additional level of complexity.
Despite these challenges, the interest in UK qualifications from international students is far from dwindling. According to a BBC report, data from the Higher Education Statistics Agency (HESA) shows that an increasing number of international students are attending UK universities, along with a "big increase in the number of students overseas studying for UK qualifications without coming to the UK - for example by attending an overseas campus of a UK university, or studying for a UK degree by distance learning."
Fortunately, this interest appears to be well placed. Findings from our first annual London School of Marketing (LSM) 'Where are they now?' study, completed by third-party research firm BQu, has revealed that our international students who earn a UK post-secondary qualification can enjoy better job prospects, higher earning potential and the opportunity to achieve personal goals. And with our investment in online learning tools backed by local support, many are able to do so while avoiding prohibitive costs and difficult visa requirements by studying from their homeland.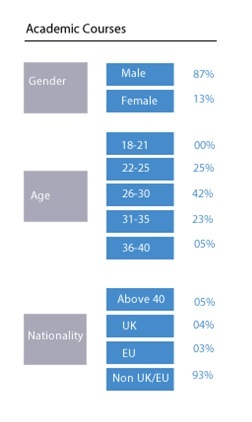 The study, released earlier this month, researched the goals of academic post-graduate students who sought further academic designations with London School of Marketing, and measured where they currently stand in pursuit of these goals following the completion of their studies. Data was collected via an online survey completed by past alumni who graduated from their nominated programmes by 2013 December. A total of 368 alumni completed the survey.
Of the respondents who studied academic courses, 93% were located outside the UK or the EU. It is worth noting that, in the case of London School of Marketing, international students are typically from the UAE and are of middle-class origin. The majority are male between 26 to 30 years. For further context, according to www.salaryexplorer.com, the average salary for residents of the UAE converts to approximately £3,000.00 per annum. Courses studied included designations awarded through our partnership with Anglia Ruskin University, such as BA (Hons) in Marketing, MA in Marketing and Innovation and our MBA programmes.  
Pre-studies
Prior to their studies, 45% listed a post-graduate diploma as the highest qualification achieved, while 19% had a bachelor's degree and 18% had a master's degree. Eighty-three per cent considered themselves to be full-time students, with 71% studying for a master's degree. Only 14% were in full-time employment. Of those employed, 25% earned the equivalent of £10,000 or less, 25% earned £20,000 to £29,000 and 25% earned more than £30,000.
The goals listed by those pursuing their academic qualifications in the UK included, "having a satisfying and rewarding career," "the opportunity to study/work in a different country," "having a secure job," "getting a full-time job," and "earning more money."
Post-studies
The findings have revealed that 72% of those who studied academic courses in the UK with LSM felt that the course 'mostly' or 'completely' provided them with the skills and knowledge needed to achieve their goals. Based on their experience, 19% of these students enrolled in further studies. Of those, 47% sought to pursue a master's degree. A whopping 88% selected the UK as the country chosen for further studies. Eighty-four per cent mentioned the qualification achieved from LSM was recognised in their home country.
Prior to studying, only 14% of respondents were employed in a full-time position. Interestingly, this number more than doubled to 29% after the completion of their studies. Among those who looked for and found a job, 69% found a position in the private sector. As a reflection of the difficult international job market, 28% were still looking for a job, while the remaining students had no immediate plans for the future, planned to travel or take extended time off.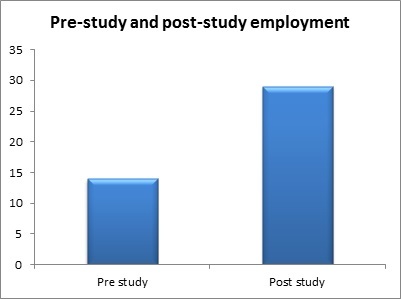 After the completion of their studies, there was a very noticeable decline in the number of students making less than £10,000 per year in their full-time job (dropping by more than half from 25% to 12%), while the number of students making between £20,000 to £29,000 and above £30,000 remained largely the same. However, there was a dramatic increase in the number of students making £10,000 to £19,999, increasing from 12% to 44% respectively.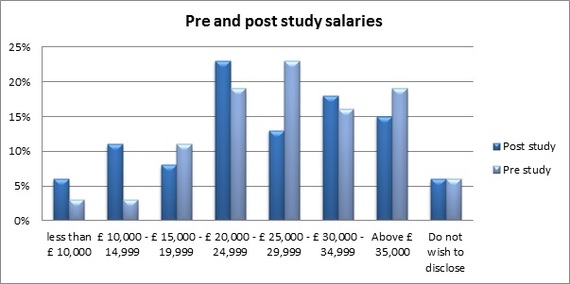 In addition to gaining a designation and increasing their earning potential, the UK post-graduate experience was also deemed useful by international students when it came to enhancing their English language competency (for non-native speakers), ability to work both independently and collaboratively, and leadership and management skills. Ninety per cent of academic students would recommend LSM to others.
Based on these findings, and supported by a great deal of secondary research on the topic, it is clear that a UK post-graduate designation helps international students to achieve a variety of goals. At LSM, our goal now is to make this education more accessible with our Local Access Points, providing access to students around the globe who cannot afford or obtain a visa to travel to the UK to earn an international qualification. We know that by eliminating the barriers to entry, a post-graduate qualification earned in the UK can help the majority of our international students to put their future back into their hands.