After my recent blog about bridesmaid advice, which focused mainly on the hen do shenanigans, I figured that I should do a part two but this time, focusing on the day of your best friends wedding.
It all starts the night before, when you have a polite drink with the brides parents, a last supper with the wedding party or just an early night with the frantic bride-to-be.
Now, a good bridesmaid will make joy of this moment for your friend. Pre-order food or treatments to the hotel room, keep the mother in law away from that uncle she can't stand, or just comfort your mate as she tells you how worried she is to be walking down the aisle. (Note, you could also do what I did and took complete focus away from my friend by practically running down the isle in heels.)
So, for those busy bridesmaids out there, here's some tips for y'all.
Advice#1: DON'T allow the bride to get pissed the night before. This, annoyingly for you, means you must stay that wee bit sober as you are on drinks-consumed-watch. While you're at it, you may as well check the rest of the bride's family for rogue stepfathers or underage brothers. If the groom and his best man is with you however, you can write them off. Every wedding I have been to involves the groom getting a bit sloshed before his big day - you can't stop them.
Advice#2: The average wedding costs, what?! £12k - according to Don't Tell The Bride - Pah! And the rest! EVERYTHING with the word 'wedding' in it costs a fortune. Your mate has probably saved every penny she has earned in the last 18 months to feed 100 of her closest friends and family for one day. As a bridesmaid, it's nice to buy the bride a little gift for her to open the night before. You have probably been best mates for 20 years and so something sentimental won't go unnoticed. Equally, knowing they have possibly missed something for the big day, some tiny detail uncovered, be cunning. Knowing my best mate Jenna didn't have a dressing gown for the day, I got her and the maids costumed made ones that made the wedding photos that little bit more special. I went to Maisie Lou Designs who made personal, good quality, comfortable gowns for only £25 each! They were a great buy, giving a lovely moment for us all - and we all still wear them now. I looked everywhere for a decent range, so take my advice on this one.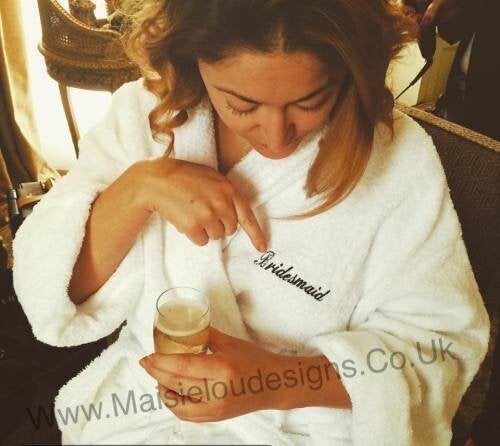 Advice#3: So, your mate picked the dress, the colour of your nails, the way your hair is going up, the shoes, the lot. You might not like it or suit it, but you know what, shut up and be happy with it. Your bestie has spent MONTHS planning this day and wants everything just perfect. That includes you. This has meant I have spent several weddings eating my bacon sarnie over a sink in the morning as I am prone to ketchup - droppage. But thats fine by me if it makes my mate's day perfect.
Advice#4: Weddings are long days, involving champagne receptions, buckets of wine over dinner, bar tabs to finish not to mention the heatwaves and standing around. I believe, it is your Bridesmaid Duty to be the first AND LAST on the dance floor. So pace yourselves and always save a jaeger bomb up your sleeves (not literally, silly) for when you need a burst of energy before "oops upside your head."
Advice#5: Hopefully, after their wedding day they have the honeymoon, and after their honeymoon they get the photos - but its still a huge comedown for any bride having planned one day for so long. When they are back from the sun they are just BORING Man and Wife... yawning 'ell. For these moments, (or for anything involving sending my mates some love), I use BYPOST. It's an app on your iPhone that lets you send postcards using photos from your phone, sweetie jars or even fridge magnets. Its cheap, easy and for a girl who works 12 hour days like I do, a bloody life saver. The annoying thing with sharing my tips online means my friends now know how bloomin' easy it is to do these sweet things. Doh.
Hopefully, we all get our happy ending, but for now, its one of your best friends claiming hers. Remember, it is an honour to be asked. I have enjoyed every minute of both my friends weddings this year. Enjoy her day, film the room with love and remember to SMILE. (Honestly, the photographers are ALWAYS recording!)