Violence and harassment, or the threat of it, is one of the most widespread and horrific abuse of human rights globally and a daily reality for millions of women and girls around the world.
Today in Westminster, MPs from across different political parties will join together to debate this issue and discuss what really needs to be done in order to bring an end to the violence that scars the lives of so many.
While some progress has been made in the fight to end this over the last four decades, it has been both too slow and too insufficient. It is not enough to simply speak out against this horrific act, when one in three women around the world will experience some form of violence in their lifetime, we need more than just words.
Last September, world leaders came together in New York to agree the new sustainable development goals, including a stand-alone goal on gender equality and women's and girls' empowerment (the catchy-titled SDG5) and a target to eliminate all forms of violence against women and girls in the public and private spaces.
While this was a brilliant step forward, the existence of these targets alone will not bring about the change that is necessary. This will only work if we see a redoubling of efforts from everyone - governments, NGO's and the public - and in particular a renewed emphasis the role of women and girls themselves leading these efforts.
Today in Westminster it's our chance to take action. As parliament debates this issue we must ensure that it's the women and girls around the world who are at the forefront of our minds.
Women like Jane Onyango, Jane works with the Kibera Community Development Agenda, a women's rights group helping women and girls understand their rights and stand up against violence. She works in schools raising awareness of the issues of gender-based violence and police stations offering support to women affected and taking cases for domestic violence and rape to court. But like far too many women's rights organisations around the world her most pressing challenge is that the group she works with are chronically underfunded.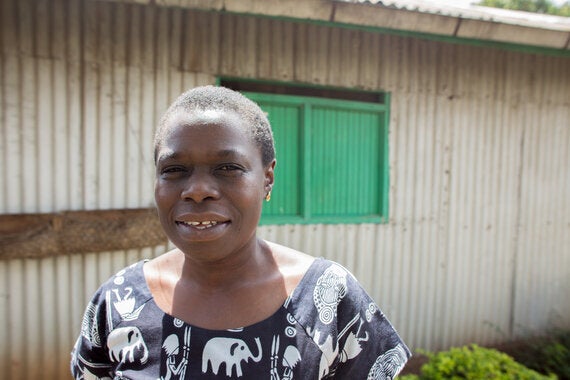 Jane Onygano, photo credit: ActionAid
The Secretary of State for International Development, Justine Greening, has shown leadership in ensuring women and girls' rights feature at the heart of the Sustainable Development Goals. And now, when she is making key decisions about future funding priorities for her Department, she must seize the opportunity to ensure women and girls are prioritised and resources are available to defend and sustain the progress to date, and eliminate violence against women.
Women's rights organisations have long been at the forefront of the fight to end violence - from providing life-saving services, raising women's voices, to holding governments to account for their policies and practices.
Increasingly, however, their voices are being muted and their vital work is threatened. It is vital that they play a key role in the development and implementation of any solution designed to end global violence against women and girls. And perhaps most crucially, with less than 1% of UK aid for gender equality currently going directly to grassroots women's rights organisations, they must be adequately funded.
So much is at stake. If we are serious about bringing an end to violence against women and girls by 2030 we need to act now. I hope that today, as MPs debate this issue, they remember the women and girls at the heart of it, and demand a life that is free of fear of violence for all.
Popular in the Community