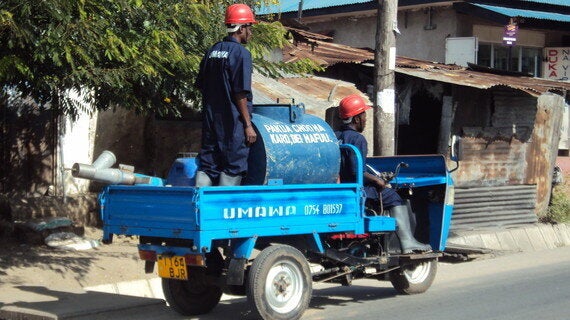 Gulper operators in Temeke, Tanzania, 2011. Credit: WaterAid
The market-based approach
WaterAid has explored various options to address this challenge. A couple of years ago, the WaterAid Tanzania team identified several locations within the Temeke municipality, on the outskirts of Dar es Salaam, which would be suitable to pilot market-based approaches to sanitation. This work was completed with the support of The Stone Family Foundation.
Entrepreneurs looking to move into the sanitation sector and community groups searching for business opportunities were identified to set up 'sanitation enterprises'. These enterprises were employed to empty household and commercial pit latrines for a fixed rate. WaterAid's role was to support the development of business plans, to identify the right technology and to link the enterprises to financial institutions.
Getting the technology right was very important. After years of experimenting, WaterAid was recommending use of the 'Gulper', a pit latrine emptying device powered by a motor and fitted onto a three-wheeled motorbike. The small size of the Gulper means it is adept at winding through the narrow lanes of unplanned settlements which do not have a sewer network.
Sanitation services are, however, not just about latrines and emptying them. The waste has to be treated and the nearer it can be treated to the point of collection, the more cost effective the service is.
WaterAid teamed up with BORDA, a German organisation that has promoted decentralised treatment of human waste in many countries. This had to be done in a manner that was safe, environmentally sound and also offered a commercial return for those running the collection business. The plan was boost returns by experimenting with production of manure and biogas for sale.
For the business to be viable, it needed to have the potential for scaling up. This meant identifying an operational area with a reasonable density of population. Household and business rates were fixed and management systems put in place to ensure a service that responded to the needs of their customers with a technically appropriate solution that complied with local regulations,
WaterAid strongly believes that for any intervention to be sustainable, local ownership and engagement are essential so discussions with the community around how the service would be run were essential.
Another key challenge was finding seed capital to start up the businesses. An easy option would have been for WaterAid to provide local community groups or entrepreneurs with the money required to initially invest in the business. That, however, would not be a replicable option.
An earlier WaterAid assessment had suggested that Dar es Salaam alone would need 1,500 pit emptying operators to address the needs of the unplanned urban settlements. The current proposal was for WaterAid to support only six groups. So WaterAid investigated approaching either a mainstream commercial bank or micro-finance institutions.
Two years on from launching, I visited the project and was impressed with one particular organisation called UMAWA.
It had a clientele of 4,000, had three Gulpers operating, and importantly was managing to break even. Its sewage treatment plan was almost fully operational, though some further construction work was still required. The enterprise had successfully demonstrated that it could produce organic manure and biogas for sale, but needed to do further analysis on the quantities generated to calculate the economies around production.
After examining the different options, the business had decided to approach micro-finance institutions to obtain the necessary start-up capital. Whilst the interest rate was about double than that offered by commercial banks, what it gained from the relationship was much greater flexibility and crucial advisory support that commercial banks were not offering, as they did not recognise the business potential around sanitation service delivery, despite being willing lenders.
The Temeke municipality is now very keen to promote this initiative across other neighbourhoods. The council offers a free operation and maintenance service for the Gulpers and is planning to establish a learning centre to record experiences. They have also decided to waive the penalty fee that they would normally charge families who fail to empty their latrine pits - and instead, encourage them to get UMAWA to empty their pits, helping to bring business to the new enterprise.
Initiatives like the one I saw in Dar es Salaam provide hope that sustainable, affordable and viable solutions for urban sanitation in unplanned settlements, not serviced by a sewer network, can be developed and scaled up.
Girish Menon is WaterAid UK's Director of International Programmes. He tweets as @GirishMenonWA and you can read more of his blogs on the WaterAid website here.