Right now, brows are the thing. We all want beautiful brows, but we aren't always born with them and it can get a little more than tedious trying to change that.
Whether your tinting every two weeks or drawing them on every morning, big and bold brows can take a lot of work to achieve. Well, I should say, they did.
Enter microblading. As the next big thing in eyebrows, microblading not only looks incredible, but gives you maximum brow-wow with zero work.
Microblading is relatively new. It's a form of semi permanent makeup application that allows you to achieve full, very natural looking eyebrows. Using a very small blade, pigment is applied to the epidermis leaving fine, hair-like strokes.
Whether you're wanting to achieve a fuller brow or fill-in naturally sparse eyebrows, microblading will give you the brows you've always wanted. Trust me, I've just achieved mine!
First of all, it's worth noting that, although at first microblading seems similar to brow tattooing, it's not. Microblading is a manual method of semi permanent makeup application. No needles. No machines!
All you need is a qualified, wonder-whizz with brows (professionally known as a permanent makeup specialist) and to let them work their magic. At this point, I should probably point out that Sian Dellar, winner of the London Hair & Beauty Awards, is the incredibly talented specialist that applied mine.
The procedure itself uses pigments that are formulated to match your natural brow colour and overall complexion - all of which takes place in your consultation. Then, a little brow numbing cream later, your shape will be drawn on, approved (by you, of course) and you're pretty much new brow ready.
As with any beauty treatment or procedure, results do depend on the person. But, typically, microblading lasts between 12 and 18 months! Incredible, right? One whole year (and then some) of brow pencil free mornings!
At first, you may have slightly darker brows, as the colour will fade 30-50%. Then, your perfectly matched, natural colour will start to come through. After the first appointment, a top-up is usually then required within 4-6 weeks and then, you're brows will be bold and beautiful for at the next at least!
I had to add this section in because, the entire time before my appointment, I admit I was curious. But in all honestly, no. The experience will be different for everyone, but for me (and those I know that have also had it applied), it felt like a small scratch for the first few minutes and then, I felt nothing. It was not painful in the slightest.
FYI, it is likely that your brows will be a little red for a few hours afterwards, but it quickly dies down. Then, with the right aftercare, you'll be brow beautiful in 7-10 days time. Just make sure you apply the healing balm 2-3 times a day and keep them away from water (and yes, that does mean you get a well deserved gym break) in that time and they should heal perfectly.
Oh they're good. They're really good. I have naturally thick brows, but with that, they're a bit wild! They're also a little sparse at the front (or 'the bulb' in brow talk). So, my goal was to fill in the gaps and create a natural looking bulb - I spend far too much time trying (and quite often failing) to perfect it each morning.
And, I'm pretty impressed - wowed, even! I don't know what I was expecting, but they look so natural and like the brows I wish I had. But that's what microblading is all about - naturally beautiful brows that don't take time to apply or wash off. It certainly gets my vote!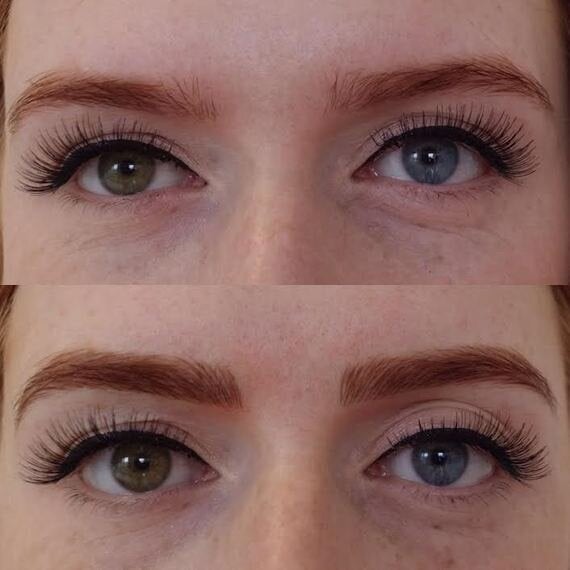 Sian Dellar is a semi permanent makeup specialist based at Harley Street in London. For a consultant or to find out more about microblading, visit www.permanentmakeup-specialist.com.
Related