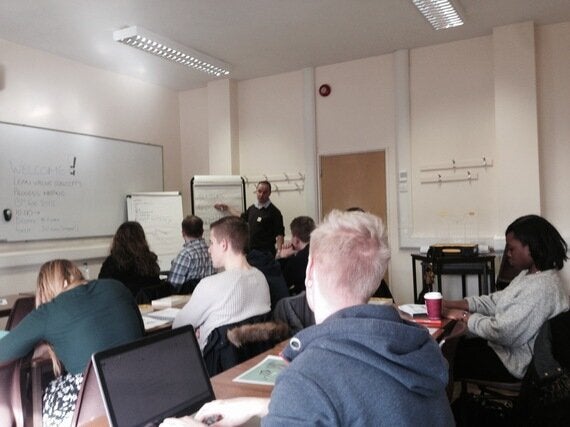 (Mark Bowen Director of Magna Solutions Ltd. assessing student expectations for their lean training)
Teaching in Higher Education and especially when it comes to public policy and business needs to engage with those people doing the job as much as it does with the theory side of the subjects. This way students receive the academic rigour within their chosen subject combined with practitioner hands on experience. Recently I invited Mark Bowen, Director of Magna Solutions, a Lean management consultancy, to develop lean training for students on the BSc (Hons) Public Management and Business programme, which he did. This involved two full days of lean training for the students, and the opportunity to actually lean two university processes, namely blue role and coffee procurement and distribution. These skills and insights were incorporated into the students final module assessment. Did it work ? Below are Marks thoughts on the experience.
There are a few challenges with any attempts at successful knowledge transfer of the skills associated with the Toyota Production System, known more commonly in the West as "Lean".
Although a background and history of the topic, and the principles of delivery, can be taught in the traditional classroom environment, effective and embedded knowledge transfer can only happen by applying the philosophy and tools to a process, product or service in a "real world" environment.
In such an environment this, in theory at least, is relatively easy. It is delivered through a combination of off-line classroom training, coaching in the philosophy, principles and expected behaviours, on-the-job application of the tools and techniques, and finally ongoing mentoring and support, in a ratio appropriate to the organisation and environment.
However, successful workplace implementations will also have to give due consideration to the human centered aspects of change, including fear, suspicion, skepticism, resistance and, quite often found today, change and initiative fatigue.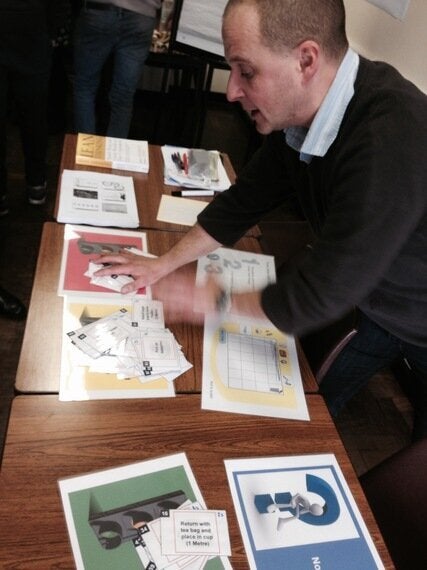 (Mark displaying some of the Lean literature)
In a higher education (HE) setting the challenges differ. Students (mature ones excepted) have often not been exposed to a working environment for a significant period of time, and can lack that perspective when reflecting on how Lean can be implemented with relevance to their relatively limited experience. More specifically, they can lack access to suitable processes to apply the learning, and experience first hand the triumphs and tribulations that come with stakeholder engagement, waste identification and subsequent process change.
On the flip side (and apologies in advance for this sweeping generalisation) this lack of exposure can often result in a more open and receptive attitude and audience? Although the human centered issues are a worthy topic in themselves to explore and discuss, the issues of fear, resistance and fatigue are far less likely to be encountered from a student group? Any skepticism is however, more than welcome, if only to to liven the debate.
The specific challenge for the HE lean coach, is how to conduct and embed knowledge transfer and bridge the gap of the relative lack of experience and process exposure?
The potential benefits, to the student, the HE establishment, future employers and wider society should not be underestimated. Successful lean organisations, across multiple industrial sectors, public and charitable institutions have seen step change improvements in customer service, quality, cost reduction and cost avoidance, space and inventory reductions as well as improvements in safety and staff empowerment, satisfaction and morale.
For the graduate, even a basic lean skill set can make them stand out above their peers and make them a more attractive prospect for potential employers.
For employer and wider societal benefit, there is the opportunity for the graduate to share and apply the knowledge from the outset of their employment, potentially optimising processes, reducing costs, increasing value and customer satisfaction.
How then to embed this knowledge for the student beyond the classroom environment?
Firstly the teaching materials should be tailored to a student audience with little industrial or business experience. This is a simple enough task for the experienced facilitator. (This is where the aforementioned mature students can assist in the process, if they are willing to enrich the taught delivery by bringing appropriate anecdotes of their real world and life experiences to the table).
Student feedback also clearly shows that, delivered correctly, Lean modules can be "...really eye opening...incredibly useful...deeply insightful...a very fun and interesting experience...made me think outside of the box...very informative...life changing..."
(Quotes from Plymouth University BSc(Hons) Public Management and Business students)
Secondly the students should be exposed to real world processes with a supported opportunity to apply the lean tools.
Collaboration and partnership with external organisations can provide this, and this approach should be encouraged, but there is another alternative worthy of consideration.
Typically, the average college and university process has not benefitted from comprehensive lean analysis, Business Process Re-Engineering (BPRE), or exposure to Japanese origin management philosophies.
In using appropriate university processes as test beds, the students gain exposure to the "current state" in a supportive environment, under the tutelage of the lean coach and/or academic tutor. The university benefits from a "fresh-eyes" review of internal processes and the opportunity to support the students through improvement cycles, reducing waste, saving resources and improving the service offering throughout the organisation.
The practical aspects of this learning tool are also ripe for formal academic assessment - another bonus - and this time for the tutor. In collaboration with Dr Borne we designed and delivered a Lean module for 2nd year students that included a mapping analysis of two University procurement processes.
Stakeholder feedback is consistently positive, multiple examples of waste and improvement opportunities have been identified, and the university now has the option to progress these projects with further student support. Most importantly though, the students have been provided with a valuable, marketable and hopefully remembered skill that will help them to not only secure employment but, with further development of these lean skills, enable them to maximise value add opportunities throughout their careers.