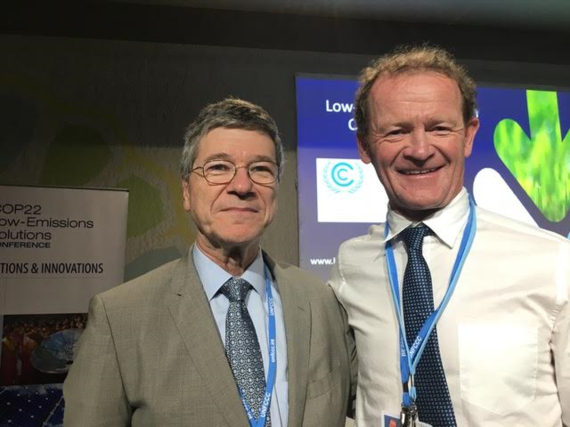 (Professor Jeffrey Sachs Special Advisor to the UN Secretary-General, and Director, UN Sustainable Development Solutions Network (left) and Nev Hyman Founder of NevHouse (right)
Late last month saw the 22nd United Nations Climate Change Conference of the Parties (COP22). In the wake of Donald Trump's US presidential victory and his very clear stance on climate change as very visible bullshit, the conference has taken on a new imperative. Trump's stance has understandably caused considerable anxiety amongst the global community with imagery and rhetoric of an impending catastrophe looming large on the horizon. And this is in stark contrast to the optimism following the Paris Agreement on Climate Change (PACC) coming into force on 4 November.
And as the dust settles, debate and analysis will continue. What is clear is that the imperative to educate, research, enhance understanding and communicate issues relating to sustainable development and climate change has never been more stark. And to that end someone else was in Marrakesh speaking at COP22. Nev Hyman Founder of Firwire Surfboards and now founder of Nevhouse.
I met Nev over three years ago at the Global Surf Cities Conference in 2013 on the Gold Coast in Australia after which he gave me a lift to the QuikSilver Pro Contest. And from that point on I have not only followed the Nevhouse initiative but also made it a central case study of my research. Nevhouse it a system for creating prefabricated homes from recycled materials that are culturally relevant in multiple countries and communities. What instantly struck me were the incredible sustainable development related solutions that this initiative represents from energy and pollution through to poverty alleviation.
Speaking to Nev in 2013 he explained Nevhouse in a nutshell:
"This is a flat pack, erect and dismantle in two days, inexpensive home. It is resistant to bacteria, low or no maintenance, earthquake, wind and fire resistant and it will last generations whilst diverting waste from landfill, off the streets and out of the rivers turning it into houses for the poor. It also brings attention to the millions of homeless globally. This is a very compelling story that captures everyone's imaginations as it ticks every box whilst bringing positive attention to charitable causes and government initiatives"
And with this prescient statement in mind this is exactly what has happened. It has captured the imaginations of the global media, prime ministers and the general public. The innovative design and global relevance ensured that Nevhouse was the recipient of the Australian Good Design Award for Sustainability and also awarded Best in Category for Architectural Design - Commercial and Residential Architecture in May this year.
And now at the highest political level the sustainable development potential of Nevhouse has been recognised by Professor Geoffrey Sachs. Sachs is world-renowned professor of economics, expert in sustainable development and senior UN advisor. He is the co-recipient of the 2015 Blue Planet Prize, the leading global prize for environmental leadership. He has twice been named among Time Magazine's 100 most influential world leaders. According to the New York Times he is probably the most important economist in the world. Sachs invited Nev to speak at the COP22 conference on Sustainable construction: energy efficiency and sustainable materials. Talking to me about the experience Nev Said:
"What an honour it was too have been invited to speak, albeit briefly, at the world's leading climate change conference - COP22 in Marrakesh. Interestingly I did not realise that COP22 was the follow-up conference from the Paris climate change talks last year. Silly me. To be on the same stage as Prof Jeffrey Sachs was a career highlight for me, and he doesn't even surf! Haha -This is all new ground and I must say I am loving every second of being able to offer a solution provided by the amazing Nev House team that will help those with less than us, whilst also helping to reduce the scourge of plastic in the environment. Stoked!"
This is a significant recognition of the incredible sustainable development related solutions that Nevhouse can offer the world. And as with any world changing innovation the journey from idea to reality has not been a straight or easy path. And I am exploring these issues as part of my research which will be presented in detail in Surfing and Sustainability. In essence, for me this is an example of where from humble beginnings and a love of surfing and the ocean an initiative has emerged that has multiple sustainability related gains.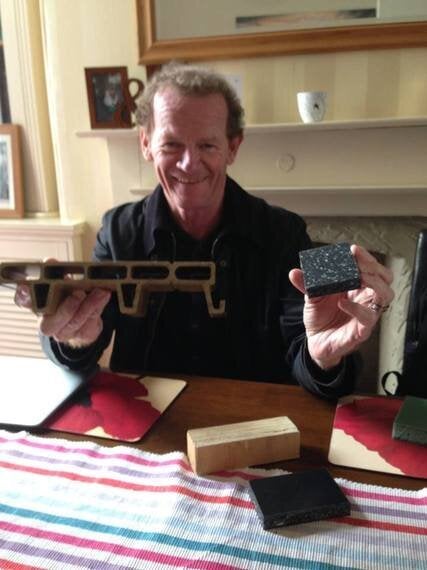 (Nev at my house, Plymouth, UK - explaining some of innovative process and materials that go into Nevhouse)
Related