There is nothing like social media that brings people together from different continents. Being an author about adversity and diversity, I was drawn to the story of indie filmmaker Marcus Markou from the United Kingdom. A man with a similar background to myself in the arts, I loved reading his blog about what he has gone through to get his film "Papadopoulos & Sons" made and into theaters for people to see it. The film premieres April 5th in the UK and Markou took the time to candidly discuss his journey with the film.
Gregory G. Allen: Marcus, thanks for taking time away from your crazy schedule to talk arts and filmmaking with me. Can you start with telling us a little about your background in the arts?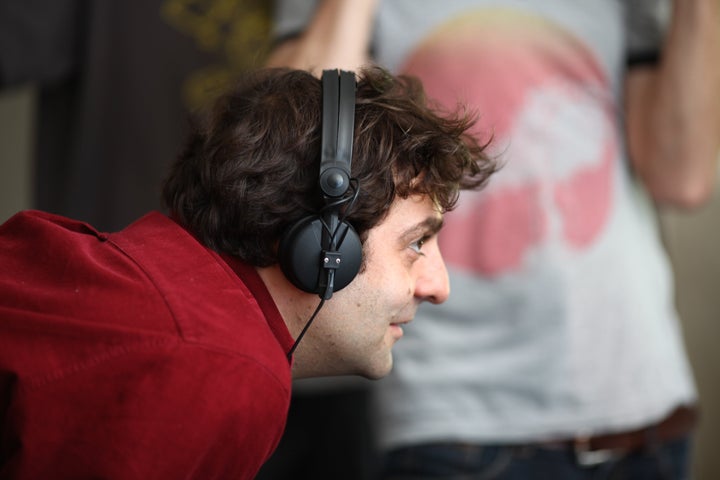 Marcus Markou: My first love was acting. It was the thing that made me feel good. I always wanted to be an actor. I was very lucky at school - we had wonderful drama teachers and I was fortunate enough to do plays by Dario Fo, Brecht, Shakespeare, Arthur Miller. But I never had the guts to actually go and pursue an acting career. As the son of an immigrant, who had come to the UK to escape poverty, becoming an actor seemed so frivolous an self-indulgent. I ended up becoming a magazine journalist and editor but at 27 I felt it was my last chance to do it so I went to LAMDA (The London Academy of Music and Dramatic Art) and trained as an actor. It was a wonderful time but I just couldn't get started as an actor once I left. I joined an improvisation theatre company called Fluxx and I started to write. With Fluxx we would get up on stage and improvise 45 min dramas without a script. I think all these experiences were invaluable. You learn so much from being on stage improvising. I am convinced it's the same part of the brain we use when we write. And now when I write, I do get up and jump about and have conversations with myself. I sometimes do it when I am in public, if I am thinking about a scene or fictional conversation - and I do get funny looks.
Allen: What led to the switch from stage to film?
Markou: I'd had two plays staged and I was left feeling frustrated. I'd had a wonderful time writing them, I'd loved seeing them manifest. But something wasn't right. Critics were pretty harsh towards both plays and British theatre was saying... "Don't give up the day job". It was frustrating because audiences were very much in favour. Then someone pointed out with my last play that the audience we had attracted was a literate TV/ Film audience that might not necessarily go to the theatre. Someone else suggested that what I was doing was writing film scripts and putting them on stage. I use lots of short scenes in both plays. Another friend suggested I write film scripts. Of course, my love of film ran in parallel to my love of acting and being an actor but I was horrified at the idea of making a film. The idea seemed too technical. With the stage, it's a very simple idea - a script, some actors, some costumes and some lights. Away you go. So I looked into doing some training and I found a part time film making course at Met Film School in Ealing. At the same time, I had met an old Hollywood Film Producer called Elliott Kastner. He and I had become friends during this time and he took a huge interest in my endeavour to become a film maker. We became close. Elliott was one of those larger than life independent film producers that simply don't exist anymore.
Allen: It's wonderful that you got such hands on experience working with an indie filmmaker to learn the ropes. Can you tell us a little about the story to "Papadopoulos & Sons"?
Markou: It's about a very wealthy Greek Cypriot immigrant who has lost his Greek roots and isn't connected to himself or his family anymore. There is a banking crisis and he's borrowed a lot of money to speculate on a big commercial property venture. He loses everything to the banks in an instant. The only thing the banks cant take is an old fish and chip shop which none of the family know about. The banks cant take it because its half owned by his larger the life brother Spiros - who the family haven't seen in 10 years. We understand there has been a family rift. Spiros is a handy-man, former waiter, traveller. He comes back to the family, picks them up and takes them to the forgotten and old fish and chip shop - where they have to learn to start again, on many fronts. The main character is forced to unpick his life and learn how to be the head of a family again.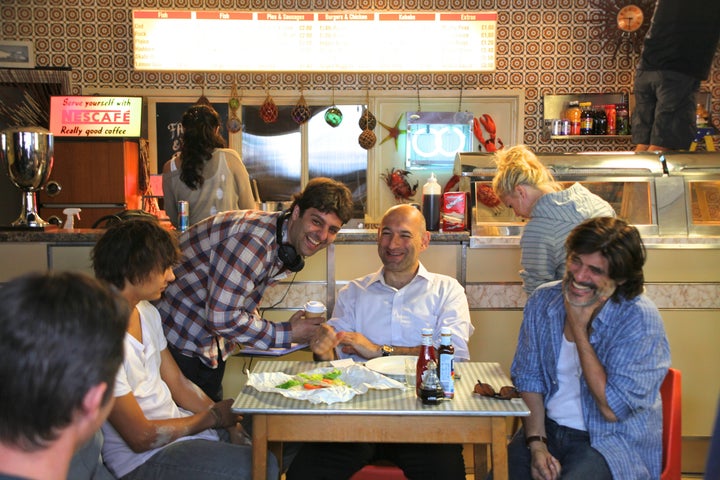 Allen: As an author myself, I know there are moments that can happen in our lives that lead us to a story. What brought you to this one?
Markou: Ever since I was a teenager I was fascinated by my own identity. What was I? Was I Greek? British? Cypriot? Like many families in the 80s and 90s we experienced that prosperity ride. And we all became quite materialistic. And so I was always feeling a sense of loss as we, like many millions across the planet, went through the gears of social mobility. I wanted to ask, what is lost along the way? And of course, the timing of that question is purely accidental when it comes to the current financial crisis. I've been asking it for many years and this is story I started as a novel and many plays, but just could not get into it via those mediums.
Allen: I absolutely love the spirit of the indie artists and truly believe that is where art thrives. How great that you waited until the correct medium hit you for the story. After writing "Papadopoulos & Sons", what made you decide to direct it yourself as an indie film?
Markou: If you are a story teller, you can become a film maker. You can come to it from being a writer or producer or editor or an actor. I think most film directors are something else first. They are one of those things. At its core, you are a story teller. I originally wanted to just produce and write but I learned at film school that having been an actor, a big part of the job of directing, is learning how to work with actors and get the best out of them in sometimes artistically compromising situations that occur in a technically driven film set. If you are supported with a good First AD, a Camera man or Director of Photography that works creatively for you and a script supervisor that has an eye on the edit to follow you can be a director! You just need to know what the story is you are telling. And for me, it was a story that I'd written and breathed. So people will follow you and your passion and they will make allowances for any technical holes. That's their job. Along the way, you are learning all the time, often from impressive technical experts. I was always happy to be led when it served the interests of the film.
Allen: It truly 'takes a village". You obviously know what to do with social media as that is how I came to know about you and your film. How important has that been to your grass roots campaign with the film?
Markou: Social media is everything. No posters, no adverts, no spend on traditional marketing. I've done everything by word of mouth through social media. We will see if it has worked on April 5!
Allen: Yes! April 5th with the big premiere. From reading your blog, you have really shared openly and honestly about this journey. What kind of work went into getting this premiere to occur?
Markou: I've done everything from cold call Greek Orthodox priests in Britain to mention the film to congregations to tweeting all British Fish and Chip Shop owners. Everyone is happy to help. They can see from the trailer this is a sweet film and I pitch it as a gentle comedy - the kind we don't make anymore. I could write a book about all the activities. Tonight, I am going with a friend to flyer people leaving a pop concert in Camden, London, featuring a Greek pop star.
Allen: Are there other festivals you are working to get the film into or distributed in a wider release?
Markou: We've done Dinard, Thessaloniki and Palm Springs...we are about to be featured at three or four US film festivals in the next few months. This was a result of our success at Palm Springs.
Allen: What do you feel is the biggest misconception people have about indie films?
Markou: Some people lump them in with studio films. I've got people complaining on Facebook that the film isn't at a screen near them - thinking I am a studio. They get a shock when the writer/ director/ financier and distributor apologises and asks them to travel to a screen an hour away! But often, they reply back saying that because it's me they will do it! It's doubly hard. The expectations are for you to deliver a studio film. When people realise that it's one man... they then make an effort to support it. We don't really have the channels to support indie film makers in the UK. "Papadopoulos & Sons" could not make it to the London BFI Film Festival, Edinburgh Film Festival or Raindance Film Festival. I never had one organisation that is supposed to support or nurture British indie film support me. It wasn't for a lack of trying. The British Independent Film Awards have not recognised "Papadopoulos & Sons" in any shape way or form. This is a film that has won audience awards around the world at other festivals and is being distributed in Greece and Germany and was two weeks ago bought by the BBC (for the free TV rights deal). Really - I suspect most of these organisations that claim to champion British films or indie films are disorganised and unfocussed and talk a good PR game. They need to up their game.
Allen: What comes next for Marcus Markou?
Markou: Some sleep, rest, family time. Need to hibernate, do some DIY, laze in the garden - if the British Summer will permit it.
Allen: I so appreciate you sharing your journey with people via your blog and through this interview. There are so many people out there attempting to follow a dream and you are a true inspiration of someone who is not only attempting - but doing it! People can follow what is happening with Marcus and his film by visiting the film's website.