Over the last few months I've reviewed a number of events put together by the people at Secret Cinema - large scale, visual productions carried out over 1 or 2 nights in secret locations and based on and around classic films. So after the success of their (not so) secret run of Bugsy Malone, their next event, "The Secret Expedition", is a brave new venture for the team.
It started on May 10 with the launch of the mysterious Brave New Ventures website, giving the audience a chance to sign up and become an "employee" of this futuristic company (think Dharma Initiative from Lost). This included an initial online evaluation assessing candidates' suitability for a variety of different roles to take part in "the mission".
But the audience's commitment to immersing themselves into the cinematic experience was truly tested last night, as 100s of new recruits gathered on London's Southbank to take part in what Secret Cinema describes as "rigorous military training". This seems like an overstatement, as I'm not sure the SAS would consider a few lunges, head rolls and a short jog/walk to Borough as sufficient preparation for an active tour. But a mass of uniformed guys and girls doing squat thrusts in unison outside the National Theatre was enough to put a smile on everyone's face and draw a slightly confused, but curious crowd of onlookers.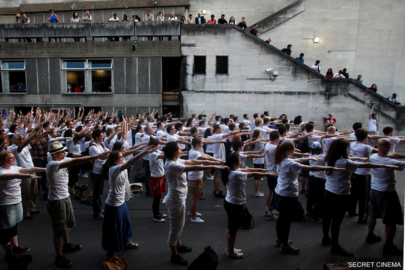 Being a part of this flash fitness mob was a chuckle, but it didn't distract me from trying to work out which film is the secret feature. And with this little company brief I have a few titles in mind:
"Brand New Ventures, who are gaining recognition as one of the leaders in training and people management, take cyberspace investigation very seriously. From un-manned mining through to in-situ resource utilisation and propellant depots, they are prepared for any mission that would increase the chance of economic and technological progress."
Total Recall? Gattaca? Alien maybe?
Alas, we'll have to wait until June 1st for opening night for the big reveal. I just wonder after that first performance (and with 29 to go), will they be able to keep the cloak of mystery in place for the duration?
Get your tickets here.