Bugsy Malone may have been made 12 years before my birth in 1988, but it'll always be one of my favourite childhood films. It takes me back to those afternoons at my Uncles flat where my brother and I were plopped in front of the TV with the choice of Moonwalker, Uncle Buck or the aforementioned tween musical to keep us amused. With cream-pie guns, catchy songs, and kids dressed up as gangsters and molls, you can imagine which VHS my 5 year old self championed the most.
18 years later, I still experienced that same childish thrill when I was invited to attend "Fat Sam's Grand Slam Speak Easy" screening of Bugsy Malone by Future Cinema.
For those of you who haven't heard of Future Cinema then don't feel too bad. It's an offshoot of Secret Cinema, where "the unknown factor" is very much part of their unique selling point.
Secret Audience. Secret Film. Secret Location. Secret Worlds.
Both Future and Secret Cinema have built a growing international following for their live cinematic productions. Through their niche events you have the chance to see a bevy of cult classics, and at the same time, become immersed into the celluloid world; through improvised performances, detailed design and interactive multimedia showcases at extraordinary locations across the world.
Watchmen, The Red Shoes and Lawrence of Arabia have all been given the Secret Cinema treatment, and as a previous attendee to the TopGun/Lost Boys event - which saw Canary Wharftransformed into a mash up of the Santa Carla boardwalk and Miramar Naval Base- I couldn't wait to attend the next cinematic offering.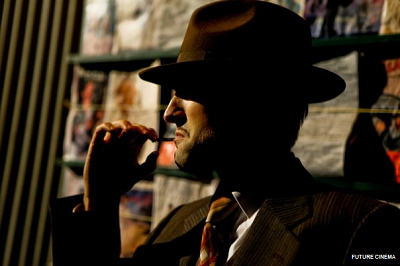 The success of Bugsy Malone's 2009 Secret Cinema run inspired the company to revive the production through it's Future counterpart; this time including child-friendly, daytime performances for all the family to enjoy.
So what better venue to showcase Alan Parker's directorial debut, than The Troxy in East London, with its historical reputation for bringing the gloriousness of Hollywood to Commercial Road. But first, there were a few instructions to be followed before we could gain entry into this musical underworld...
"The boss wants you to meet under the bridge, Caroline Street, E1, on the east side. Look out for Joey the violinist.
Now you got to act real normal and pretend like nothing happened. We don't want the fuzz knowing nothing about this shindig otherwise we may get rumbled.
Dress: Late twenties. Ritzy and real swanky. Bring a book; give it to the librarian to get in to the club. Oh and one more thing... You got to bring a flower to give to the boss. Now this is real important. We gotta keep the boss happy.
You may decide to talk. We got Bernie the weasel and his boys keeping an eye on you so don't be saying nuthin to no-one.
See you at Fat Sam's!"
Now whilst I didn't dress up for the last Secret Cinema event (apart from a token pair of aviators), my girlfriends and I did make an effort to look "ritzy and real swanky." They both epitomised the famous flapper girls of the '20s, whilst I channelled a more demure Parisian look Coco Chanel would have been proud of.
And thank God we did, for when we descended the steps into a 1920s world of decadence, there wasn't a pair of skinny jeans, Barbour jacket or plimsolls in sight. This, by East London's standards, is quite an achievement.
From roulette tables to candy floss machines, the music hall was a true homage to the 1920s; filled to the brim with 100s of suited and booted guests tapping their feet to the jiving live band on stage featuring special appearances by Tallulah, Blousey and all your favourite Speak Easy chorus girls.
The big man himself was Master of Ceremonies, and as we made our way up to the balcony, Fat Sam introduced the main feature to rapturous applause; a raucous enjoyment in no way confined by the customary silent, film watching you'd expect at your local picture house.
From "My Name is Tallulah" to (my favourite) "So you want to be a Boxer", the audience was under the sing-a-long spell of the British Musical, cheering and laughing especially when classic characters like Lena Marelli and Babyface (a very young Bonnie Langford and Dexter Fletcher if you didn't know!) made their way on to the screen.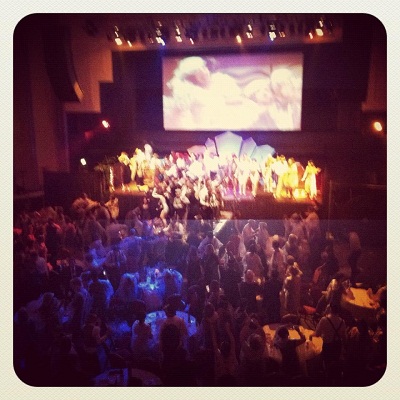 Towards the end of the film, my friend noticed packs of rain ponchos under each seat. She was a Bugsy Malone virgin, so their presence was confusing; but as a Secret Cinema veteran I knew we were about to be literally immersed into the final scene of the movie.
Because we all know that when you give a little love, a shaving cream palm strike comes back to you. (Da da da ra da da da)
Due to popular demand Future Cinema has extended their run of Bugsy Malone until 29th April, so get your tickets here, as I can guarantee that unlike most 3D movies, this is a 4D experience worth the price.