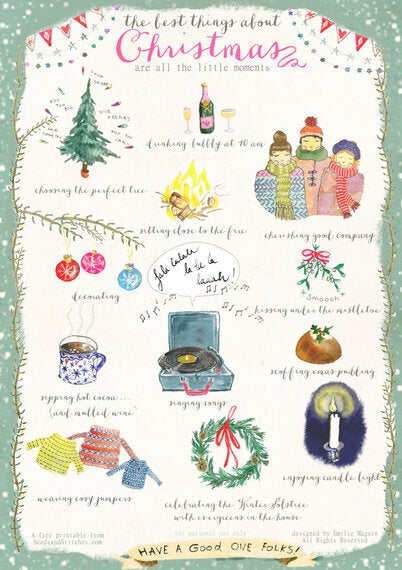 Christmas time is but a short hop, skip and jump around the corner, and if like me, it feels like its jumped out of nowhere with a bellowing 'Boo', you may appreciate some of the ideas we've come up with below to simply things a little.
I love Christmas more and more as I get older, in a strange adult/child reversal. But I hate what a god-awful consumer fest it has become. Apparently millions of brits are still paying off last Christmas. Whaaaat?!But it's not surprising- It's so easy to be overwhelmed with gift guides and wish lists, and party dress buying guides, and essential holiday makeup ideas, and, and, and.... and before you know it you've spent hundreds, if not thousands, of pounds buying gifts for everyone, new outfits, stocking fillers, food, Christmas films. But it doesn't have to be this way!
If we focus on celebrating the season- the solstice, the frost and the cold, the fires that warm us...if we try to decorate simply and give thoughtfully.... if we focus on the giving, rather than the receiving....then maybe those things will help us to reconnect to what Christmas is about- love, grace, giving, family and community. Christmas shouldn't mean being totally strung out, in dept, and a planet struggling with the huge influx of unwanted presents, wrapping and food waste festering in landfill.
To begin, here are 9 ideas to have a thrifty, low consuming Christmas! Please please join in below in the comments if you have any more ideas.
Christmas is a horrible time for some people for all sorts of reasons. Consider donating money or time to a homelessness charity (or one of your choice) We are currently selling tons of stuff on eBay and have opted to give 10% of everything we sell to a charity that provides a meal for a family struggling to make ends meet in the UK. You could donate to the Big Issue or contact your local food bank and offer to collect donations or help pack boxes (we're also planning on doing this this year). Time Bank has tons more Christmas volunteering ideas too.
I am coming to realise that kids don't need that many toys at all. In fact too much stuff can be damaging for kids, and the planet certainly doesn't need all the plastic fumes clogging up the ozone layer, so think about alternatives (we have a post coming up to help with that!)
I know, I know, Not only should you avoid toys, you should deprive your kids of a stocking too! Baaaah humbug. But most of those pound shop stocking fillers end up in landfill anyway. Alternatively, wrap small but useful things, or little parcels of food. We arent doing a stocking but my 2 year is going to be utterly delighted to unwrap mini pats of butter and cream cheese (err, yeah. she loves butter), boxes of raisins, buttons, individual crayons and pencils and individual socks!
"Have an "I won't if you won't" agreement with friends and family and save money and hassle. We have done this with my family this year and I feel light as a feather. No stress! Or set up a secret santa for friends and family, like we have done with my husbands family this year.
If friends and family are still keen to buy you or your kids presents, choose one big thing and ask for contributions toward it: driving lessons, a bike etc, a spa day. Patchwork Present offer a service to help with just that. We're using them this year for our daughetrs present.
Make, rather than buy presents, wherever possible, or buy second hand. Chutneys and jams make lovely, thrifty presents. We made tons of Seville orange marmalade in January which we saved for Christmas (organised or what? eh, eh?) Make your own simple cards printed on to recycled paper or send them as an e-card/ newsletter instead.
They are the UK's biggest tax avoider, they bust unions and undercut and consequently bankrupt tons of independent companies. Those next day delivery deals are tempting I know. And I'm not perfect. But I've found that eBay has most of what Amazon has.
Focus on the seasonal delights of Christmas- the winter solstice, evergreens, candle light, log fires, Jack frost. Thats where the real magic is, creating traditions around those things.
Use fabric wrapping or use old newspaper, tarted up with string or wool or fancy gift tags. Even if you have to buy the fabric, it's better than wasting paper as the fabric can be re-used year after year.
Buy or rent a living tree
Our tree is waiting for us in the garden as we bought a small potted tree last year that we have managed to keep alive. Hurrah! An essentially free tree! Alternatively there are companies all over the UK that offer the option of renting a living tree; do an internet search for a company near you.