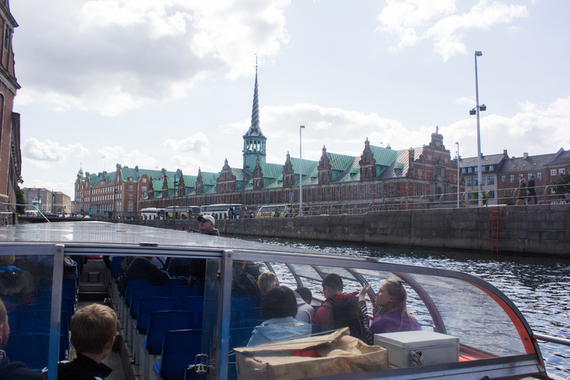 Image: Hannah Bullivant
With the easter holidays well underway and the summer holidays now looming tantalisingly close, many of us have holidays on the mind. I'm currently posting a little series of posts with recommendations based on a five week camping trip my family took last summer around Northern Europe. We visited six countries, stopped off at nine different places, took six ferries, and drove hundreds and hundreds of miles along the way. Many of these places are accessible via ferry which means if you are in the UK, you can drive and camp, but flying is of course an option too. The first post in the series was Antwerp, the second was Amsterdam, and now Copenhagen.
We stayed for six days and walked for miles and miles, exploring, getting lost, discovering, eating, drinking, eating, eating some more and falling in love with the city. Below are 10 cool, kid and budget friendly things to do and see in Copenhagen.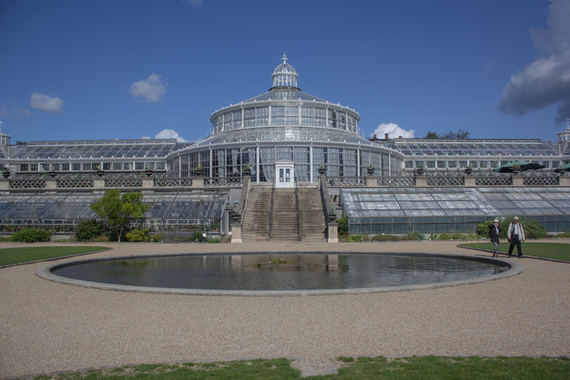 Image: Hannah Bullivant
1) Eat and drink. Everywhere you go. Until you can no longer afford it or your stomach threatens to burst. Copenhagen has so so much good food and drink- much of it kid friendly. Jaegersborgadde was our favourite hangout. Trendy shops, great coffee, a tiny restaurant called Grod, sickeningly good bread products... what more could you ask for? I wrote a whole separate post containing our recommended foodie places.
2) Head to an exhibition or show in Christiania. I was really excited about visiting this autonomous society. The colourful gardens, glass houses and graffiti are beautiful, and fun for children. Learn from our mistake though and avoid the green zone- (where drugs are dealt freely- and legally) as it felt a bit seedy. I wish we looked up something on the calendar and went to a specific kids event or festival with our three year old Frankie instead, they are supposed to be great.
3) Wander around the super cool Meat Packing District. There are some great food options here, but some other fun stuff too. We chatted to the friendly folk at
Butchers and Bicycles and had a test ride too which Frankie was absolutely thrilled about. There are also some sweet city gardening projects here
4) Go to one of Copenhagen's many green spaces. You can see Hans Christian Anderson's grave in the pretty cemetery near trendy Jaegersborgadde.  Many of the parks in Copenhagen have brilliant kids sections; kids playground Norrebroparken features an enormous aeroplane, Fælledparken has an amazing set of castles to climb, and the one on 'Vesterbro' features an enormous parrot slide. Britain: take note. 
5) Go to the Botanical Gardens. They're free and utterly wonderful. There is a large rock garden that you can scramble over, beautiful outdoor gardens to explore as well as the most lush greenhouses. We ate a marvellous pack lunch whilst looking out over the glass house shimmering in the sun.
6) Take a budget boat boat trip. We always take a tour by water if one is available. There is just something a little magical about learning about the city from the water.  We took the Netto tour from Nyhavn as it's the cheapest option. You see so much on the tour, including the vastly underwhelming 'Mermaid' sculpture (but at least you can say you've seen it, I guess?) Opposite the dock, you can also ogle the most wonderful unusual building, The Old Stock Exchange. It's roofed in the most gorgeous green copper, and features a spire made up of 4 dragon tails twisted together. It resembles a fairytale castle and we found it quite enchanting. 
7) Go to one of the brilliant flea markets. Contrary to popular belief, there are mega bargains to be had in Copenhagen. In fact, I was able to use my meagre budget to come away with a whole sack of new old stuff.  My Copenhagen friend Laerke greatly assisted me in finding these flea markets (so grateful!). She finds Copenhagen flea markets using the site 'markedskalenderen' which is in Danish, but can be translated with google. My two favourites were the Saturday morning flea market by Frederiksberg Rådhus (Frederiksberg city hall) and the Sunday flea near The old Carlsberg brewery (really interesting elephant buildings!)
8) Head to the vintage zone. Copenhagen is choc full of vintage shops. I only scratched the surface but my favourite shops were definitely around Ravnsborgardde, and particularly Hafni Antik. Frankie actually really enjoyed rummaging with us, with a "gentle touching" rule. 
9) Head to some Scandi design shops. I mean, when in Scandinavia.... my favourite scandi shops were Dora on Værnedamsvej and Dansk on Istegadde. Admittedly, these were a tad tricky with Frankie- we took turns playing with her outside whilst one of us dashed in.
10) Go to Louisiana. This art gallery is unlike any other art gallery I've ever been too. It's perched on a cliff top outside of the city set in a sprawling combination of different era buildings and surrounded by the most beautiful gardens. This is a very special place, with a huge and very well equipped kids section. Oh! To go back!  I wrote whole other post about it which you can read here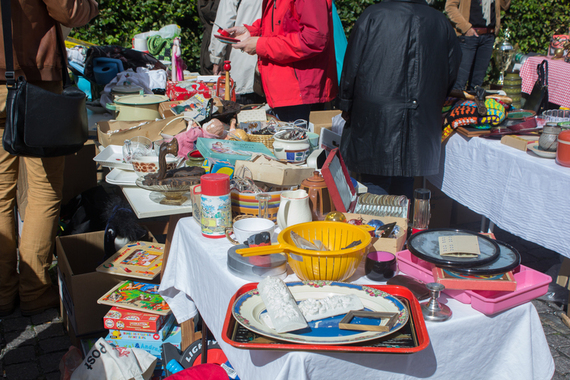 Image: Hannah Bullivant
How we saved money in Copenhagen
1 We camped! We stayed at Absalom camping just outside the city centre and took the train in. If you stay under the willow trees at the back of the site it's really quite lovely. The site itself is very well equipped but it had a funny vibe because a lot of people on the site are on long stays or living there, so it lacked the usual holiday camaraderie of other campsites. 
2 We made lunch back at the tent and took it with us, with bottles of water, snacks and food for Frankie.  We had a limited budget but we wanted to experience all the amazing food, so we brought food for at least one meal of the day (plus snacks and drinks), ate out once, sometimes twice a day and bought coffee and cakes. Soooo much good pastry....
3 We avoided the really popular tourist attractions. Frankie is still a bit scared of the idea of the zoo, despite our earnest explanations that the animals are behind bars and can't touch her. So we didn't go. It is also really really expensive, as is the other popular family tourist destination, Tivoli gardens. So we avoided them. And still had a wonderful time. 
4 We went to the flea markets. We were very lucky to have help from locals to find the flea markets and vintage shops. I realise not everyone will have this, so thats why I've told you all I know above!
5 We didnt take an expensive tour- we opted for a budget boat trip- thanks to advice from our friends. (details above)
6 We found the free stuff! We spent a lot of time in the brilliant free parks dotted all around the city and loved hanging out in the Botanical gardens. 
7 We walked. and walked. and walked. We used the buggy for some of it, or just went at Frankie's pace. We loved experiencing Copenhagen this way. 
8 And when we did use public transport, we used a Clip Card to ride the train, bus and metro. 
9 We visited as part of a much larger trip, first getting the ferry to France, then driving our way around slowly, then getting the ferry home from Denmark. (sadly this route has now closed)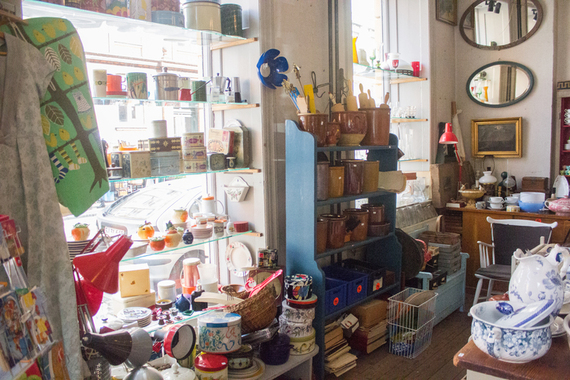 Image: Hannah Bullivant
This post originally appeared on www.SeedsandStitches.com