Before I start there's something you need to know about me - I'm not usually the kind of girl who cleanses. I'm not a yoga-pant wearing Californian babe, nor am I the kind who could attempt to abstain from alcohol for the whole of January. My job is to be a BarChick, writing about bars around the world, usually starting my (late) mornings with a strong coffee and finishing the day with a cocktail or two, for research purposes of course.
Having heard rumours that juicing 'could be for everyone' and being tempted by the rumoured benefits: 'boosts energy' 'aids digestion' 'reduces stress' 'and 'helps you to live longer' (what?), I decided I probably should give it a try.
No coffee, no cocktails, no mid-afternoon chocolate digestive, No FOOD. Just juice and herbal tea for five days. Bring it.
Juice bars are having their moment in London. Roots and Bulbs, Plenish, Tanya's; you're basically a nobody if you're not going cold-press.
Good for you as they may be, juice cleanses don't come cheap. If you're patient, and have time on your hands, DIY it. Juicers like Nutribullet and Vitamix are making it easier than ever to chop up and chuck in some fruit and veg and get your vit-fix in liquid form.
If you want to 'order in' you'll be spoilt for choice by juice companies delivering to your door. After research I went for Brighton based startup 42 Juice whose aim is to make juicing accessible for everyone, even a boozer - sorry - cocktail writer.
The five daily juices come numbered so it's all very self-explanatory and they even throw in a Chlorophyll water to alkaline your body, I'm semi expecting to sprout leaves.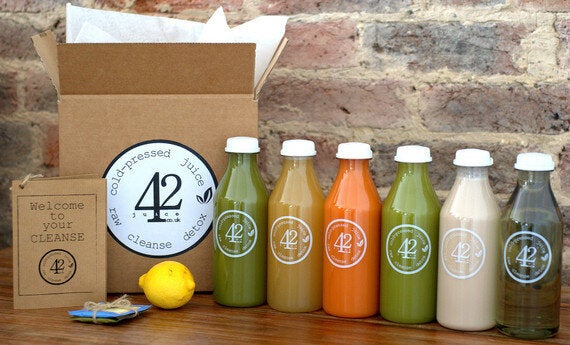 8 am - Natalie turned up so bright and early to bring me my juices and chat about the programme she caught me in my pjs. She is energized and looks generally radiant. I want to be her. Let's get on with this juicing.
12 pm - All anyone EVER talks about at work is lunch. How have I not realized this before?
8 pm - What does one do of an evening with no food and drink? Watching America's Next Top Model for motivation.
Soho is too much to handle on just a juice.
10 am - Man I feel good today. I've decided I will definitely incorporate juicing in to my life. Even if I could only have one meal a day it would be excellent.
5 pm - I hate life. Feeling really moody, and cold, and tired and SO HUNGRY. All I want is to cuddle up in a ball with some baked beans. Beans. They're not even bad for you.
2 pm - Foolishly I decided to embark on a cleanse over the weekend, this is not recommended. My weekend activities thus far:
Saturday morning - Going out to a teahouse for a green tea.
Saturday afternoon - Drinking tea alone in the house while friends are out brunching.
Saturday night - You get it by now. TEA is my only social activity.
9am - Last day, last day. last day! AND note the change in timing... it is 9am on a SUNDAY and I am writing. Juicing seems to have given me a personality transplant.
5pm - I appear to be funding the tea house in Dulwich. Although, whilst drinking tea, my sister told me I was 'glowing' - well,' glowing but moody'. I'll take it.
Juice cleansing is quite an experience (an antisocial one at that). My hair is shiny, my skin 'radiant', which I didn't believe until I was told by at 3 people, and my stomach could possibly even be described as flat.
I begrudgingly admit that yes, juicing is better for your body than a diet of coffee and cocktails. However, get your friends to do it with you, this way you won't get moody and jealous when they are out wining and dining without you.
After gobbling down Eggs Benedict and snarling at the offer of a juice with my Caravan brunch the day after this experiment, I found myself getting up 15 minutes early the next day so I could check out Ali Baba, a new cold press juice bar en route to work. I'm a changed woman.
On second thoughts, make it a Bloody Mary.