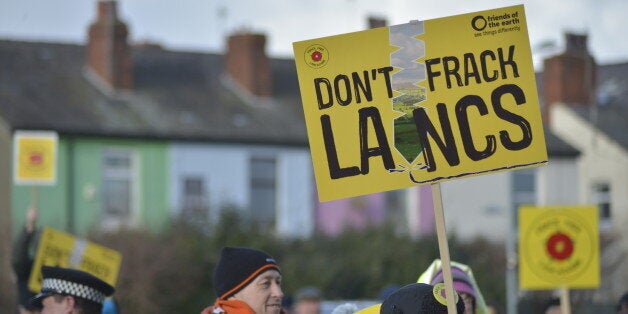 Today marks a new low in the government's plan to force fracking on the UK.
In a move that makes a mockery out of the government's claim to champion local democracy, Westminster politicians have overturned Lancashire council's decision to block fracking -- and decided that fracking firm Cuadrilla should be allowed to drill.
The news came through this morning. Sajid Javid, the government minister who oversees local councils, announced that he would allow drilling at Cuadrilla's site at Preston New Road, near Blackpool. And he added that he was minded to grant permission to frack at another proposed site too.
For half a decade now, there are thousands of us across the country who've worked determinedly to keep the fracking industry out of our towns and out of our countryside. Together we've raised awareness of the risks this destructive industry poses to the environment and to our climate. And together we've used just about every democratic tool in the book to push back against government plans to roll out fracking on our doorsteps.
It was a huge win for people power. And it was a crucial moment for local democracy too.
But today marks a turning point. In a single move, Mr Javid has not only silenced elected council officials. He's also ignored 14,000 people in Lancashire who've said they don't want fracking on their doorstep. And he's snubbed a 180,000-strong petition that called for Lancashire council's block on fracking to be upheld.
Through overturning the decision, Westminster politicians have effectively declared that fracking industry profits are more important than the concerns of British people.
But perhaps most bizarre of all is the timing of the announcement. Because today the Paris climate agreement - which is meant to guide countries toward fossil fuel phase out - is being ratified too. So today of all days, you'd think the government would be embracing the transition to clean, sustainable power, not doubling down on dash for fracked gas.
While today's news is not what we wanted, this is far from the end of the story. As Lancashire resident Pat Davis said this morning: "this travesty of justice will not be accepted."
The movement to stop fracking is larger and stronger than ever. And the bans on fracking in Scotland, Wales, France and New York have already showed us that when people work together, the fossil fuel industry can be stopped - even against the odds.