In July 2015, world leaders came together in the Ethiopian capital Addis Ababa to agree ways to finance a new global agreement on how to build a better world. In this article, Hans Zomer says the summit rightly emphasised the opportunities to increase countries' income from taxation and warns that there is a price to pay.
Ireland's President, Michael D. Higgins, has likened 2015 to the year 1945, "a year of reconstruction and hope, when new institutions were designed, new texts drafted, and new declarations adopted for humanity's shared future."
One of the major outcomes of the summit has been the promise to help developing countries raise more tax. Or in the language used at the UN:
"We commit to enhancing revenue administration through modernized, progressive tax systems, improved tax policy and more efficient tax collection. We will work to improve the fairness, transparency, efficiency and effectiveness of our tax systems, including by broadening the tax base and continuing efforts to integrate the informal sector into the formal economy in line with country circumstances."
And this is of course very welcome. The Addis summit rightly emphasised that aid alone is never going to suffice to "develop" countries, and that "sustainable development" will require economic growth, decent jobs, strong regulation and the protection of rights and environmental and social standards. Or as the Addis Declaration puts it:
"For all countries, public policies and the mobilization and effective use of domestic resources, underscored by the principle of national ownership, are central to our common pursuit of sustainable development, including achieving the sustainable development goals. ... Sound social, environmental and economic policies, including countercyclical fiscal policies, adequate fiscal space, good governance at all levels, and democratic and transparent institutions responsive to the needs of the people are necessary to achieve our goals. We will strengthen our domestic enabling environments, including the rule of law, and combat corruption at all levels and in all its forms. Civil society, independent media, and other non-State actors also play important roles."
Ultimately, countries need to raise resources and ensure the fair distribution of those resources within their own societies.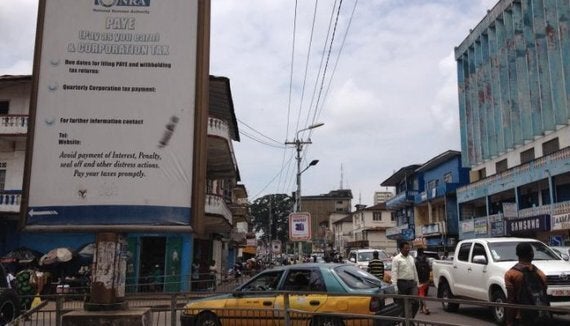 Photo: Photo: Poster in Freetown, Sierra Leone, urging citizens to pay their taxes. Photo by Christian Hallum/Eurodad
Taxation is not merely an administrative issue.
And this is where it gets difficult. For taxation is not merely an administrative issue which can be fixed through what the Addis declaration calls "inclusive cooperation and dialogue among national tax authorities on international tax matters."
As anyone who is familiar with the American revolution ("No taxation without representation") or with the current situation in Greece will know, the issue of tax strikes at the heart of the "social contract" between the State and its citizens. Tax is the primary means through which a country can redistribute resources and express its national "development" priorities. Tax can help shape behaviour in society and can help a government promote the issues it holds dear. And most of all, tax requires broad political consensus.
So if the world's Governments decide, like they did in Addis, that it is time to raise taxes in developing countries, they should know that they did so at a time when, around the world, citizen trust in government is going through a bit of a crisis. Brazilian street protests during the World Cup, Occupy movements in the US, popular uprisings in the Arab Spring and the Right To Water protests here in Ireland are all indications that many people are angry about the way public money is collected and spent.
The underlying reason for these protests is that citizens feel that traditional institutions don't really respond to their wishes. Surveys like the annual Edelman research show that there has been a global decline in trust in institutions, and that the number of countries with trusted institutions has fallen to an all-time low. Worldwide, political parties and trade unions continue to lose members and in many countries people are even losing faith in the media. Many people have lost confidence in their government and demand a more direct voice in public decision-making.
It is against this backdrop that we must read world leaders' commitment to provide more assistance to tax authorities in poor countries - and caution that raising taxes is not only difficult but also politically dangerous.
While governments in poor countries are quite likely to appreciate help in improving their tax take, people in those countries are equally likely to distrust moves to increase funding to a government they don't trust.
Tax regimes need to be built on a base of legitimacy. And this is why international assistance in the area of tax collection and tax administration must be accompanied by assistance in participation. The governments that signed the Addis declaration must therefore not only share tips of how to run a Revenue service; they must also invest in the relationship between citizens and the state. International development cooperation must help strengthen existing institutions for citizen representation, such as political parties and parliaments, and help create or protect the space for genuine and meaningful citizen consultation, through media and civil society organisations.
We must not allow a situation to arise where the focus is merely on increasing government income, without ensuring adequate accountability mechanisms are in place to ensure the tax money raised is spent wisely. And as we know only too well from our experience in Ireland, a healthy civil society is absolutely vital in that regard.